'3 Chords and the Truth' Concert: Bluegrass Band Plays for a Full House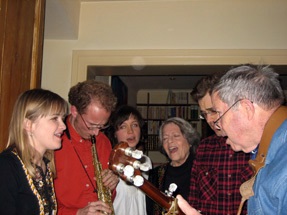 On December 3, ECLA's very own bluegrass band, 3 Chords and the Truth, filled Cafe Lyrik in Prenzlauer Berg with twangy chords and soulful melodies, much to the delight of their audience who called for an encore after the final song. The band played two sets, featuring strong vocals by Aurelian-Cezar Cherciu (AY 2006, Romania), Natalia Kowalczyk (AY 2006, Poland), Charles Lang (SY 2004, USA), Sofia Skatchko (PY 2006, Ukraine) and Barbara Shriver. They were accompanied by Lucian Cosinchi (PY 2006, Romania) on acoustic guitar, Firat Oncel (AY 2006, Turkey) on bass guitar, Liv Schwenk (AY 2006, Germany) on violin, Julian Triandafyllou (AY 2006, Germany) on mandolin, Dick Shriver on banjo and Alex Tischbirek on soprano saxophone.
Dick Shriver, Provost Emeritus, started the band two years ago 'to capitalize on the musical talent both instrumental and vocal that just naturally shows up at ECLA each year.' The group acquired new members at the start of Fall semester and its repertoire has grown as a result. They played for ninety minutes on Saturday night, including several new songs and timeless favorites such as Rocky Top, Hey Good-looking and Cripple Creek.
You might also be interested in: