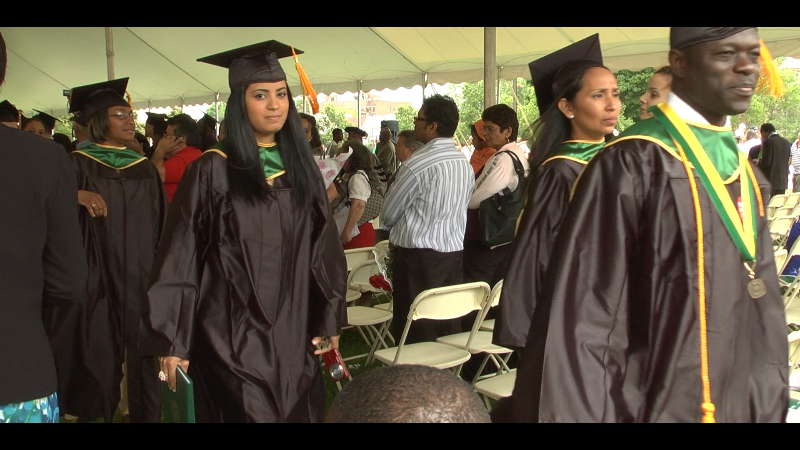 On February 17th, Bard College Berlin had the privilege to host filmmakers Chloe Smolarski and Tasha Darbes for a screening and discussion of Admissions: Student Stories from Undocumented America.
The film, released in 2011, reveals four intimate yet intricately connected stories of undocumented young men and women who are struggling to live up to their share of the 'American dream.'
Namely, the United States classifies undocumented immigrants as those who've crossed the border illegally or who entered the country on temporary visas and stayed past the expiration date. In turn, undocumented students are sons and daughters of such immigrants who typically enter the U.S. at an early age and who are ensured the right to education up until and including secondary school. Past the age of eighteen, these students inevitably struggle to legalize their status, to resume their education and to finance it accordingly.
Blanca, Charlie, Jong Min and Virdiana, the students portrayed in the film, are only four of the estimated 2.1 million undocumented children and adults living in the United States today.
Blanca, a young woman from Mexico, moved to the U.S. at age 11. While in New York City she divided her time between work and study. The film portrays Blanca's moving back and forth between N.Y.C. and Monterrey where she decides to study pre-med.
Charlie is a part-time activist, worker and college student. He has yet to finish his philosophy degree and spends ample time working in order to pay his college fees.
Jong Min is an activist who graduated from Stuyvesant—New York City's most competitive specialized public high school. Jong Min realizes he has been living in the country undocumented once he needs to provide proof of residency for an internship. He dreams to become a lawyer someday working, in the meantime, in a small grocery store.
Virdiana (Vivi) is a young woman who decides to become a nun after high school. Still, Vivi realizes that her path is meant to be different. She leaves the convent and enrolls at Fordham University hoping to major in Broadcasting Journalism and Psychology. Admissions portrays Vivi's story as one of success. After all, she receives her residence papers and takes upon an internship with a news agency.
Like all U.S. college applicants, undocumented students must undergo an admissions process that requires a College Board account. College Board is a platform designed to ease the application process for high school students, providing tips students can use as early as 9th grade (their freshman year.) Recently, College Board has added a bigfuture section that allows students to create and save an application 'plan' on the platform itself. This plan is not part of the application itself; rather, it is merely an outline of the steps students will undertake in the process of applying. This includes, for instance, reviewing a school's admissions percentile, academic programs, financial resources, etc.  Still, the question remains: how big (all things considered) can the future of an undocumented student really be?
Despite the numerous websites that undocumented students can research to seek help, the bottom line is that the path to creating a 'big future' is ruthless, seemingly impossible, and rarely successful.
According to a 2012 study published on facesforthefuture.org, there are approximately 65000 undocumented students graduating from U.S. high schools each year. Only 7000-13000 enroll in college.
Perhaps one of the greatest challenges undocumented students face is their financial status. They are ineligible to receive federal aid, state aid, government loans/grants, institutional aid, and work-study.
Currently, only thirteen states allow undocumented students to seek in-state tuition at public colleges and universities. These states include: California, Connecticut, Illinois, Kansas, Maryland, Nebraska, New Mexico, New York, Oklahoma, Rhode Island, Utah, Washington and Wisconsin. Undocumented students seeking admission to private colleges/universities are considered as international applicants, in which case they compete with students from all over the world for a very small number of slots available.
On the bright side, thanks to the case Plyler vs. Doe 1982, the Supreme Court ruled that undocumented students have the right to K-12 education regardless of citizenship. In addition to that, the Family Educational and Privacy Act (FERPA) serves to protect privacy records of students from elementary to university level.
Furthermore, the Dream Act is a legislation pioneered by numerous students and members of the U.S. House of Representatives. Their aim is to enable undocumented youth to undergo a 6-year process so as to meet certain criteria to obtain citizenship. This includes obtaining a college degree, or serving at least two years in the military.
Recently, on June 15th 2012, president Barack Obama signed a memo allowing undocumented youth to undertake deferred action. The program, now known as DACA (Deferred Action for Childhood Arrivals) is a grant of relief. Individuals under this status can apply for employment authorization but are not assured of a direct path to citizenship or lawful permanent residence. Still, the application process for DACA relief is far from simple. Applicants must meet certain criteria to be considered eligible and are advised to apply only after consultation with a legal attorney.
Another reason for hope is the number of student-led initiatives for change. S.W.E.R. (Students Working for Equal Rights) is one of many such initiatives including: Stand, We Count! SGA, Haitian American Youth of Tomorrow (HAYOT,) etc. Among them, S.W.E.R. is a large youth-founded and youth-run organization that aims at equal educational rights. Their movement can be traced at www.swer.org.
At the very beginning, Admissions: Student Stories from Undocumented America portrays a high school graduation in the Bronx. The beginning of the film also depicts several games of chance: cards, rock-paper-scissors, dice, etc. This goes to show how life is like a game of chance: we are born into this world by chance, the families and cities we are born into we acquire by chance. As it is, the United States' issue with undocumented workers remains as complex as ever. This is because there will always be someone who profits from cheap labor. Undocumented workers are easier to exploit and to manipulate for fear of being caught. It all boils down to personal interest and economic profit.
One question remains: how long until sweeping changes come in effect?
This film is not an attempt to answer this question. It serves to show, the audience is to determine what to do.
For more on the film and its authors visit:
www.admissionsdocumentary.com.
More on education inequality in the United States: http://opinionator.blogs.nytimes.com/2014/03/01/college-the-great-unleveler/?_php=true&_type=blogs&_php=true&_type=blogs&action=click&module=Search&region=searchResults%230&version=&url=http://query.nytimes.com/search/sitesearch/?action%3Dclick%26region%3DMasthead%26pgtype%3DSectionFront%26module%3DSearchSubmit%26contentCollection%3Deducation%26t%3Dqry259%23/the+great+divide&_r=1
Read Jimmy's story:
http://www.usatoday.com/story/money/personalfinance/2013/11/21/undocumented-student-crowdfunds-education/3534087/