It is already the last week before Fall Break, and everyone seems really excited about their plans. And so am I! But that doesn't mean that you cannot enjoy the magic of Berlin before going away.
► Monday Oct. 12th: Berlinized @ Lichtblick Kino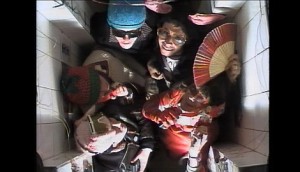 Last week, I already told you about this amazing tiny cinema, the Lichtblick Kino, which is both cheap and not so far from campus. But I can only recommend it again, especially with next Monday's documentary screening. Berlinized looks back at the radical change in the 90s in a post-reunification Berlin, and tells the story of the celebration of this new and unusual freedom of the youth in Berlin-Mitte – from the "Kellerbars" (cellar bars) to the new artistic scenes. A must-see if you're interested in how Berlin has become the greatest city to live in! (In German with English subtitles)
INFO:
WHEN: 8:30pm
WHERE: Lichtblick Kino, Kastanienallee 77, 10435 Berlin
HOW TO GET THERE FROM CAMPUS: Take the M1 to Schwedter Straße
PRICE: 5€ for students
MORE INFOS:
http://www.lichtblick-kino.org/film/dokumentarfilm/Berlinized
► Tuesday Oct. 13th: Graf von Bothmer: Das Cabinet des Dr. Caligari @ Ehemaliges Stummfilmkino Delphi
Das ehemalige Stummfilmkino Delphi is a hidden jewel, unrecognizable from the outside, and practically unknown to most Berliners. This building was one of the first cinemas of its size in the world, and the original interior of this former 870-seat theater remains largely intact. With its orches­tra pit and perfect dome acoustic, it is an extraordinary venue for orchestral music. This Tuesday, the ancient silent movie theater screens The Cabinet of Dr Caligari, in a very unique and old-fashioned atmosphere. "A masterpiece of expressionism: a horror trip between delusion and reality."
INFO:
WHEN: 8pm
WHERE: Ehemaliges Stummfilmkino Delphi, Gustav-Adolf-Straße 2, 13086 Berlin-Weißensee
HOW TO GET THERE FROM CAMPUS: Take the M1 to Schönhauser Allee and the M13 to Prenzlauer Allee/Ostsee Str.
PRICE: 10€ for students
MORE INFO:
https://www.facebook.com/events/1671769363058689/
► Wednesday Oct. 14th: NEWTON. HORVAT. BRODZIAK @ Helmut Newton Foundation
In October 2003, a few months before his death, Helmut Newton established the Helmut Newton foundation (hnf) – an organisation dedicated to the preservation and presentation of his own photographic works, and those of his wife, June Newton. The Helmut Newton foundation has presented Newton's works alongside that of other notable colleagues in the past; with this newest show including Frank Horvat and Szymon Brodziak, two photographers who have made a name for themselves in fashion and portraiture. A new perspective on fashion photography of the 20th Century!
INFO:
WHEN: 10am – 6pm
WHERE: Helmut Newton Foundation, Jebensstraße 2 , 10623 Berlin
HOW TO GET THERE FROM CAMPUS: Take the M1 to S+U Hackescher Markt and the S7 to Zoologischer Garten
PRICE: 5€ for students
MORE INFOS:
https://askhelmut.com/events/2015-10-14-10-00-newton-horvat-brodziak
► Thursday Oct. 15th: A weird yet unique Berliner shop @ Aufschnitt
In Berlin, there are loads of ridiculously well curated independent boutiques, concept shops, and vintage stores in every corner. There are also some places whose appeal boils down to eccentricity. Consider the following as one of the weirdest ways to spend your money! This Boxhagenerstraße boutique brags that it's the only textile butchery in the world. And indeed, I doubt it has challengers. At first glance, Aufschnitt looks like a standard butcher shop, with cold cuts displayed in glass casing. The only difference is that all the meats are made from fabric. You'll find travel pillows that resemble wurst, cow lung massage cushions, white sausage key chains. All made from cloth, none of it edible. So maybe don't go on an empty stomach.
WHEN: Mon. – Fri., 12am – 8 p.m.; Sat., 2 p.m. – 6 p.m.
WHERE: Aufschnitt, Boxhagener Str. 32, 10245 Berlin
HOW TO GET THERE FROM CAMPUS: Take the M1 to U Eberswalder Str. and the m10 to Frankfurter Tor.
PRICE: from 8€ to 60€
MORE INFOS:
http://www.aufschnitt.net/
► Friday Oct. 16th: Golden Stars on blue @ Sophiensaele
"Twelve golden stars on blue grace the European flag. The official EU hymn is only a little over a minute long. The hymn is a wordless version of Beethoven's Ode to Joy. Wordless, because no single language may dominate the association of states; especially not German. But without the message of "joy", the hymn is transformed into a mangled piece of music without substance. We therefore seek to reclaim these symbols, re-appropriate them – for they must constantly be questioned in order to retain their strength. We have stretched the hymn into the length of one hour to give it back its beauty. In this acoustic space, we will establish our own version of community as an alliance that has always welcomed difference and the Other." Some European patriotism in a contemporary dancing play in one of the coolest theatres in town.
INFO:
WHEN: 8pm
WHERE: Sophiensaele, Sophienstraße 18, 10178 Berlin
HOW TO GET THERE FROM CAMPUS: Take the M1 to Hackescher Markt
PRICE: 9€
MORE INFOS:
http://www.sophiensaele.com/produktionen.php?IDstueck=1377&hl=en
► Saturday Oct. 17th: Break is here! Brunch @ Geist am Glas
Fall Break is finally here, and almost everyone is flying away for new great adventures. If you feel like one last good time in Berlin before leaving, you should definitely take a little of your time for a killer brunch at Geist am Glas. In a very relaxed and informal context, you will have a choice between three different meals. Yes the menu is small but on point.
First: cheddar biscuits served in sage cream gravy with sausage or mushrooms. Second: Nachos with two side-up eggs, cheddar, guacamole, pico and pickled red onion. And last but not least: amazing buttermilk pancakes served with dulce de leche, blueberries, and a maple syrup-infused whiskey. This with fresh and juicy cocktails or unlimited coffee, believe me, there's no better way to celebrate Fall Break!
INFO:
WHEN: 12am – 4pm
WHERE: Geist am Glas, Lenaustraße 2, 12047 Berlin Neukölln
HOW TO GET THERE FROM CAMPUS: Take the M1 to Rosenthaler Platz, and the U8 to Schönleinstraße
PRICE: 7,50€ for a meal, 10€ with unlimited coffee
MORE INFOS:
http://www.stilinberlin.de/2015/08/brunch-in-kreuzkolln-geist-im-glas.html
Viel Spaß!
-Manon
[hupso_hide]