Dear fellow people,
I'm deeply sorry for not having sent the Kulturwurst on the Weekend as I usually do. I think you can all imagine that I had other things on my mind. I'd also like to thank you all for your concern this last week. However, the show must go on, life must go on! This is why this week's Kulturwurst will not only cover the next week but the next 10 days. So, let's have FUN.
► Thursday, November 19th: Sound cinema @ Il Kino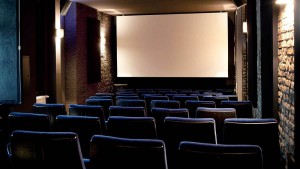 This small Neukölln cinema doesn't only serve good Italian food and wine, it also organizes regular theme evenings, like short films screenings or meetings with film directors. This week, Il Kino presents its second edition of Sound Cinema with a live concert of Jennifer Eberhardt. Sound Cinema features various live musical performances accompanied by live visuals on the cinema screen. The concept focuses on atmospheric, cinematic and/or experimental music. Having been to their last Sound Cinema evening, I can only recommend this experience to you, this kind of evening is trippy, dreamy, relaxing and takes you far far away from your everyday life. "Jennifer Eberhardt mixes experimental sounds and soundscapes with piano, vintage keyboards and her voice to create haunting songs beyond beauty and sadness. Carried by her hypnotic voice and underpinned by minimalistic piano figure, synths and soundscapes, she spins stories that are simultaneously personal, subtle, intense and meditative." Karen Gimle, taking care of the visuals, is a Berlin-based visual artist, interested in creating unexpected spaces and atmospheres, using various techniques, such as video or installations.
INFO:

WHEN: 7pm

WHERE: Il Kino, Nansenstraße 22, 12047 Berlin

HOW TO GET THERE FROM CAMPUS: Take the M1 to Rosenthaler Platz and then the U8 to Schönleinstraße

PRICE: 7€ for students
► Friday, November 20th: Berlin Sessions @ Klunkerkranich
Klunkerkranich is a cultural roof-garden on top of a mall (Neukölln Arcaden) with a spectacular view over the whole of Berlin. "Cultural" means that they regularly organize various kind of events, from flea markets to live concerts. It's a little oasis, a little spot that glows on the top of the city. This Friday, an acoustic concert takes place on the rooftop, including many artists, like Milly Blue, Johanna Amelie & Trinidad Doherty, Eric Shoves Them In His Pockets, and DJ humpstar. It can be really crowded sometimes, so don't show up too late. And if you can't make it this time come back any other week, this place is about living out life in the urban landscape.
INFO:
WHEN: 7:30pm (doors open at 4pm)
WHERE: Klunkerkranich, Karl-Marx-Str. 66, 12053 Berlin
HOW TO GET THERE FROM CAMPUS: Take the M1 to U Rosenthaler Platz, and the U8 to U Boddinstr.
PRICE: 5€
MORE INFOS
► Saturday, November 21st: Breakfast @ Betty'n Caty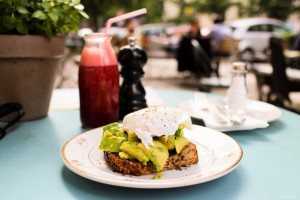 After a rough week full of work, I found myself one particularly sunny morning on the terrace of Betty'n Caty, ordering cheddar-comté toasties with fig compote, accompanied by a "Good Karma" smoothie made of blueberries, coconut water, almond milk, and ginger. Both were completely delicious (yet not so cheap, I must admit). I also took some time to admire my friend's meal: avocado, poached egg and chili on bread. Moreover, this place is incredibly good-looking, the owners put indeed a lot of effort into the looks of the café – a dark wooden floor with white Parisian metro tiles meet a dark bar with a copper top – which makes this one of the best looking cafés in the area. Betty'n Caty (named after the owners) also has a variation of gluten-, and/or lactose-free options as well as vegan dishes. And of course, like a real café, they have a plethora of sweet treats like homemade cakes, cookies and so on and so on… Also, they have very good croissants, which, as a self-proclaimed French gourmet, I didn't expect from any Berliner café. Try it!
INFO:
WHEN: 9am-6pm (8am-6pm on weekdays)
WHERE: Betty'n Caty, Knaackstraße 8, 10405 Berlin Prenzlauer Berg
HOW TO GET THERE FROM CAMPUS: Take the M1 to U Eberswalder Str.
PRICE: approx. 10€ for a meal and a drink
MORE INFOS
► Sunday, November 22nd : WINTERDORF @ Badeschiff Berlin
"From the beginning of November till the end of December we'll establish a winterly village on the area of the Badeschiff – expect a relaxed retreat amid the metropolitan acceleration. Design, crafstmanship and selected food booths and trucks will offer you everything you wished for. As the special attraction the GLICE-ice rink invites you for ice skating and curling. The kids will be more than happy to bake and tinker in our 'Winterstube', listen to the storyteller's fairy tales or lose track of time while they're in the childrens' cinema." So, if you need some Christmas feeling and you miss ice-skating, this place is made for you.
INFO:
WHEN: 12am-8pm (2pm-10pm on Saturdays)
WHERE: Badeschiff Berlin, Eichenstraße 4 , 12435 Berlin
HOW TO GET THERE FROM CAMPUS: Take the M1 to S+U Pankow, and then the S9 or S41 to Treptower Park
PRICE: 1€ for the entry, 3€ for ice skates rental
MORE INFOS
► Monday, November 23rd: In unserem Namen @ Gorki Theater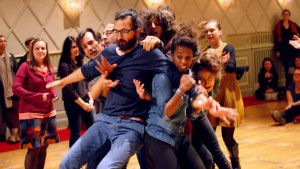 "In our name refugees are detained, deported, criminalized. In our name Europe is expanding the battlements of its fortress. Using texts by Aeschylus and Jelinek as a starting point, Sebastian Nübling's staging questions the democratic fabric of Berlin: Who represents whom?" We have seen this theatrical performance, in the frame of the Post-dramatic theatre and performance class, and I'd realized after a while that it could be worthy to be seen for everyone. On a Liberal Arts College, we try not only to find the right answers but also to find the right questions, which was to me an important part of this play. On the humanitarian side, the performance is deep, critical, cynical, and even fun. On the artistic side, it's a completely different experience from any other theatre play, there is a direct relationship to the actors, it keeps moving and changing, and all spectators experience the play their own way. So, yes I recommend this play because it is a smart play, on every level. And it's releant in the current context, especially in Germany. (In German with English subtitles).
INFO:
WHEN: 8pm
WHERE: Maxim Gorki-Theater, Am Festungsgraben 2, 10117 Berlin
HOW TO GET THERE FROM CAMPUS: Take the M1 to Am Festungsgraben
PRICE: 8€ for students
MORE INFOS
► Tuesday, November 24th: Monsieur Jean Dubuffet @ Kunstbibliothek Gemäldegalerie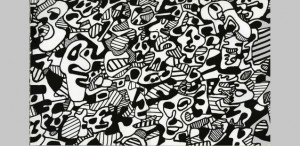 "Jean Dubuffet was one of the most radical renewers of art in the immediate postwar period. His work represented a transgressive, wilfully anti-cultural agenda, posited as an alternative to the established concepts of art. A talented artist in several disciplines, Dubuffet wanted to rekindle spontaneity and immediacy in art, so that it would again relate directly to real life and unsparingly reflect the true feelings of the artist. Social conventions, the academic role models of the past, and the rules of good taste had to be shed in the quest for uncompromising authenticity. In their place, Dubuffet focused on experiences that originated outside the boundaries of the accepted art world. He saw artistic value in children's drawings, random doodles, graffiti in public spaces, as well as works by prisoners and mentally ill patients. Dubuffet collected such works as a source of inspiration for his own art. For him, these works were the expression of a genuine, alternative form of art, which he termed 'Art Brut' – or 'raw art'. The 'brutal' aesthetics of this visual art form continue to have an immediacy and the power to provoke. The exhibition presents Jean Dubuffet and his concept of Art Brut, as seen in his impressive artist's books, which are of equal importance in his overall oeuvre as the paintings, drawings, and sculptures." A short and small exhibition, but it's my personal crush for November!
INFO:
WHEN: 10am-6pm on weekdays (11am-6pm on weekends)
WHERE: Kunstbibliothek der Gemäldegalerie, Matthäikirchplatz
HOW TO GET THERE FROM CAMPUS: Take the M1 to S+U Pankow, and the S2/U2 to Potsdamer Platz
PRICE: 3€ for students (8€ for all exhibitions, including the Kunstgewerbe Museum)
MORE INFOS
► Wednesday, November 25th: Jazz Jam Session @ Café Engels
If you're getting tired of techno, or if you just want to take a break, the Café Engels hosts regular Jazz Jam sessions on Wednesdays! Don't forget that you can always check for all jazz concerts and venues in Berlin on: http://www.jazz-guide-berlin.de/. Have fun!
INFO:
WHEN: 8pm until late in the night
WHERE: Café Engels, Herrfurthstr. 21, 12049 Berlin
HOW TO GET THERE FROM CAMPUS: Take the M1 to U Rosenthaler Platz, and th U8 to U Boddinstr.
PRICE: 3€
MORE INFOS
► Thursday, November 26th: Anton Corbijn Retrospektive @ C/O Berlin
"I was always looking for inner beauty and struggle." Anton Corbijn
"To mark internationally renowned photographer and director Anton Corbijn's sixtieth birthday, C/O Berlin is presenting a retrospective of his oeuvre encompassing around 600 photographs, with some films, and other materials. In this exhibition, C/O Berlin traces Corbijn's evolution from self-taught novice to a celebrated and influential photographer and highlights the extraordinary diversity of his work in both subject matter and technique. The exhibition consists of two series: Hollands Deep which spans his entire oeuvre of 40 years – from his early b/w iconic photographs to his personal projects and conceptual series. 1-2-3-4 is a celebration of his work within the music world and many of these images are shown for the first time. This exhibition concentrates on photographs of bands and musicians he has photographed over a period of time and where his work became part of the visual history of these artists such as the Rolling Stones, U2, Nirvana, The Slits, Nick Cave, Siouxsie Sioux, Arcade Fire, Tom Waits, REM, Metallica, Johnny Rotten, Depeche Mode and Herbert Grönemeyer. Aside from that, there are many of what he calls "forgotten images" of people like Isaac Hayes, the Bee Gees, David Bowie, Joe Cocker, Johnny Cash, Grace Jones and countless others shown here."
INFO:
WHEN: 10am-8pm
WHERE: C/O Berlin Foundation, Hardenbergstraße 22–24 . 10623 Berlin
HOW TO GET THERE FROM CAMPUS: Take The M1 to S Hackscher Markt, the S7/S5 to S+U Zoologischer Garten
PRICE: 4€ for students
MORE INFOS
► Friday, November 27th: Volksfeind @ Schaubühne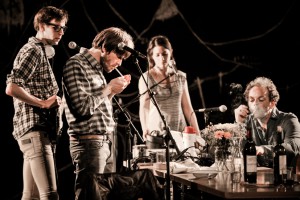 "Dr. Stockmann discovers that the source of drinking and spa water is riddled with pathogenic micro-organisms, caused by industrial effluence. Stockmann wants to publish the findings in the newspaper and demands that the city council re-route the water pipes. Influential citizens and local journalists promise their support. However, his brother Peter, the mayor, raises some serious concerns: The economic prosperity of the spa town will be threatened. Suddenly the support for Stockman from the town's policymakers begins to wane. They spread seeds of doubt about his plans and try to cover up the fact of the contaminated water. But Stockmann insists on transparency and intends to go public on the matter. For him the affair has long since ceased to be about the polluted health spa, his target is society as a whole. Ibsen's drama wavers on a fine line between honesty and fanaticism. What is the potential for transparency in a commercialised society?" In German with English subtitles, tickets at the evening box office only.
INFO:
WHEN: 8pm
WHERE: Schaubühne, Kurfürstendamm 153, 10709 Berlin
HOW TO GET THERE FROM CAMPUS: Take the 150 to U Osloer Str., the U9 to U Kurfürstendamm and the M19/M29 to Lehniner Platz
PRICE: 9€
MORE INFOS
Viel Spaß!
– Manon