From February 11th to 21st, Berlin is the epicenter of the world of film. It's Berlinale, and if you want to dive right into the Festival with fantastic movies and stars, here some daily recommendations to figure out what, when, and where! N.B: Since almost everything is already sold out, I tried to pick some available recommendations, probably not at the most convenient time, but still a great experience. Viel Spaß!
► Tuesday Feb. 16th: 1 Berlin – Harlem @ Kino International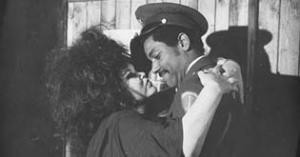 A black American soldier stationed in Berlin is confronted with casual racism on a daily basis that also finds expression in unwelcome sexual advances. A classic film of the 70s in the Federal Republic of Germany! By Wolfram Zobus, Lothar Lambert.
INFO:
WHEN: 5pm
WHERE: Kino International, Karl-Marx-Allee 33, 10178 Berlin
HOW TO GET THERE FROM CAMPUS: Take the M1 to S+U Pankow and the U2 to Alexanderplatz
MORE INFOS + TICKETS: https://www.berlinale.de/en/programm/berlinale_programm/datenblatt.php?film_id=201602946#tab=filmStills
► Wednesday Feb. 17th: Berlinale Party @ Konzulat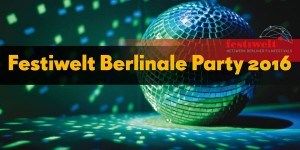 Berlinale is about film, it's also about after parties:
"On February 17 starting at 9pm, Festiwelt, the Berlin film festival network, and EXBERLINER Magazine present their annual Berlinale Party at Konzulát. Live music will be provided by ALLES KLAR! Totally undiplomatic and utterly shameless, singers Ellen Sarit Shatzky aka ALICE and Levke Vanounou aka CLAIRE confront the audience with their brand of sex and philosophy. Complemented by the rocking sounds of Kooki Salinas's guitar and synth sounds the electro pornpunks treat you to their holy trinity of "food, fuck and fun". Before and after groove to our dancefloor wizards DJ Walter Crasshole (USA, electro Glam – dancetunes), MoonWalka (D, funk, electro soul) and El Fulminador (ARG, electronica – experimental) at the former Czech Cultural Center in Mitte, just a stone's throw away from the Berlinale action. Tasty tidbits courtesy of Chez Michel and Marble Sauce."
INFO:
WHEN: 9pm
WHERE: Konzulat, Leipzigerstr. 60, 10117 Berlin
HOW TO GET THERE FROM CAMPUS: Take the M1 to S+U Pankow and the U2 to U Hausvogteilplatz
PRICE: 5€
MORE INFOS: https://www.facebook.com/events/1666142706959167/
►Thursday Feb. 18th: Ani ve snu! (In your dreams) @ Haus der Kulturen der Welt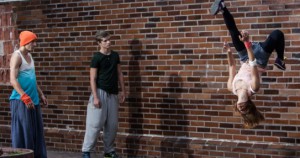 "Only a few girls practice the art of parkour – running and somersaulting over rooftops, free-climbing up rusted scaffolding and leaping from one wall to the next. Laura takes it all in her stride. Though as she wildly races through the streets of Prague, her thoughts are running wild too. She has a crush on Luky, but he doesn't show much interest in her. Laura's parents live apart, and her mother is desperately looking for someone new. Jealousy, misunderstandings with her best friend – Laura's life is full of confusion. Sometimes, when she can't take it anymore, fantasy worlds evolve. When hope and fear push through the cracks of reality, it gets harder to keep her life in balance." By Petr Oukropec, a Czech, Slovak and Bulgarian movie.
INFO:
WHEN: Thursday, 10 am
WHERE: Haus der Kulturen der Welt, John-Foster-Dulles-Allee 10, 10557 Berlin
HOW TO GET THERE FROM CAMPUS: Take the M1 to S+U Pankow, the S2 to S+U Brandenburger Tor and the 100 to Haus der Kulturen der Welt
MORE INFOS + TICKETS: https://www.berlinale.de/en/programm/berlinale_programm/datenblatt.php?film_id=201610075#tab=video25
► Friday Feb. 19th : Hele Sa Hiwagang Hapis @ Berliner Festspiele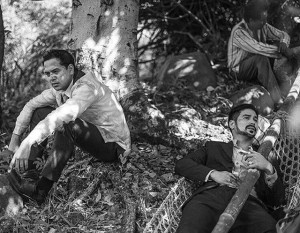 If you are looking for some intense thrills during this Berlinale edition, Hele Sa Hiwagang Hapis, by Lav Diaz, seems to be the most unusual film screening you can find. Unsual because it lasts for 8 hours, with only one 60-minute break: "Andrés Bonifacio y de Castro is considered to be one of the most influential proponents in the struggle against Spanish colonial rule in the Philippines during the late nineteenth century. Today, he is still celebrated as the father of the Philippine Revolution. Director Lav Diaz examines this myth and undertakes another expedition into the eventful history of his native land. The film's various loosely interwoven narrative threads are held together by an exploration of the role of the individual in history and their involvement in political and social developments. Bonifacio's widow is searching for her husband's missing dead body; as she and her followers stumble deeper into the jungle, they become entangled in the dense thicket of their own guilt and responsibility. The Spanish governor tries to play off the various rebel factions and their utopian visions against each other. At the same time, a badly wounded companion of Bonifacio reflects upon the victims a revolution inevitably creates. The film's high-contrast black-and-white photography makes the journey into the past abstract. Mythology, facts and a vibrant sense of history merge."
INFO:
WHEN: 10am
WHERE: Berliner Festspiele, Schaperstraße 24, 10719 Berlin
HOW TO GET THERE FROM CAMPUS: Take the 150 to U Osloer Str., then the U9 to U Spichernstr.
MORE INFOS + TICKETS: https://www.berlinale.de/en/programm/berlinale_programm/datenblatt.php?film_id=201613645#tab=filmStills (Hurry! Some online tickets still available)
► Saturday Feb. 20th: 6A @ CinemaxX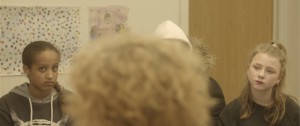 "As if immersed in the situation, the viewer witnesses a distressing encounter between angry parents, a helpless teacher and three schoolgirls. It soon becomes clear that certain things are going wrong in their class. There have been complaints of bullying. The parents are mainly concerned with defending their own children. They throw around neurotic accusations and make untenable demands. Using a camera which itself seems to participate in the discussion, scene after scene is dissected with refreshing malice and a sense for the dark side of human nature. Desperate attempts to resolve things unleash an avalanche of other problems. It takes a long time before Denise, Bella and Mina can have their say." A Swedish film by Peter Modestij.
INFO:
WHEN: Saturday, 2pm
WHERE: CinemaxX Berlin Potsdamer Platz, Potsdamer Straße 5, 10785 Berlin
HOW TO GET THERE FROM CAMPUS: Take the M1 to S+U Pankow and the S2 to S Potsdamer Platz
MORE INFOS + TICKETS: https://www.berlinale.de/en/programm/berlinale_programm/datenblatt.php?film_id=201610140#tab=video25
► Sunday Feb. 21st: Saint-Amour @ Berlinale Palast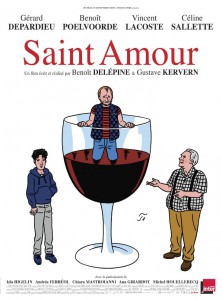 "For Bruno, the agricultural show in Paris marks the high point of his year since it means he can go on a wine tasting tour through France's wine-growing regions and drink his way from one stand to the next without even leaving the exhibition hall. His father Jean apparently has but one aim in mind: to win a prize with his breeding bull Nabuchodonosor. Bruno is sick of being a farmer and wants to get out of the family business. Jean decides this year to motivate his son by taking him on a real vineyard tour. And so, having hired a young taxi driver named Mike, they set off on an improvised trip through a number of different wine-growing regions. During the course of their meanderings, these three different men get to taste not only delectable wines such as Saint Amour, but also the pleasures of love. Named after a famous Beaujolais, this is a comedy bursting with life; it is an homage not only to good wine but also to so-called 'simple folk'. The seventh collaboration of the directing pair, whose film Mammuth screened at the Berlinale in 2010, takes a tender and humorous look at a father-son relationship." A French movie by Gustave Kervern and Benoît Delépine, starring Gérard Depardieu and Benoît Poelvoorde.
INFO:
WHEN: Sunday, 10:15 pm
WHERE: Berlinale Palast, Stage Theater am Potsdamer Platz, Marlene-Dietrich-Platz 1, 10785 Berlin
HOW TO GET THERE FROM CAMPUS: Take the M1 to S+U and the S2 to S Potsdamer Platz
MORE INFOS + TICKETS: https://www.berlinale.de/en/programm/berlinale_programm/datenblatt.php?film_id=201610054#tab=video25