Fall is coming, the weather though still sunny gets colder and colder, and you probably feel like writing essays and napping is the only way to spend your week. But there are actually some other ways to get some fun in the city. So, wake up, Berlin is not waiting for you!
► Sunday Oct.4th: AEROBICS! – Ein Ballet in 3 Akten @ Sophiensaele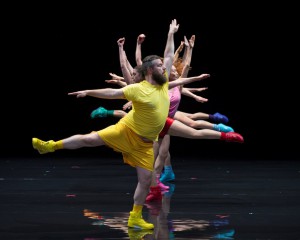 When you of think of aerobics, it might remind you of how kitschy and peculiar the 1980s used to be. So, how could we find any beauty in it nowadays? Aerobics! – A ballet in 3 acts is a piece for 7 dancers that develops a new perspective on aerobics. During the three-acts structure of the ballet, dancers establish a new relationship between dance, choreography, and aerobics from its aesthetics and coordinated movements. The piece develops a precise study and reinterpretation of the subsurface structure of this fitness practice. Paula Rosolen treats aerobics as dance material for choreography, applying a dramaturgical line and content for the development of movements and changes of rhythm. So, if you feel weirdly nostalgic of the colorful and glittering 80s, or if you want to get a fresh perspective of this time, you should definitely go.
INFO:
WHEN: 7:30pm
WHERE: Sophiensaele, Sophienstraße 18, 10178 Berlin
HOW TO GET THERE FROM CAMPUS: Take the M1 to Hackescher Markt
PRICE: 9€ for students
MORE INFOS + TICKETS
► Monday Oct. 5th: The Mixology Market 2015 @ STATION-Berlin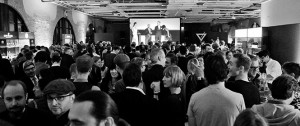 After the rousing success and more than 1.000 attendees at the debut of the Mixology Market last year, the second round of the official Bar Convent Berlin opens on October 5th. Berlin's popular Station Berlin convention center hosts the Mixology Market as a complete culinary concept featuring top quality drinks and the best in handmade food from Berlin-based street food teams. An opportunity to enjoy the latest cocktail creations and fine drinks in a relaxed and chill atmosphere!
INFO:
WHEN: 8pm
WHERE : STATION-Berlin, Luckenwalder Straße 4-6, 10963 Berlin
HOW TO GET THERE FROM CAMPUS : Take the M1 to S+U Pankow, and then to the S2 to Gleisdreieck
PRICE: 5€ entrance fee
MORE INFOS
► Tuesday Oct.6th: The Zig Zag Jazzed Up Jam Session! @ Zig Zag Jazz Club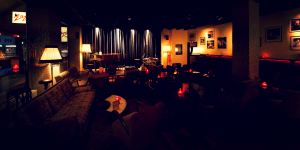 If you need a weekly dose of jazz, you should have a look at the Jazz Guide Berlin for more concerts and jam sessions! On the website you can find a map with all jazz bars and concert venues, and also a very exhaustive calendar of jazz-related events in Berlin for any day of the year! This Tuesday, I personally recommend you The Zig Zag Jazzed Up Jam session, an "exciting evening where well-known and less known musicians play music together"
INFO:
WHEN: 8pm
WHERE: Zig Zag Jazz Club, Hauptstraße 89, 12159 Berlin
HOW TO GET THERE FROM CAMPUS: Take the bus 150 to S Schönholz and the S1 to S Friedenau
PRICE: free
MORE INFOS
► Wednesday Oct. 7th: BLANK CITY, documentary film @ Lichtblickkino
With its 32 seats, the Lichtblickkino is one of the tiniest cinemas in Berlin providing a homely and informal atmosphere in an ancient butcher's shop – screening not only documentaries, retrospectives, and Avant-Garde or surrealistic movies but also some mainstream blockbusters, which makes the charm of this place.
Blank city is a documentary about aspiring New York filmmakers in the 1970's, inspired by the underground music scene the New Wave movement. The film examines the events that led to the creation of the "No Wave" movement and of "Cinema of Transgression", in which the city itself, which experienced a social and cultural decline at the time, plays an important role. Featuring interviews with Jim Jarmusch, John Waters, Thurston Moore, Debbie Harry, and Lydia Lunch.
INFO:
WHEN: 10pm
WHERE: Lichtblick Kino, Kastanien Allee 77, 10435 Berlin
HOW TO GET THERE FROM CAMPUS: Take the M1 to Schwedter Str.
PRICE: 5€ for students
MORE INFOS
MOVIE TRAILER
 
► Thursday Oct. 8th: Six years lost @ Ritter Butzke – a 4 days long celebration
This week, Ritter Butzke Club is going to celebrate its 6th anniversary during a four day long non-stop party: "For four days we're going to celebrate arts and people with musicians and many other artists of the music label of Ritter Butzke. The party starts on Thursday and lasts till Sunday non-stop. Be sure you'll have the time to discover all of the birthday entertaining we have up our sleeve. We'll provide you with something pleasing for eye, heart, palate and of course, especially for the ear! DJs, bands, singer-songwriters, linguistic acrobats, light and sound artists and some who just won't bear a stamp of any kind. All of them will gather to create a little parallel universe just for you."
A world apart, catering to any musical taste – from Thursday evening to Sunday!!
INFO:
WHEN: From Thursday 11pm to Sunday
WHERE: Ritter Butzke Club, Ritterstraße 26, 10969 Berlin
HOW TO GET THERE FROM CAMPUS: Take the M1 to U Rosenthaler Platz and the U8 to U Moritzplatz
PRICE: 10€
MORE INFOS
► Friday Oct. 9th: 10th Festival of lights
"For 10 years now, the Berlin FESTIVAL OF LIGHTS transforms the capital in an enchanting world full of light art and creative installations during the month October. Various events, adventure activities and tours – all about and under the theme of light – make it an art piece." A nice way to discover another perspective of the Berliner monuments, from Oct. 9th to Oct. 18th
INFO:
WHEN: from Oct. 9th to Oct. 18th
WHERE: Brandenburger Tor, Berliner Dom, Potsdamer Platz, …
PRICE: free
MORE INFOS
► Saturday Oct. 10th : A Veggie Korean Burger @ The Ban Ban Kitchen
As usual, I would like to close the week with a food advice for your weekend. When you think of Berliner food, you can think about Wurst or you can think about veggie food. This week, I'd like to invite you to taste the Veggie Korean Burger and its Kimchi fries from the Ban Ban Kitchen. One of the best Veggie Burger of Berlin according to the gourmet website Stil in Berlin! Just makes the perfect Saturday fast food dinner!
INFO:
WHEN: 5pm to 10pm
WHERE: Ban ban Kitchen, Hermannstrasse 205, 12049 Berlin Neukölln
HOW TO GET THERE FROM CAMPUS: Take the M1 to Rosenthaler Platz and the U8 to Boddinstraße
PRICE: around 8€
MORE INFOS (and food advices)
Viel Spaß!
– Manon