Since as long as I can remember, the month of June has represented the first month of a long hot summer in my home country, Bosnia. Refusing to give up on this summer philosophy, this past weekend I enthusiastically embarked on a 40-minute ride from Pankow to the 11th Open Air Gallery at Oberbaumbrücke, despite the cloudy weather with no chance of sunshine. The event was supposed to gather the works of more than 100 artists from all over Berlin in a grand open-air exhibition. The Open Air Gallery concept managed to attract a huge number of visitors in the past due to its free-entrance policy and the open interaction between freelance artists and art-admirers. Even though I had my suspicions on whether the event will take place—given the whims of the weather—I decided to stay optimistic until the very last moment…
…  when I saw a lonely sad sign about an event that was nowhere in sight:
The bridge itself seemed to have gotten lost in the vast grayness of the sky, with barely any people crossing it.
After a brief contemplation of the sad truth that weather transgresses itself onto people too— whom I could barely see out in the open—I embarked on the journey back to Pankow and our summer dorm…
… that was just as lonely as the Oberbaumbrücke. Even the two chairs in the garden that are usually occupied by students looked gloomy under the darkness of the sky: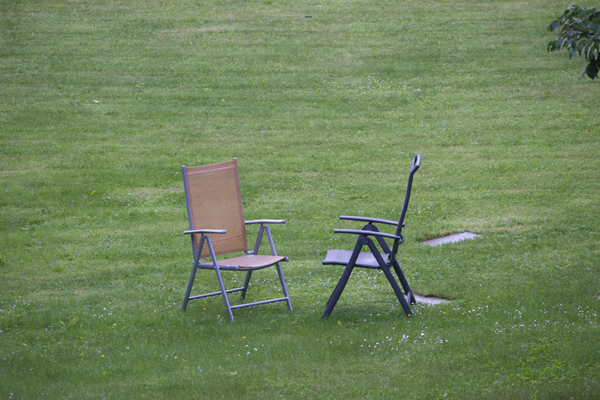 The beginning of June, which I otherwise always associate with sun-basking and warm breezes in my recollections from home, was sadly unfortunate in Berlin this year. Nevertheless, sunnier days lie ahead later this week, as well as another Open Air Gallery next month. The same event is planned to take place on July 7, and the Die Bärliner is committed to bringing you a picturesque reportage of it, as long as the blue and sunny July sky grants it!