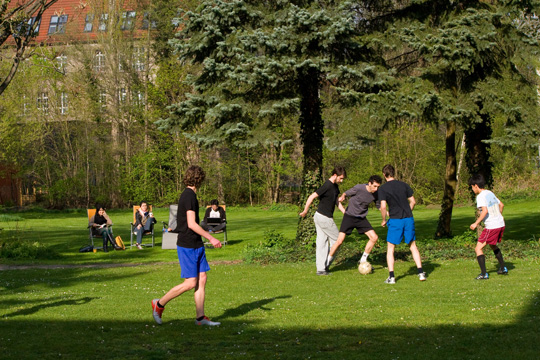 Every year at ECLA of Bard, sporting fever is roused by the Residential Life Coordinator, Zoltan Helmich. Although the college is located in the quiet and calm neighborhood of Pankow, Zoltan, along with other sport enthusiasts, manage to add some fun and games to liven things up. Since the beginning of the term at ECLA of Bard, two badminton tournaments and several soccer matches have been organized.
The motivation for sporting activities increases as students spend most of their time reading and writing in the dorms. In early autumn and in spring, soccer becomes a medium for many to unleash their energy, and it really helps the students feel upbeat and refreshed. Not only can students participate in various sporting activities on campus, but they also have free access to a gym and sports center in the neighborhood called SPOK. At SPOK students can use the indoor and outdoor halls for all kinds of sports.
Apart from physical sports, students are often seen busy playing chess with Zoltan in the dorms or in the student center. Although no formal chess match or competition has ever been organized, all kinds of players are invited to borrow the chess board and test their chess-playing abilities. In the yesteryears, the chess board always travelled to the various excursions that were organized for students.
This is my second year at ECLA of Bard and I have not managed to excel at any specific sport so far, but my physical health has only improved and flourished. During the harsh winter, sauna and gym facilities come to the ultimate rescue after long hours of thinking and writing. Sporting activities at ECLA help students shake off routine and mental sluggishness, increasing their ability to think and argue better.