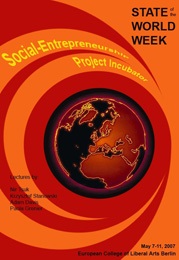 Do you have an issue or concern that you would like to address? Do you think our community is able to make a change? Do you have a plan? These questions were posed during the Annual Conference introductory dinner on Thursday, March 8th.
The Annual Conference is a forum of inquiry into current affairs that takes place during the last trimester at ECLA. This year's topic for the Annual Conference is Social Entrepreneurship – a term that captures a unique approach to economic and social problems, an approach that cuts across sectors and disciplines. It is about applying practical, innovative and sustainable solutions which benefit society in general, but with an emphasis on those who are marginalized and poor. Thus, it's primary goal is focused on social change. Broadly speaking, the Annual Conference is an event which proves the relevance of liberal arts in the context of current global issues.
Rafael Ziegler and Catherine Toal are the coordinators of the project with the assistance of the student body. Pranab Singh (Nepal), a Project Year student, proposed the topic of social entrepreneurship for Annual Conference 2007 earlier this year, and receiving sufficient interest among the students, the suggestion was approved.
During the dinner party students received an introduction to the activities planned for the week, as well as a general definition of the concept and its specific implications. The small presentations organized by Pranab Singh, Jeff Marshall (USA) and Firuza Ganieva (Tajikistan) were followed by questions about the details of the assignment.
The students' task is to write project proposals that would address a social problem. In April the best projects will be selected and developed during the Annual Conference workshops and lectures. The best group project will be awarded with a prize at the end of the Week. "The greatest benefit the students may take out of the Annual Conference is that they will get direct assistance and advice from the most prominent people in the field of social entrepreneurship", said Rafael Ziegler. The list of invited speakers includes Christian Seelos (IESE Business School Barcelona), Nir Tsuk (Director of Global Fellowships, Ashoka), Krzysztof Stanowski (Social Entrepreneur, Warsaw), Adam Davis (Philosopher, University of Chicago), and Paola Grenier (Sociologist, London School of Economics). They will share their experience in the field and offer political, sociological and philosophical analysis.
By Nargiza Majidova (2007, Uzbekistan)