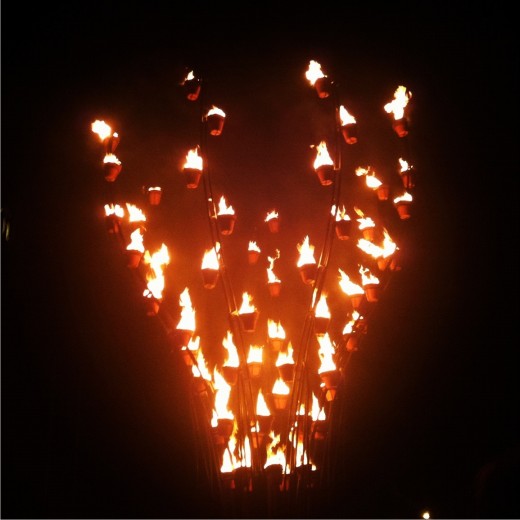 To celebrate the changing of the seasons and the commemoration of time, Berlin offered many opportunities to take a break from studying. At the end of October Berlin celebrated its 775th birthday with "fire poetry" in the streets. Combining medieval traditions with new age practices, the streets were alive with people and flames. The lights warmed the streets and the cider warmed the bellies, leaving Berliners of every age in a particularly happy spirit.
However, Berlin didn't forget to include a bit of spooky Halloween fun. The Titanick theatre group gave various scattered performances throughout the park that were certainly chilling. Leaving the light, the visitors traveled down a path that was lined with different scenes portraying medieval conceptions of the afterlife. From a fish out of water to a reindeer in red platform heels, there was plenty to see. That was until the clock struck nine and the overhead lights in the park went black.
Continuing on with the festivities the students held a 1920s inspired Halloween party. With delicious breads and spreads, pumpkin soup, chocolate cake, and fun cocktails the party was a great hit with the on-campus students. The party was held in the common room of dorm 24 which lent itself to dancing or relaxing on the couches. Costumes ranged from feminist "suffRAGE," unicorns, and power rangers, to 1920s mobsters and futurism. Student DJ, Shaoul Sussman, kept the beat going late into the night while Jamie Lozoff and Lindsay Parkhowell were seen dancing the Charleston even after the music had ended.
As the Halloween spirit died down many students learned about the German holiday, St. Martin's Day, which celebrates the harvest and commemorates the Catholic St. Martin for which it is named. On both November 10th and 11th the sidewalks were crowded at dusk as the Pankow youth celebrated Martinstag by carrying small paper lanterns around and singing carols to the passing pedestrians.
The nights continue to get dark even earlier and students find themselves needing to bundle up but spirits are still high here in Pankow.