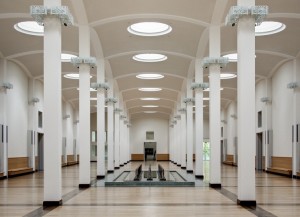 On Wednesday the 23rd of May students taking ECLA's core 'Values of the Florentine Renaissance' course visited the Gemäldegalerie—literally 'picture gallery'—located at the Kulturforum near Berlin's Postdamer Platz. And first impressions were that the Kulturforum was quiet… too quiet.
Open since 1830 and revamped in 1998, the Gemäldegalerie lies in the shadow of East Berlin's Museum Island, which remains far better-known on account of its Altes Museum, Neues Museum, Alte Nationalgalerie  and Pergamon Museum.
This competition is a result of West Berlin's desire to establish its own institutions during the country's post-war period, in which the Soviets claimed most of its originals along with the entire eastern half of the city. Consequently, many of Berlin's attractions are now duplicated, with both Berlin's East and West having their own university, concert hall and zoo, amongst others.
Despite the tranquil atmosphere, we heard from Laura Scuriatti, one of our course co-ordinators and guides during the visit, that the gallery had had a "turbulent history." The works began being collected at the end of the eighteenth century from Prussian and Bavarian castles, before Germany was unified in 1871, at which time there had been an obsession with the Renaissance. This, we were told, was the fashion after the French Revolution, at which time the idea of the modern museum as a staple of a dominant nation's identity came to rise.
We spent most of our time looking at two paintings, the first of which at first looked like an almost mathematical exercise of perspective (to the point that some believe it to have been painted by an architect). Geoff Lehman, our other course co-ordinator and tour leader, however, was sceptical, saying that to this day no-one can really know who it was painted by, where, or even exactly when.
Either way, the painting creates an eerie-looking stage space, devoid of characters or human life, which stretches into the far distance of the sea at its vanishing point. Geoff suggested that we see this painting as commenting on vision and the exercise of viewing itself, and likened its sentiment to that of Imogen in Shakespeare's Cymbeline. Indeed, she says that, were she to have seen her lover sailing away into the distance, she would have looked, "upon him till the diminution of space had pointed him sharp as my needle […] follow'd him till he had melted […] to air."
The second work we discussed was a portrait of Ugolino Martelli, a protégé of Florence's Medici family, by Agnolo di Cosimo (often referred to as Il Bronzino). Ugolino looks at first to be scholarly, but it transpires that the book he is holding is Homer's The Iliad, and that he is pointing to two particular Greek words in the text: "man" and "stand up".
This picture can be viewed as a comment on the importance of action as well as thought, as the books that he is holding obstruct his movement from his seated position. Curiously, in the background we see a statue of David (from the Bible story in which the young man slays the giant Goliath) which has been remodeled from a statue previously portraying a woman.
I wasn't quite sure what to make of that, but I was certainly aware that being shown around the Gemäldegalerie with a focus on the values of Renaissance Florence and the guidance of ECLA's resident art experts was far more enlightening than it would have been alone.
by Zac Barnett (1st Year BA, UK)