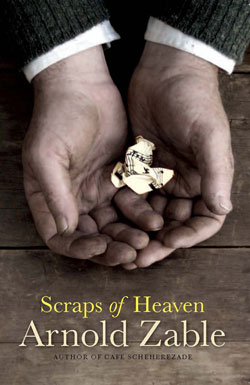 Note: This author profile was written at the request of the online magazine "artaktivist," for their issue on refugees and migration. It will be published online in both Russian and English.
If modernity is to be characterised by the theme of exile and the achievements of émigrés, as Edward Said claimed in Reflections on Exile, then the Melbourne writer Arnold Zable is modernity's most recent chronicler.  His writing exists between geographical places one can pinpoint on a map and memories that so persist over time, and have become so imprinted on the mind's eye, that they seem to be timeless. His characters, often refugees, survivors, or other persons displaced by conflict must tell him their stories, sometimes several times over in variegated repetition, because while their lives have moved on from the experiences they were exiled from, their recollections have not. Zable's talent as a writer lies in his ability to minimise his narrative presence so that his stories flow effortlessly from these characters, which creates the sense that these recollections are being spontaneously shared directly with the reader. We feel as if we are there as well, perhaps sitting in a cramped apartment overlooking Pott's Point in Sydney, hearing the story of a survivor from fin de siècle Vienna.
Arnold Zable was born in Wellington, New Zealand and grew up in the lively and multicultural district of Carlton in inner-city Melbourne. He revisited his childhood experiences in his award-winning first novel Jewels and Ashes, a chronicle both of his childhood among the Jewish émigré community of Melbourne and of his journey, taken for the most part on the Trans-Siberian railway, from Australia to Bialystok in Poland where his family originated. His second novel, Cafe Scheherazade, was based on the real-life stories of three Holocaust survivors that Zable met in the eponymous cafe in Melbourne: Zalman, who escaped to Japan and lived in Kobe opposite the German embassy; Avram, who fought as a partisan when he was only 19; and Moshe, the charming black marketeer of Vilna and Shanghai. These characters, like the classical namesake of their café––Scheherazade, must keep on talking in order to remain alive.
Since these earlier writings Zable's scope has widened out from the specific experiences arousing out of the Holocaust to focus on the refugee experience in general. He has established himself as one of the foremost voices and advocates for refugee rights in Australia and their most articulate storyteller. His most recent collection of stories, Violin Lessons, ranges from Saigon to Vilna, Athens to New York, West Berlin to Tehran, and closes with the amazingly true story of Amal Basry, who survived the sinking of her refugee-boat trip to Australia by clinging to a corpse for 20 hours. I believe that Zable is capable of collecting such a vast range of experiences because he views his role as that of the storyteller passing on history, as one who keeps oral history alive, present, tender, and shared. The image of hinges on a door occurs to me as appropriate: they are the part essential for transportation, and for openness, but their role is also most effective when unobtrusive and smooth.
I have always looked forward to reading a Zable book, and I have always raved about them to friends once I finished. They articulate a vision of contemporary Australia which is plural, humane, dignified and learned; as well as a world which is full of foreign colour, vibrant cloth, cooking smells, and tea conversations; a world in which the most foreign stranger is only a story away from becoming one's closest friend. Zable's writing is alive with an appraisal of how the sensuous world, rich in colour and smell and taste, informs and shapes recollection and memory; and how, as a consequence, his characters (and by extension, his readers) can never truly control how or when the past will be visited upon them – something as simple and unexpected as a walk down an avenue lined with plane trees may invoke the most marvellous of memories. As his characters move through the cafes of Vilnius, the living rooms of Australia, and the city streets of Saigon or pre-war Vienna, they share the urgency of their lives with us, and we move with them.
It is a joyful irony that stories so concerned with the displaced could transcend national boundaries and find, in my estimation, a home anywhere in the world – on a bookshelf in Melbourne, but also on a kitchen-table in Beirut or Wroclaw or Johannesburg or Naples.  I ask myself which city in the world would be most appropriate to read a Zable book in – and find no clear answer. His work travels as simply as pollen and then settles somewhere at random to find a new home and flower. I think this is a great compliment to his worldliness and, in this sense, his stories belong to everyone.