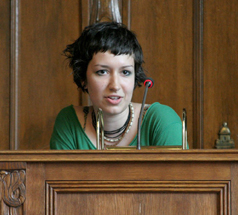 This week ECLA bid farewell to a class whose unique character will be sorely missed. The forty-five students of this year's AY and PY programmes brought an abundance of knowledge and talent to campus last Autumn, which was quickly uncovered during seminar groups and extracurricular activities. On June 21st, faculty, administration, and special guests gathered in Rathaus Pankow to celebrate the end of ECLA's fourth academic year and to wish the class of 2006 good luck in their future endeavors.
The ECLA Choir opened the ceremony with three short pieces before President Laurent Boetsch took the stage to extend a warm welcome to everyone in attendance and introduce ECLA's invited speaker Mayor Burkhard Kleinert of Berlin-Pankow. Mayor Kleinert expressed his appreciation for ECLA's ongoing relationship with the Pankow district – a relationship that has proven to be mutually beneficial over the years. Provost Emeritus Dick Shriver gave an often humorous key note address in which he urged students to 'follow their bliss' once they left ECLA.
As usual, the student speakers were the most popular part of the ceremony. Brindusa Birhala (AY 2006, Romania) and Violeta Sacara (PY 2006, Moldova) had been nominated beforehand to speak on behalf of their respective programmes. However, both students broke with tradition and chose other mediums to convey their feelings at the end of the year. Birhala recited the poem Song of Childhood by Peter Handke and related it to the ECLA experience. Sacara sang Hands by Jewel with Lucian Cosinchi (PY 2006, Romania) accompanying her on guitar, and then left the audience with just a few poignant words before returning to her seat. After so many speeches, the Programme Directors Peter Hajnal and Thomas Norgaard kept their remarks short before awarding programme completion certificates to the members of the class of 2006.
Following the ceremony, everyone reconvened in the garden of Waldstraße 70 for a reception that continued into the early evening. The yearbook crew, Julian Triandafyllou (AY 2006, U.K.); Mimoza Gojani (AY 2006, Kosovo); Nicole Busse (AY 2006, U.S.A.); Nadzeya Kernoha (AY 2006, Belarus); and Adrian Nicolae (AY 2006, Romania), distributed the 2006 Yearbook shortly after dessert had been served, allowing everyone to reminisce over an eventful year while devouring tiramisu and apple strudel.
The day's official programme ended with a concert in the lecture hall where Nadzeya Kernoha (AY 2006, Belarus), Hannes Kannicht (AY 2006, Germany), Johanna Lerch (AY 2006, Germany), and Maria Mocanu (PY 2006, Moldova) performed the pieces they have been working on in their voice classes with ECLA's Choir Director Michael Geisler.