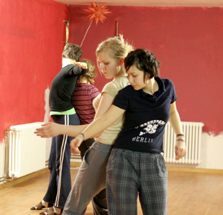 Last week, ECLA's modern dance workshop met for the first time. The class is the brainchild of Soledad Rodriguez (AY 2006, Argentina), who began looking for a way to bring the activity to campus almost as soon as she arrived last Fall. She noticed that other students shared her enthusiasm for dance, so she proposed the workshop as a student project and found an instructor, Stephanie Maher, living in Berlin. Maher is a dancer and choreographer, whose work has been performed in the U.S., Germany, Holland and the U.K. Rodriguez recently answered questions about the workshop:
Why did you decide to start a modern dance workshop at ECLA?
I love dancing, and I can't conceive of life without that activity. I also think that the experimental nature of modern dance is a great complement to the type of interdisciplinary work we do at ECLA. Fusing text and acting with movement, using the body as a vehicle to narrate, building and breaking structures; it is all about expressing and interpreting different types of meanings.
How would you define modern dance and what is it about this form of dance that appeals to you?
The type of dance we are doing in this workshop involves using sequences of movement as a point of departure to improvisation, that is to say, constructing and deconstructing structures through motion. I believe that improvisation in dance allows one to become more detached from the awareness of dancing or performing, and connects the body with the instant, with the very moment of creation, making the dancing more "organic". I enjoy this approach much more than other more rigid or structured ones.
Besides modern, what other forms of dance have you done?
In Buenos Aires I did a Butoh dance workshop (Japanese contemporary dance). Also, I took salsa and meringue classes and jazz dance when I was in primary and high school.
Do you need dance experience to take the workshop?
No, not at all. The kind of work we are doing does not presuppose any previous training or experience.