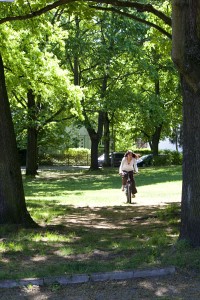 In the autumn of 2012, I interviewed ECLA of Bard's site manager Lars Köhler about the location and site of our campus. Lars explained why our location in Pankow-Niederschönhausen (in the quiet north eastern corner of Berlin) serves as an ideal setting for the student body. Our site manager remains firm in the belief that Pankow is the best place for ECLA of Bard, since it is quiet, peaceful and only twenty minutes away from the center of the city. However, a number of students would argue that the area is too quiet and would prefer to experience the livelier parts of the city. As such, Pankow remains unexplored by some of us.
Pankow tends to be a rather not-so-active district of Berlin with respect to night life, cafés and other activities, especially in comparison to bustling districts like Kreuzberg and Mitte. Pankow is mostly a residential area, with a population of young families and seniors. Despite it seeming not so exciting, Pankow has great gifts to offer if one sets out to discover them. A couple of months ago, I purchased a bike. The grey winter gave me plenty of time to fantasize about biking around Pankow once the snow melted in the spring. It has been nearly a month now since the spring sun decided to show itself. Though on some days the weather remains brisk, I decided to set out with my bike to explore my neighborhood.
To my surprise, Pankow is now one of my favorite places in Berlin. If one rides north, towards the area which is called Buch, one finds a small graveyard. This burial site boasts the grave of the country's former currency, the Deutsche Mark. Traveling further on, there lie the beautiful Botanical Gardens of Pankow. On a recent visit, I rode my bike through the gardens and passed peacocks, deer, ducks, hogs and trees filled with the most colorful birds and bird houses. The botanical gardens have farms with mustard fields where the grass comes up to my chest. Riding hastily between the fields, I feared bites from strange insects. Undaunted (and unharmed), I emerged unscathed.
But Pankow also has other beautiful parks waiting to be explored—like the Schlosspark and the Bürgerpark. These particular sites boast small lakes that shine and gleam under the sun's light, and soft voices of children playing which fill the outdoors with their echoes. A strange, yet serene stillness accompanies the bike trip through the Schlosspark to the Rathaus Pankow (the local city hall). From my visits to all these places in the neighborhood, I feel as if I do not belong anywhere but Pankow. Hopefully, with the aid of my bike, I hope to explore even more of Pankow, in order to uncover all its majestic beauty. Together with other students, I will spend this whole spring relishing the scenic beauty hidden around our neo-Bauhaus buildings in Niederschönhausen.