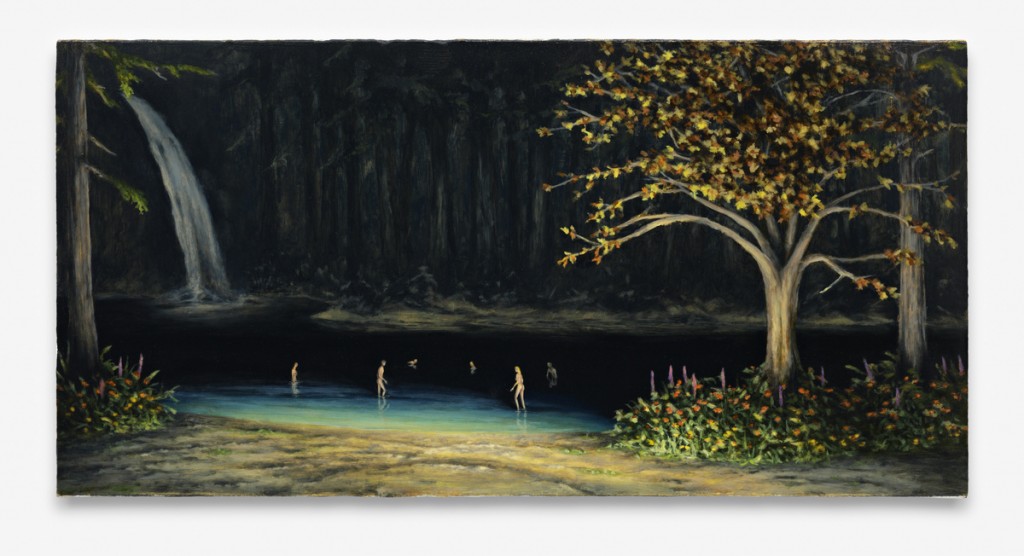 Dan Attoe, an artist living in Portland, Oregon, had in March and April 2014 a show entitled Landscapes With Water at the Peres Projects gallery in Berlin. Attoe is represented by Peres Projects, which has another branch in Los Angeles. Dan Attoe's micro-detailed oil paintings are not to be missed. When I visited the gallery I was left with a very strange feeling of familiarity. The paintings had an impact on me that seemed greater than I would have expected. When I returned to my dorm room, I immediately began researching Dan Attoe and his artwork. What about his paintings makes them so visually appealing, so familiar?
The Peres Projects website described Attoe's show as follows: "Within the series Landscapes With Water Dan Attoe is revisiting several landscapes he has previously explored, including some places with personal references where he had formerly lived – like the North Shore of Lake Superior or the rivers and waterfalls of Washington state and Idaho. Even though all of Dan Attoe's works are fictitious…The landscapes, their geology, light, time of day, and properties of the water – movement, degree of transparency and color – are deliberately composed." Though based on places he has either seen in person or are commonly depicted in popular culture, Dan Attoe imposes a new narrative and character into the scene in order to stimulate the viewer.
Dan Attoe got his BFA in art in 1998 at the University of Wisconsin and his MFA in 2004 at the University of Iowa. Besides his paintings, Attoe also makes sculpture, sometimes using neon.
Dan Attoe founded Paintallica, a group of artists and friends who make group installations. The installations, according to their website, are often put together in short periods of time of extreme concentration and effort, normally inspired by group drawing sessions. They write of themselves: "Our imagery and tools are remnants of the working-class, rural American roots of most of the members… Among the accomplished members, many have exhibited internationally; one is a published graphic novelist, two are war vets, and one has made headlines by offending President Obama on his campaign trail. Members have been reviewed in Sculpture Magazine, ArtForum, and The New York Times." Finding that Attoe is inspired by the average American did not surprise me. Perhaps this is part of the reason his paintings felt familiar.
The size and scale of the paintings also play a role in the effect Attoe's artwork has on its viewer. The paintings in Landscapes With Water are twelve square inches on average, featuring tiny and detailed figures. Looking at one of Attoe's paintings is a little like looking up at the stars. As a viewer, I was reminded of how small we humans are when put into perspective with large landscapes. Though realistically painted, all the scenes have a magical quality to them. The bodies of water featured in this show are portrayed in a way that makes the viewer think about what we are as small and isolated bodies, while giving us space in the landscape to think and reflect.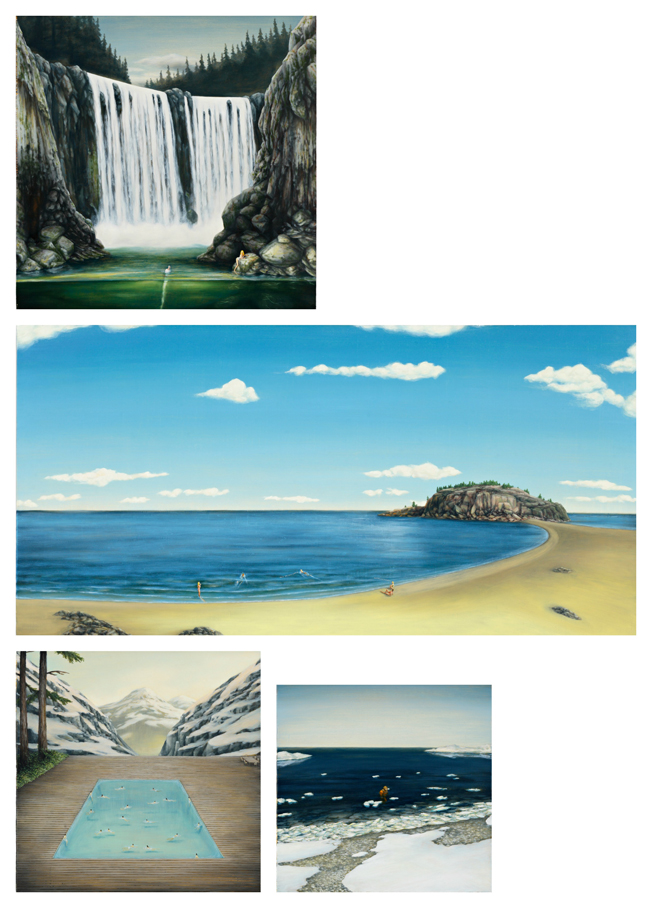 Before grad school, Dan Attoe created a studio practice for himself that entailed making one painting every day. Since then, he has developed his practice. Rather than aiming to complete a painting a day, Attoe gives himself more time to work so he is able to make his paintings more complex. However, he still completes a drawing every day for good practice. From these drawings and paintings, Attoe typically chooses one to expand into a more developed and detailed painting. Dan Attoe said in an interview that he likes to "think about layers of meaning, and ways that images can unravel, and blossom." He also puts a great deal of thought into the text that is chosen for each painting.
Besides being deeply relatable, I find Attoe's art to be inspiring. After reading about his process, I have decided to make my own daily drawing, inspired by my Berlin surroundings. Hopefully I too will be required to expand my personal activities and stay interested and thoughtful about my surroundings.
The reason for Attoe's daily paintings (and later drawings) is to keep himself in touch with the day and expand his attention to things he encounters regularly, particularly their physical qualities. This information further explains why his paintings might be so intriguing. They make the viewer stop and think about ordinary things on a deeper level. By carefully observing and recording his surroundings, Attoe is able to share his interests and discoveries with anyone viewing his paintings. Attoe puts a considerable amount of thought into choosing his subject, saying: "I can never lie to myself for too long before I get bored… It [his daily exercise in painting or drawing] has also challenged me to be able to keep myself interested in the world." He went on to say: "I figure it'll show if it's in me. I just write things that interest me."
Part of the reason his compositions are interesting is because the artist himself is truly interested in what he's making not only aesthetically, but also on a psychological level. The small phrases etched into his paintings come off self-assured because they are. Dan Attoe does not doubt his intuition, but instead allows his background ideas and thoughts come to the surface, thoughts that many people have but never acknowledge or express because they seem ordinary until inspected in the right context––the context of one of Dan Attoe's paintings. The scenes depicted in Attoe's paintings are not foreign, but rather easily understood to relate to philosophy, psychology, culture, history, biology, and society at large. Though Dan has a deep interest in psychology, he knows to trust his creative instinct rather than produce psychologically theoretical artwork. This lack of official theory makes his art even more relatable to the everyday person who has not studied psychology. However, before switching to being an art major, Attoe did study psychology. His interest in psychology is still very evident in his work, particularly the statements that go along with most paintings (such as: "we all have problems"), which could be taken at face value, but often imply a more existential concept, especially in the context of an art gallery, where viewers are expected to look for deeper meaning.
Most of Attoe's paintings have a dream-like quality to them, which is yet another part of why they cause viewers to face their subconscious, to turn inward. The subject matter is harsh, raw, and complex. Even if the purpose of a painting is not clear to Attoe himself, the mere fact that the subject is lingering in his mind is reason enough to honor it as the subject of a painting. The subject matter of many of Attoe's paintings go beyond our intellectual capacities, into the subconscious.
Because so much of Attoe's subject matter comes from his discoveries in exploration, looking at one of his paintings can feel a little like exploring yourself. Likewise, reading the small text on his paintings feels like looking into his subconscious thoughts, and causing the viewer to reflect more on their own thoughts.
The voice of Dan's subconscious is rooted in his upbringing and his personal perspective. Born in 1975, Dan Attoe grew up deep in the woods with a forest ranger for a father. He spent summers exploring trails and woods, and winters indoors making things. His mother strongly encouraged crafts and started painting with acrylics at the age of fourteen. The paints were bought for him by his parents as an attempt to redirect his impulses, namely spray painting everything in sight. As a result, Attoe became a more focused and meticulous painter.
Attoe claims that the voice in his paintings is "influenced by [his] cultural location: a rural guy from the punk rock/heavy metal generation working at blue collar jobs to get through school and get by – all of those psychological and philosophical things put to work in that voice through metaphor and allegory, as opposed to a more direct way… The town where [he] grew up Ashton/Island Park, Idaho, was heavily engaged in issues surrounding migrant employment and everything that came with it, from racism to drug trafficking.  So rural culture at that time was full of bondage bracelets, heavy-metal paraphernalia, drugs, churches, switch blades, guns, boy scouts, paranoia, tension, and overall feelings of inadequacy." Knowing more about Attoe's background helps a viewer read even more into his work.
By reading his interviews, I have come to the conclusion that Dan Attoe perceives his art in a way that is impressively similar to how I perceived it, and I think that is because it is so natural and reflective of the human condition, down to the size and layouts of the paintings. Dan Attoe's paintings are a must-see.