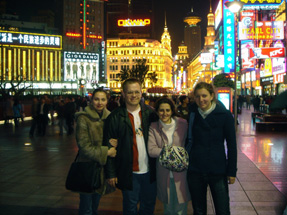 Harvard World Model United Nations is a Harvard University student-run organisation that offers one of the most authentic Model United Nations experiences possible, thanks to its 1000 delegates from over fifty countries and its itinerant location. Each year the conference is hosted in a new location and participants are divided into eighteen simulated committees of the United Nations to discuss issues currently facing the international community.
ECLA attended Harvard WorldMUN for the first time this year. The conference was held in Beijing, China, in cooperation with Peking University. The ECLA delegation, representing the country of Guatemala, included Evgeny Morozov (PY 2006, Belarus), Violeta Sacara (PY 2006, Moldova), Paula Muenkler (AY 2006, Germany) and Elif Keskiner (AY 2006, Turkey).
This year WorldMUN had 1,380 participants from thirty-seven different countries. The week-long conference was very professionally organized and combined committee sessions with various social events. The registration of delegations and opening ceremony took place on Monday, March 27th. Seven committee sessions were spread over the next five days and the conference ended with a closing ceremony on Friday afternoon.
The ECLA delegation was assigned to four committees: Historical General Assembly (Paula), United Nations High Commissioner for Refugees (Elif), United Nations Commission on Human Rights (Violeta) and United Nations Development Program (Evgeny). After some long disputes and amendments, all of our committees (consisting of 60-90 people each) managed to adapt a resolution. Even though we voted against two of these resolutions it was still nice to produce a final paper.
Harvard WorldMUN 2006 was a great experience for all of us, both as a conference and as a trip to one of the world's most distinct cultures. In addition to the intense academic program at the conference, we also had a chance to enjoy the various cultural dimensions of vibrant Beijing and Shanghai (which we visited prior to the conference). We managed to observe the Chinese way of life and its diversity, wandering through the small streets of Hutongs (traditional Chinese streets) as well as modern and dynamic streets that were full of life, business and the spirit of globalisation.
Everything was new for us—from cuisine to the language (communication was particularly challenging since few of the people we met spoke English) and from bargaining in the streets to public transportation. It was an amazing learning experience as we had to cope with new facts every single day. The well-planned social component of the conference—with the two trips to the greatest sights in China (the Great Wall and the Forbidden City)—allowed us to gain a much better understanding of Chinese history and traditions.
It was also particularly amazing to meet five ECLA alumni in China, two of them Chinese. They were extremely helpful in making our trip so enjoyable. We were really proud to be part of the same ECLA family.
By Evgeny Morozov (PY 2006, Belarus), Violeta Sacara (PY 2006, Moldova), Paula Muenkler (AY 2006, Germany) and Elif Keskiner (AY 2006, Turkey)