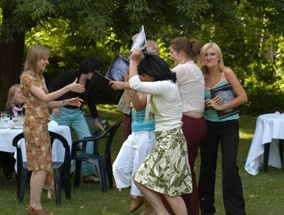 ECLA celebrated the end of its third full academic year with a series of events designed to give the entire community an opportunity to recognize Academy and Project Year students. The final week of the term began with public oral presentations from each of the Project Year students (see Students Present Research Projects to Fellow Students and Faculty, below) followed by a dinner hosted by Dean and Mrs. Boetsch at the "Yellow House" in honor of PY students and the faculty. Later in the week ECLA was treated to a musical concert, compliments of the students who had taken voice lessons with ECLA's music director, Sarah Paleologu. Alumni, students, and faculty heard selections performed by: Sofiya Skachko (Ukraine), Qimin Wang (China), Geraldine Hepp (Germany), Friederike Wenzel (Germany), Maria Mocanu (Moldava), Yelena Zaitseva (Kazakhstan), Joseph Ollapally (India), Cristina-Daniela Virlan (Romania), Alena Matzke (Germany). Singers were accompanied by Jiyoon Im (USA).
Later in the week more creative talent was on display when three students introduced their artwork at an "opening" and reception for the ECLA community. Geraldine Hepp (Germany) spoke about what inspired her portrait painting while Ioana Muntenescu (Romania) and Mircea Petrescu (Romania) displayed and spoke about their photographs.
The Commencement celebration was held once again at the Pankow Rathaus where students, faculty, parents, guests, and friends were welcomed by Frau Almuth Nehring-Venus representing the city government. Geraldine Hepp (Germany) and Ioana Muntenescu spoke on behalf of AY and PY students while Provost Richard Shriver gave a provocative address challenging students to think about seven key questions certain to occupy the world of the 21st century. Musical interludes were provided by Charles Lang on the piano and by the ECLA Choir under the direction of Sarah Paleologu.
Finally, following an elegant reception and dinner in the garden at Waldstr. 70, two students introduced films that they had made during the past academic year. Maria Veyts (Russia) showed her documentary, Lost and Found, and Jane Kurbat (Belarus) brought back a host of wonderful memories with her film of the ECLA trip to Italy.