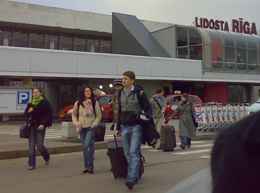 Four teams of the debate club were sent to a tournament in Riga last weekend. The tournament brought together people from 17 countries and 3 continents.
ECLA students are already accustomed to intercultural exchanges and intellectual discussions, but the clash of different Weltbilder was taken to a new level at the tournament. ECLA teams had to come to grips with controversies that were entirely new to them. The topics were carefully chosen and tested the debaters' general knowledge. Naturally, they had to debate age-old ethical dilemmas such as euthanasia, but also environmental concerns, taxation, punishment for sex offenders, amending the Japanese constitution and controversies in medicine. People from various backgrounds and experiences brought differing values and facts into the discussion.
The young ECLA teams were initially shocked by the credentials of all the experienced debaters but as Jeff Marshall mentioned: "It was great to find out I am able to compete with all these people after only 1.5 months of training." ECLA even had one team breaking into the second round of debating, with Hannes Klöpper and Svetlana Ten advancing to the quarter finals. There they faced one of the strongest teams of the tournament and were able to hold their own against tournament legends: SSE Riga.
All ECLA debaters agreed that going to an intense tournament was a great opportunity to clarify one's feelings about crucial issues. Furthermore, the constant debating spurred rapid development in areas such as argumentation, structuring of one's thoughts, clarity of expression and precise vocabulary. Debating also demonstrated the usefulness of the ECLA curriculum. Even though people gave ECLA debaters strange looks in the plane when they studied Aristotle as in-flight reading, knowledge of the great philosophers allowed them to see the big picture behind mere arguments.
The trip to the tournament seems to have given new energy to all the participants. Aurelia Iatco said: "I feel much more enthusiasm for debating now that I've seen how it is done at tournaments." By discussing global controversies with only 15 minutes for preparation, debaters sharpen time management skills. If one can manage a 5 minute speech that clearly outlines the necessity of European immigration quotas and the underlying values associated with such measures, one has little fear of an upcoming essay.
The initiator of the debate club, Martin Aher, looks forward to a bright future: "There are many new tournaments in the coming months- from northern Estonia to sunny Istanbul, there are opportunities for debate almost everywhere". The club members have shown most interest in German tournaments and events in Prague. The world championships that are held in Canada this year are slightly out of reach for ECLA's novices, but many show the energy, dedication, and aspiration to speak as well as the best in the world.
By Martin Aher (2007, Estonia)