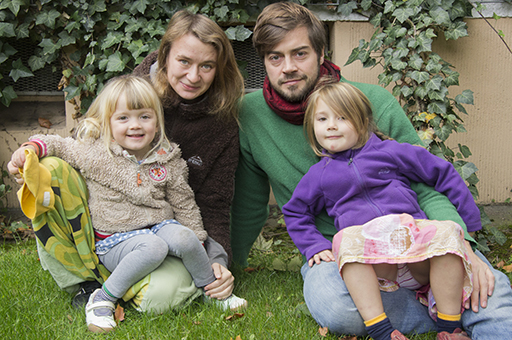 If you thought Pankow was the most boring, uneventful borough of Berlin – think again! Only ten minutes from the U-Bahn station lives the most fascinating, unique family you will find in Berlin – "The Family Without Borders." The Alboths are a travelling family who together with their small daughter Hanna decided to live their life's dream in 2010 – doing a 6-months long road trip Around the Black Sea, through the Caucasus to the Caspian Sea and back to Berlin. In 2011 and 2012, they continued their adventures when their second daughter Mila was born – the Between the Oceans Tour took them through Central America from Mexico down to Guatemala, Belize and Honduras. In the summer of 2013, they went to Bosnia and Herzegovina. In 2014, they did their next big trip – Looking for Taka-Tuka-Land, through New Zealand and the South Pacific, with two big backpacks, a tent and hitchhiking enthusiasm on sailing yachts. It might seem strange to first introduce Anna and Thomas's daughters in describing their travelling adventures – however, the Polish mom journalist and German dad photographer give their children a lot of credit when it comes to choosing the destinations and learning from people's stories on the trips.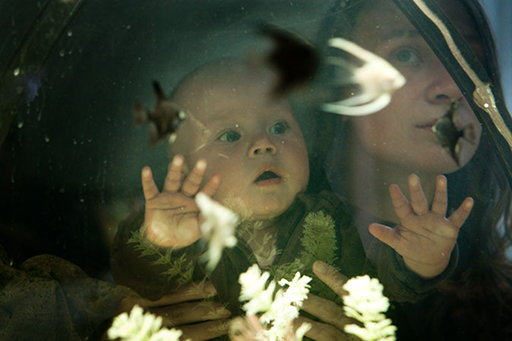 Anna and Thomas Alboth met at a Youth Press Conference in Brussels, after which they quickly realized they should spend their lives together. When they are not travelling, they live in a WG apartment in Pankow – with their playful daughters, colorful memories, filled bookshelves and diverse flatmates. They love to live life fully and to interact with people in meaningful ways. The result of that life is their blog "The Family Without Borders," where they share their stories, adventures, and picturesque moments. The blog's witty and beautifully visual narrative style brought the Alboths the National Geographic Poland Blog of the Year award already in the early stages of its development in 2011.
Anna and Thomas kindly invited me for breakfast at their place, where we shared our stories and adventures with each other – while their five-year old daughter Hanna was making coffee for all of us and their two visiting couchsurfers were enjoying the Alboths' hospitality. We talked about their travelling and family life (both being beautifully intertwined), their highly successful blog, diversity, anecdotes, as well as life and other random wonders that make it worthwhile. Meet the Alboths – the Family without borders and with much adventurous and exploratory spirit!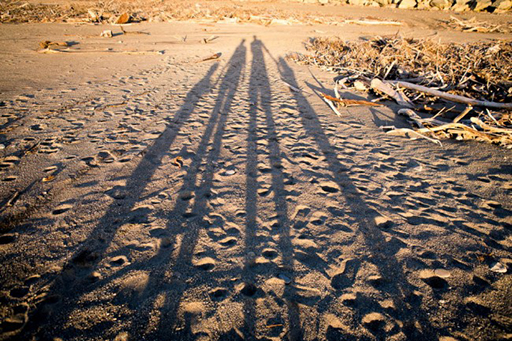 Why call yourself "The Family Without Borders"? What types of borders are you trying to transgress exactly?
Thomas: The first idea was basically which domain name you can take – so that's where it came from.
Anna: It was a good idea actually. I think it was a better idea than we thought. We were thinking about a travel blog – that was the main idea of our blog. But thanks to the domain we found, it turned out very cool. It's not the Alboths traveling the world. And thanks to it, we have now this space to write about much more than travelling.
Thomas: Yes, the name is open, so it can be anything.
Anna: We had this idea in the evening: "Family Without Borders." And in the morning, Tom wanted to register it – and "Family Without Borders" was taken just three hours before. Crazy! That's why we took "The Family Without Borders" domain.
Thomas: Now I also have the other one, but it doesn't make too much sense to switch to it.
Do you know who the other "Family Without Borders" was?
Thomas: It was a woman from Bulgaria, who wanted to do some project, but never did it in the end, so she never used the domain.
In 2011, you received the National Geographic Poland Blog of the Year award. What would you say distinguishes your blog from other travel blogs?

Thomas: We tell our stories deeper. When I see travel blogs, I don't read them too much. You always have this option of going to the city, that restaurant, seeing the sites, doing this or that, but you rarely have deeper inside stories of some places, some families. You don't see many travel blog writers getting the feeling of people's lives. So, for me, such blogs are more of a tourist than travel blogs.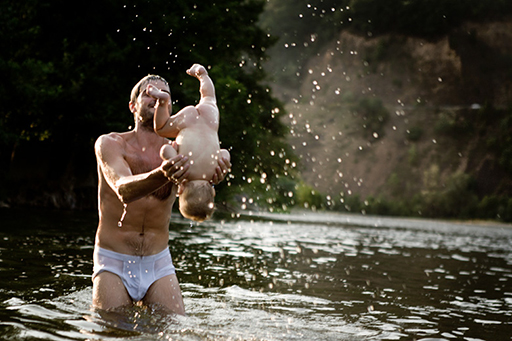 Anna: What is good, but at the same time somewhat disturbing, about our blog is that we combine more topics – it's not just travelling, or just Central America travelling,  it is travelling plus kids, written in English. Sometimes it's easier that we have so many topics, but it is also difficult to put us in a certain box. But maybe that's our peculiarity: you cannot put us in a box. We have both readers interested in going to the places we've been to, as well as people, many of them couples, who are afraid that their life will be over once they have kids and they want to travel before that. But when they read us, they gain this hope that it won't be too late to travel with kids. Then there is a group of parents who need a kick of courage to do things. Then there is a group of parents who are totally not interested in travelling, but they like nice pictures of kids. It's a great and varied readership. It is always difficult when somebody asks us what our blog is about. It's basically about us – and the fact that we travel makes it about travelling.
Thomas: But we do not have posts like "10 Things you can do in Barcelona, etc." OK, it can be useful, of course…
Anna: They bring a lot of readers. We sometimes have these discussions – what to post on the blog. We've been, let's say in Auckland, New Zealand. It's easy for us to make a post about what is interesting in Auckland – but it's not interesting for us. We don't write about it, or we don't post about it, because we just want to write for people who are like we are.
Thomas: You also generate a lot of users by search engines. Of course, "10 best attractions in New Zealand" or "Places to see in New Zealand" will get more visitors.
Anna: Yes, there are travel bloggers who think only about this, and then they make posts according to the readers' expectations. But for me, even in writing about Auckland, I would – as a journalist – feel stupid to write about ten places to visit there. It's so boring.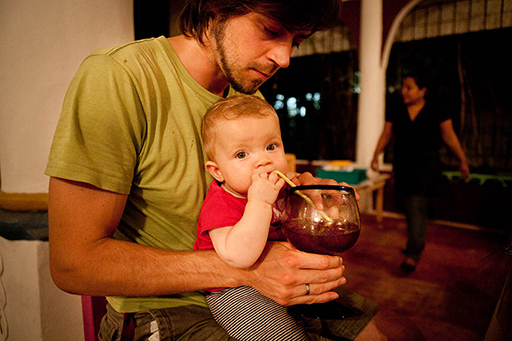 So your experience in journalism is a big part of your writing?
Anna: it surely was a big part at the beginning of our blog. I always wanted to write objectively. We've been to, let's say Guatemala, and we talked with the Mayas. I initially wanted to do a big research about them and write a story about their life and culture. And then, once we started putting some parts of our life and our kids on the blog, suddenly, we had so many more readers! Tom was laughing at me, saying "blogging is this, that you also put your private things. It's not a newspaper where you write your reportage." And now we are somewhere at the border. We always have some personal things in there.
As you mentioned earlier, the photographs are a big part of the blog. Tom, since you are the one doing most of the photographic work, I wanted to ask you: What is the value of the photographs that you take for your stories, and how do they come into being? Are they spontaneous shots, or do you actually think about shooting them beforehand, always having the camera nearby? Sometimes, from my experience as well, you just want to be in the moment and not live it through the lens. How do you reconcile these different aspects?
Thomas: When I was in Burma, for example, you see these guys with tripods – they stand there from 5 a.m., waiting for the sunrise. They shoot 3000 pictures during one sunrise! These guys I would call photographers in the way of "travel photography." But they do it as a job. They come, pull out the stuff and take pictures. But the way we travel is different. You simply cannot wait for 15 minutes with the kids because they will get annoyed. I mostly don't spend more than two minutes or so per picture. So, it's more about having the camera always with us. But, of course, we do at times create situations. If you want to have a portrait, you have to say "Look here!". Otherwise the kids would just run around.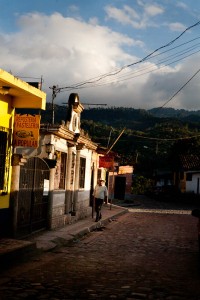 However, I also like to enjoy these moments alone. Recently we've been to the Harz mountains in Germany, and as we were going out, I realized all the camera batteries were empty and we couldn't take the camera with us. But I also had moments when I needed to take a picture – when I was sitting there in the evening, under the sunset, with a beautiful view in the middle of the forest and all these mountains around – I thought "Aargh, I don't have my camera!". I also feel the need to take a picture if it's a nice setting.
Anna: With people though, we always ask whether we can take a picture. Almost always. Or you just agree through eye contact that you are allowed.
Thomas: But sometimes, you do have to steal a picture to have that particular instance captured.
Anna: Still, I don't think we ever had a situation that somebody was not happy.
Thomas: No, but in Russia, there was this nice old grandma, and I really wanted to take a picture, so I started talking to her, but she ultimately said "No, take pictures of young people." So, I never got this shot. It can be difficult.
But, to answer your question, no, I don't always want to have the camera. In concerts, for instance, as soon as I take out the camera, I feel out of the event.
How do you choose places to travel to? What lures you to a specific place?
Anna: In the beginning, for Around the Black Sea trip, it was first of all clear that we want to go east, because we are more interested in the east than in the west, by default. Then, we were thinking about the places where we have friends. And we were also thinking about the language. In the end, we went to places which were interesting for us – Ukraine, Russia, Georgia, Azerbaijan… We like this idea of crossing a few countries, so this was perfect.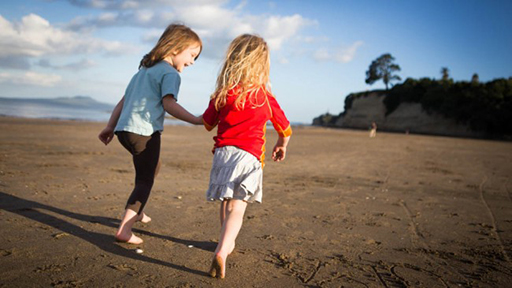 When it comes to our last choice, the Pacific trip – that was a bit inspired by Hanna and her Pippi Longstocking stories in the South Seas. We really wanted to go far. We thought, we can go wherever we want, so we can also go the farthest ever. Lately we read that it is 16-18000 kilometers from home. Language makes a difference though. In the Pacific, it was so nice that we could talk in English with everybody. Meeting people was so much deeper than when we were in Central America, since we don't speak Spanish much. It was difficult––especially in some Mayan villages where they don't even speak Spanish.
 How much preparation do you usually do before heading off?
Anna: We don't do nearly anything, except for buying the tickets and checking whether we need visas or no. I always try to write to the people we know, or friends of friends, but this usually ends up being three days before we leave. I guess it could be good if we would check more data, but on the other hand, I love discovering things on the spot – sitting with people in the evening and then hearing from them where you can go the next day. This feels much more real. I feel I would have many more expectations if I would do more reading – but maybe it's just a cheap excuse. However, we do always have a travel guide with us. We do check if there are some places we cannot miss – but this usually happens on the flight.
Travelling with two small girls, I can imagine you have had quite a few anecdotes. Can you share one of those memorable moments?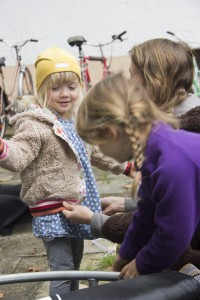 Anna: (laughing) Should it be a story from the morning, afternoon, evening, a specific continent?
I really like that the girls speak both Polish and German, and that they understand English too. On the last trip, Hanna even started to speak English with people. I really love her little comments in some situations – they're very direct and pure. It's nice, since then we have this other voice, this pure voice, with us – one without the big cultural or historical background. One story I really like happened in Fiji. On this trip we had a lot of talks, very general talks, on why to work or earn money, given that the people on the Pacific islands have their food in the bushes and do not have to work – all these general topics about everything and nothing at once.
Thomas: … about whether you can learn something from them or they could learn anything from you…
Anna: Or should we show some solutions which are easy for us? On the other hand, it feels like it is not our task to build something in their village.
Thomas: Or in Guatemala – do you need to show them how to make a business there, how to earn some money off tourists?
Anna: We had some ideas for this in one of the villages, and we really wanted to help them because they do not have an easy life. But then, we happen to be on some island in Fiji and they are telling us "We live in a paradise; everything is perfect here – look, we have beautiful sun, beach, all the fruits of the world." And Hanna, with her little comments, said "Really? And strawberries?". Then follows a discussion on what strawberries are. Our discussion later on, however, was whether it even makes sense for them to know what strawberries are – if they think they have everything, why should we spoil that?
But stories, oh my God…
When we were in Moldova, we were visiting the king of the Roma people. Hanna was a little girl and he wanted to buy her for his grandson. Or in Russia, some corrupt police officer stopped us, looking for ways to get some money. Our trick was to put Hanna in our arms. They were just done, totally fine. However, except for these logistic situations, I think we raise much more trust in people. If we are somewhere, it is different if you are with kids than travelling just as a journalist couple. In the end, we are on our family holidays… It's a "softening" factor – we come to show our kids the world, and people are happy that we want to show them this part of the world that is theirs. They wish to share that with us.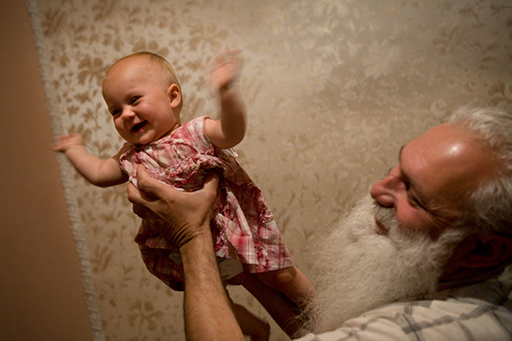 Reflecting on the experiences and lessons from your travels, what would you say "diversity" as a concept means in our modern era?
Thomas: I had this experience when I was in Poland for the first time. If you go to the eastern border, you have this kind of "diversity," but as soon as you are back to the western side, for me, the diversity is gone – you have the same people, in front of the same supermarkets we have, somewhere outside of the city. You would not know that you are in Poland were it not for the language difference. I am still looking for a "real place," but you also know that all these real places will be less and less diverse, or commercialized. Diversity is interesting in the sense of different concepts of life. We have a very monotheistic way of life. It's all about work and consumerism – being ready to use yourself and your body to work, to make money, to consume, and that's it. And at the end of life, you die as a very good consumer, without any intrinsic value. For me, if you have more than 3000 euros, it's the end. What can give you more happiness than if you have enough to live from? It was very interesting to see these completely different life concepts in the South Pacific. Money doesn't play much of a role there.
It's a completely different value system.
Anna: Yes, even with the love stories. I tried to talk about some relationships, and how people got together, how they got married, and so on. My little theory is that there is no romantic love there – the concept thereof just does not exist. Nobody says that they are excited with somebody, or interested – you have your husband fixed when you're five or ten, and there is no discussion about whether you are in love with somebody or not.
Thomas: The different concepts of life, the different spheres – that for me is diversity. You have to go out of our Western, typically Christian and working ethics.
Anna: Just to add – at first, living with different cultures, you see these differences. But when you live with them for a while, you start seeing the similarities too. You see that they will care about my daughter not falling down, that it is nice that we are there and share things with them. That is the greatest lesson of our travelling (maybe in too Paulo Coelhian terms, but ..): we are all similar, and people are good.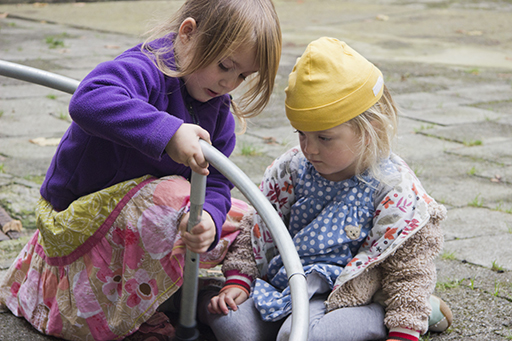 How does it feel to be back to the "monotony" of Berlin life after spending a few months on the road? Would you say the road is more of a home than your apartment in Pankow, or are they maybe on an equal basis?
[Hanna asks whether she can answer a question]
Anna: I like coming back. Our travelling is always very intense – with all the experiences and the talks, I need to come back and have time to think about it. I cannot imagine constantly being on the road. Even when travelling for longer periods, we have days when we slow down and do nothing – thinking and talking about what happened. I would not want to travel for years, or even a year, non-stop. First of all, I like home – the feeling of building something. I miss my family and friends, and I need this time to digest all these thoughts.
Hanna (translated by Thomas and Anna): I miss my friends and Kindergarten, so I like to come back.
Mila: It's nice to come back home.
Thomas: Sadly, when we come back, we also see that people are somehow not too happy here. I think people are mostly unhappy because they don't do what they want. I mean, if you look at university students, you don't have that many unhappy persons. But later on, once they start working, that changes – you don't do what you want, but what your client or boss wants you to do. It is understandable why many people are so unhappy. You can't do your things, but just frustrating tasks to get some money.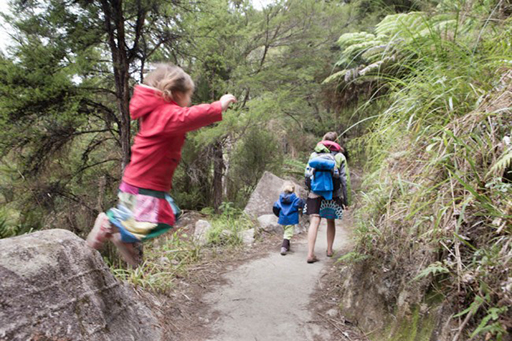 As a final thought: where do you see yourselves and your blog in 10 years?
Anna: Oh my God, Hanna will be 15 then! We are not very good with planning, so we have no idea what will happen even in one year's time. We never planned more than half a year in advance, I think.
Thomas: I wish we could live only from the blog, or only from travel-connected things. Work takes too much time, and I am only free to do what I want when I'm travelling.
Anna: I am trying to go in this direction – last year, I was publishing articles, and now the book, all connected with travelling. And the blog is currently bigger, so we get more partnerships thanks to it. But it's all new – the sector is new, and we are also not businessmen. There are some bloggers that say that living from their work is the aim, but we never had the courage to say it like this. Plus, if you do it because you love it, it works a bit differently than if you just live from it – you don't have to think about how to get this or that sponsorship, go to Bosnia, and write articles because you live from them, not because you love to do so.
Thomas: Who knows – I wish it could be possible one day.
Many thanks to the Alboths – Anna, Thomas, Hanna, and Mila – for their time and patience in answering what they called "uncommonly reflective, but useful questions"! I wish you the best of luck on your next adventure!