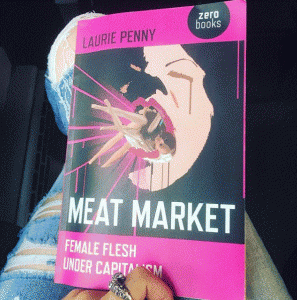 "There is something paradoxically feminist about the violent inverted logic of eating disorders – a desperate and deadly psychological stand – in for the kind of personal and political freedoms we have not yet achieved. Women and girls who have been denied their own autonomy find a measure of that autonomy in physical and psychological self-destruction of eating disorders: a rebellion by self-immolation, by taking society's standards of thinness, beauty and self-denial to their logical extremes." – Laurie Penny, Meat Market: Female Flesh under Capitalism
Some say it was self-harm.
Some think the notion of self-destruction is romantic:
Too many great writers took their lives, after all.
It was destruction, but not in the glorified sense.
It was self-annihilation. Erasure and dissemination of my female body and feminine existence
For many years. Yet I never ceased to be.
It wasn't just mental
It was outright political.
A screeching cry for justice
For humanity.
Romanticized notions of starvation
combined with capitalism made me call them
Ana and Mia
I looked like them
I was triggering to some, and disgusting to most
They were my only trusted companions.
And today feminism saved me.
Or rather, empowered me to save myself.
I no longer want to die.
Especially not from a fetishized and glamorized
Erotic capital disorder
I will not be a victim of sexual abuse
Nor a textbook case of bulimia
I will continue to fight, love, live, cry and feel.
I will dismantle the systems that made me lose years of my life.
Consumed by hunger and the classic self-hatred
Existing, but not really alive. Not there. Not functioning.
The systems that the voices of many continues to challenges,
yet their structures never cease.
The systems that survive off their disintegration and consumption of lives.
Dreams, laughter and ambition.
Like zombies feed off brains.
The systems that enforce the shrinking of the female body and call for erasure of its power
Masochism will cease to take over.
I no longer want to stick my head in the oven like Sylvia Plath.
My death will not be tragic and won't have the hint of romance.
The capitalist patriarchy that sucked me dry and left me an empty
Bony shell will never win.
I will never let it happen.
Because my life is worth the fight.
I'm hungry.
Not just for food, but for life
Love, education, air, politics, water, literature, beer and the sun.
For my own sexuality and empowerment.
To reclaim my own body, my long-alienated self.
To occupy the space with my body and voice echoing defiance and unabashed anger.  
I'm hungry
for the perfect imperfections of all humanity.
And for myself.