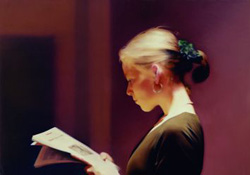 On March 1st, a group of ECLA students, faculty and staff made their way to the Neue Nationalgalerie amidst long queues of eager spectators, where an exhibit of works by famous German artist Gerhard Richter was being held.
The visit was part of ECLA's Berlin Programme where members of the college pay visits to the city's museums and theatres to experience its rich cultural history.
Gerhard Richter was born in 1932 and started working in the 50s. In 1959, he took his first trip to Documenta, an art event held in Kassel every 5 years. This initiated changes to his career which resulted in his creation of Table, which he defines as the first work in his catalogue raisonné.
His paintings are displayed in chronological order around the perimeter of the museum, while his colorful mosaics line the outer facade, taking advantage of the building's glass walls to make them visible from outside the museum. His sculptures punctuate the large interior space, making it more interactive for spectators.
One of his sculptures, Eleven Planes, consists of eleven panes of glass stacked and erected together against a wall which works like a mirror. One may take a look in this mirror and find oneself disappointed at the imprecise, blurred reflection the mirror returns, which is a similar effect to the blurred photorealistic paintings that abound in his oeuvre.
Another sculpture, Double Planes, consists of two panels where one facade shows a painted gray surface with apparent texture, the other a gray background behind glass. This creates drastically different effects even with the same color—the former emitting an intuitively tactile sensation, while the latter displaying a detached coldness due to its glossy surface.
Richter is known for reproducing blurred versions of photographs on canvas, which he claims to have selected randomly. An apolitical view of his photo-paintings render these particular works suited to the art historical narrative of "readymades", popularized to some degree by Duchamp's own exhibit of these kinds of works in early nineteenth century.
The photograph, produced and consumed on a mass level, challenged and raised questions about the status of painting. One might view Richter's photo-paintings as an attempt to recover the authority of painting lost to the photograph, an aim that has preoccupied art since photography became widespread. Still, Richter's paintings require unpacking.
For most of these paintings, the existing photograph (which served as the basis) has had either an autobiographical significance or its own controversial origin. Nude Descending a Staircase shows his wife Ema on her way down a staircase, which is a clever, personal response to Duchamp's painting of the same name. His blurred painting of an SS officer is in fact, as reflected by its title, his own Uncle Rudi.
He also painted a photograph of his aunt as a young girl titled Aunt Marianne, who was murdered during the Nazi regime. There is a painting of people from a Nuban tribe (Neger), which was reproduced from a photograph taken by Leni Riefenstahl—known for her pro-Nazi propaganda films. Whether making an art historical reference or a social commentary, the blurriness of the paintings reflects the subtle touch and sentimental feeling the artist has for his works.
A separate exhibition of his 18 Oktober 1977 series is located in the Alte Nationalgalerie, a museum built in the nineteenth century originally for the purpose of forming a canon of German art.
Fifteen paintings displayed in the Schinkel Hall, feature images related to the Deutsche Herbst (German Autumn) such as images of the three main members of the Red Army Faction—Andreas Baader, Ulrike Meinhof and Gurdrun Ensslin, their prison cell, their public funeral march, the record player owned by Baader, and one defaced painting titled Blanket. While Richter's own political views regarding this particular moment in history is obscure, the existence of a political aspect of his photo-paintings is much more difficult to deny.
From eye-bending seascapes and abstract paintings to painted photo reproductions, Richter shows a deft understanding of what might be perceived as constituting an "artist" today. His ease in changing, or co-opting styles and subjects prove him to be an artist deeply involved in both the social and art- critical discourse of his time.
April Matias (2nd year BA, Philippines)