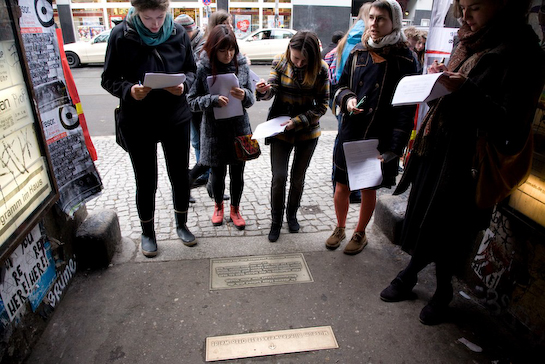 Every expat has felt this: living in a country, the language of which you don't know, can be extremely challenging. The feeling that one gets is of concomitantly being absent and present, living discreetly (and frequenting international events and places).
Of course, as students of ECLA (and probably every second one of us, if not more, was or is in this situation), we feel sheltered in the secluded Pankow, where the campus is situated. Here, the coordinates are known by heart, the employees of the supermarkets recognize our faces, and sometimes a touristy smile can replace a German phrase.
But, outside, in the vast world of Berlin, one often feels the need to reassure oneself before making display of one's contorted German: "Sprechen Sie vielleicht ein bisschen Englisch?" [Do you speak some English?]. And so many times it feels like you've finally understood the deep structure of the language and that in the next moment you'll be able to follow the profound urge to pronounce a sentence, and then you just realize that you don't have the words to say it, and all that's left is a numb impulse, a wasted sparkle of mental energy, a dead end….
Leaving pessimism aside, there is always a way out (that is: learn). Thus, the majority of the students who came to ECLA not knowing (much or at all) German have at some point taken German classes, with our instructor Dirk Deichfuss.
Of course, some heroes get lost on the way, and even those who stay sometimes, for a moment, lose courage, but that happens in any great battle. I can only add to this that, taking German classes for the second year at ECLA, I have managed to understand much not only about tenses, clauses and pronouns, but also about German-ness, German culture (high and popular), current issues and so on.
Our instructor, in a paternal but nevertheless liberal mode, takes us on a slalom between the established manuals and curricula and most thought-provoking extras. And sometimes, like on the 10th of March, we go out on special missions, exploring interesting areas of Berlin, while practicing our German.
This time it was a tour of and around Hackescher Markt, with its famous chains of courtyards, very popular, and also full of surprises and unexpected combinations. We all met at the U-Bahnhof station Weinmeisterstrasse, and split into small groups, so that in each of the groups there was at least one student from every level of German. The beginners feeling protected by the advanced, we proceeded on to solve the list of tasks that our instructor had prepared for us.
First, a scrutiny of the Goethe-Institut (and we had already entered a chain of courtyards, from Neue Schönhauser Strasse): what was the building in former times? The aspect of the building proved to be confusing for most of us.
A relic of a carload in the area made it even more complicated; in the end the answer was not so hard: the building had been a small factory (our professor exposed a short theory regarding the shape and size of windows as indicative of that). We then continued to explore the street and especially house no. 13: a Kaffeehaus. It took some time to read the stylized text on the facade.
In the end, with common efforts, we managed to read that it was a place for dining from 1890 which, surprisingly, was not destined for the upper classes, but rather for workers! The complete title said: Volks Kaffee und Speise Hallen Gesellschaft.
On Rosenthaler Strasse we had to look for the "Stolpersteine", small commemorative panes imbedded in the paving, on which one can see the names of victims of Nazi persecution once residing in the corresponding areas (all this being a project of artist Günter Demnig).
Following the same subject, when entering the Höfe at Rosenthaler 39, a panel told the story of the owner of a workshop producing brushes and brooms, in which blind and deaf Jews worked. His name was Otto Weidt, and he did "everything he could" to save the lives of many of his employees.
A bit later we came back and visited the small museum in which the authentic setting is preserved, and in which one can learn more about Weidt's endeavour. This Hof, which we went on exploring (while writing down details), is perhaps the most extravagant. The cherry on the top was two giant metal monsters (species – unidentifiable), which one can see moving with only a 1 Euro coin.
We then went on to see the eight famous Hackeschen Höfe. More neat and with a more contemporary air, these courtyards are colonized, along with the culture spaces, by commerce.
By the time we reached the last major point on our tour, Sophie-Gips-Höfe, I felt like we had been advancing into a labyrinth, always looking for some word, always going back twice or three times, until finally noticing the answer to some tricky question, and always circling within the chain of courtyards. But, most importantly, we were advancing on our own, and we were actually learning, actually becoming immersed in the flesh of the places.
In one of the courtyards of Sophie-Gips-Höfe, one of the walls is covered by a list of antonyms in German. Ever since I first saw it, one year ago, it had become symbolic for me; the unknown words, with their gigantic font, made me feel uneasy. And here I was again, reading them over and over. Half are already known, half—still to be learn. Schwierig oder einfach? [Hard or easy?]
by Aurelia Cojocaru (2nd year BA, Moldova)