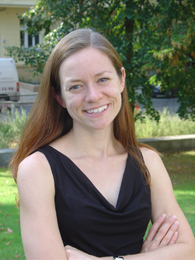 ECLA's Student Community Life Coordinator Alissa Burmeister joined 39,999 runners from around the world for the 33rd Berlin Marathon on Sunday, September 24th 2006. Assistant to the President Tomaz Cebasek spoke with her the next day.
Hello Alissa and congratulations! The finish line of yesterday's run was as far away as they get. What does the day after feel like?
You know, the danger of this question for marathon runners is that we start sounding like we are at the doctor's office! I'm a little sore, but it's not bad. Sweet is comfort after pain…
OK, let's turn to the question of where it all began then. How did you get into this sport in the first place?
My first run was 6 km long. I didn't know if I'd be able to survive it but I decided to try. After I finished I felt that I'd accomplished something. From then on it went step by step; from three miles to seven, then to twelve and so on. I decided to run in organised races after watching my friend cross the finish line and being moved to tears with pride for her.
When did you run your first marathon and how many have you run so far?
The Berlin marathon was my sixth one. The first was in Iowa about five years ago. In between, there were marathons in Chicago, Dresden and two more in Iowa.
How do you prepare for a marathon race and what is the longest distance that you run before it?
For three months before the race, I run one long run per week. I usually start at 13 kilometres, then go to 17, 21 and so on until I reach 30, then go back in the reverse sequence. The first long runs are an opportunity to find out what works well and where the potential weaknesses are. The 30 km run builds confidence that 42 kilometres are manageable, too.
Did you like the Berlin track and do you see the city in a different way now?
Yes, it was a great track. It is flat and fast. The race is very well organised, the runners, fans and volunteers are great and this year we had nice weather, too. And yes, the run did give me a different sense of the city. Berlin is not a vast area in my mind anymore. Neighbourhoods feel connected to each other and I know it is a walkable city.
For those of us watching the race, the Berlin marathon is like a big street festival. Of course there are the professional athletes, who fly by at an incredible pace even after 30 kilometres, but the main part of it is to cheer on people who are – or so we like to think — just like us. How does this happening on the sidewalks feel from a runner's perspective?
Well, the experience of watching a marathon was crucial for my actual desire to run one in the first place. As a runner, I enjoy the view of sidewalks. Neighbourhoods take on different personalities that celebrate and offer hospitality in different ways.  Kids are particularly great. Accepting water bottles, smiles, hand shakes and -occasionally – squished bananas from them is a real highlight. And when people clap for me, I sometimes spontaneously clap back and thank them for cheering me on. The atmosphere is great.
Will you disclose any motivational tricks or strategies that you rely upon for the tough moments on the road?
I think that completing a marathon is more of a mental than a physical accomplishment. I find the marathon to be a great way to give my stubbornness a positive outlet. Small, manageable goals are also important. In tough sections of the race, I pick a goal- to make it to a distant building or to follow closely behind another runner. Also, I listen to music during the run. My strategy is to find a relatively relaxing pace for the first half, so I pick the music that keeps me from tensing up and reminds me to breathe. Yesterday, I listened to Bach's Brandenburg Concertos. Then, I had two music mixes prepared for me by my friends, and thinking of them is always motivational. However, I never wear my headphones when there is a live band playing. There were more than ten of them yesterday, from a string quintet to salsa and jazz.
What were the worst and the best sections of yesterday's race for you?
The worst was my hurting knee between the 25th and 30th kilometre. The best was the final stretch. In Berlin, it is a particularly nice one, because you come around the corner onto Unter den Linden and then see the Brandenburg gate in the distance. With that sight, you know you're almost there.
Was there a particularly creative or memorable cheer that you remember?
Well, the particularly memorable one was annoying, actually. Just about 1 kilometre into the race, someone had a sign saying: "Keine Lust mehr? Nächste U-Bahn Station 50 Meter hier lang" (transl. "Are you fed up? Next metro station 50 metres this way"). I wonder what I would think of it if this person showed up 30 kilometres down the road… But most cheering strategies didn't involve this type of humour. I particularly liked a lady dancing on her balcony and all the costumes, wigs, and flags. Still, the children are my favourite.
Is this it for 2006 or are you planning another one?
One more! Dresden is coming up later this autumn.
There has been a faint rumour that the thought of running a marathon has been entertained by others at ECLA. If this rumour has any truth to it, what would your advice be? Could one prepare for it in a year?
Of course, whoever can do a total of 20 to 30 kilometres in a one-week period is ready to start training. They should count on four to five months, but even three might do. My advice is to try a shorter run first. For example, the Berlin half-marathon on April 1st is an ideal teaser and leaves the summer for marathon training. If anyone is really up for it, I always look for company on my weekend runs!