Here's the last Kulturwurst for this academic year: let's say goodbye with a week full of music, museums and cinema…and a surprising lecture on Wednesday !
Bis bald Berlin !
  ► Sunday 17th : International Museum Day
"Museum, Society, Future" is the motto of this 38th edition of the Internationalen Museumstag, celebrated everywhere across Germany. This event aims at promoting the wide spectrum of museum work, and tries to shed a new light on a variety of collections. From a unique guided tour at the German Historical Museum (at 16:00) to a free overview tour of the permanent exhibition of the Allied Museum (at 16:30), Berlin museums offer some special events for English-speakers, or sometimes even a free admission for all visitors.
Time : All day Place : Several museums in Berlin  Price : Depending on the event, but free admission in a lot of museums More info  (choose 'Berlin' in the list of 'Bundesländer' to get an overview of all events) 
► Monday 18th : Free live concert with Texas !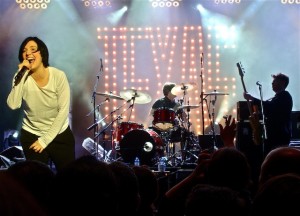 The Scottish band, whose name pays a tribute to Wim Wenders' Paris, Texas,has been giving concerts all around the world for 30 years. This song may remind you of your high school years… and make you come to the SchwuZ on Monday for a unique free concert ! German Television will be filming this concert, so you might also appear on TV… Don't forget to register in advance here, and to bring your ID. And you might also be interested in two other free concerts on Wednesday evening, with Jonathan Jeremiah, followed by Jack Savoretti.
Time : 18:30 Place : SchwuZ Club, Rollbergstr. 26 How to get there from campus : Take the M1 to Rosenthaler Platz and then the U8 to Boddinstrasse (45min) Price : 0€.  More info
► Tuesday 19th : Inherent Vice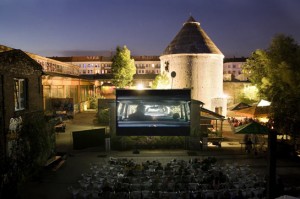 As I told you last week, many open air cinemas are reopening this month, in spite of this unpredictable spring weather…(they have free blankets and umbrellas, if needed !) After Kreuzberg, another very famous venue opens in Friedrichshain, at Cassiopea Biergarten in the RAW-Tempel. This former factory was turned into clubs, concert venues, a skatepark, a climbing gym and many other things depending on local demand. After 15 years of fun, it was recently bought by investors, and if you come back to Berlin in a few months/years, it might have changed a lot, or even disappeared… So don't hesitate to go to the screening of Inherent Vice on Tuesday, or to any other film at Freiluftkino Insel, it's open throughout the summer ! Another interesting event for film enthusiasts is the monthly open screening at Sputnik Kino, on Wednesday evening.
Time : 21:30  Place :Freiluftkino Insel at Cassiopeia, Revaler Straße 99  How to get there from campus : Take the M1 to Hackescher-Markt and the S7 to Warschauer Strasse (45min) Price : 7€  More info
►  Wednesday 20th : Sexuality & Empire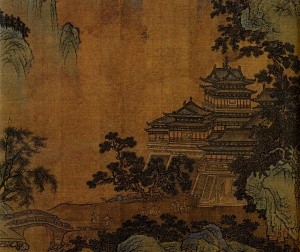 A lecture on such an original topic should convince you to get to Wannsee (it's very accessible with public transportation, and you can have a nice picnic at the lake !) : Female Chastity and Frontier Societies in Ming China (1368-1644). Siyen Fei, professor of history at the University of Pennsylvania, will explain how the issue of female sexuality "became a venue to negotiate destabilized frontier identities and to re-imagine the Chinese world". This is one event among the many interesting lectures that the American Academyoffers each week. Don't forget to sign up !
Time : 19:30 Place : American Academy, 17-19 Am Sandwerder How to get there from campus : Take the Bus 150 to Osloer Strasse, the U9 to Zoologischer Garten and the S7 to Wannsee (1h) Price : 0€  More info
► Thursday 21st : Bordel des Arts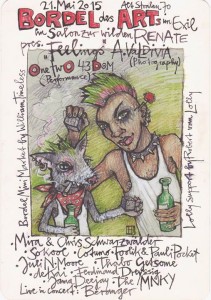 A light-dancing performance, a photography showcase installation, a mini art market, some live concerts, and a party on 3 floors + open air. Bordel des Arts is not the usual experience of 'club night', but a monthly rendezvous for the promotion of the local art scene and for plain fun. 
Time : 21:00 – 12:00 Place : Zur wilden Renate, Alt-Stralau 70 How to get there from campus : Take the M1 to Schönhauser Allee and the Ring-S41 to Treptower Park (45min) Price : 2€ before 22:00, 10€ after (8€ in dresscode)
► Friday-Sunday 22nd-24th : Karneval der Kulturen
Since 1996, Berlin celebrates its cultural diversity with the Carnival of Cultures, culminating in a colorful street parade with music and dance on Pentecost Sunday. Costumes, dance, live music, rituals, acrobats, magicians, arts & crafts––and food, of course––each of Berlin's numerous ethnic groups is invited to make their cultures visible at this street festival that gathered last year almost 1,5 million visitors. Check out the program here, and enjoy this 20th edition of the Karneval !
Time : 11:00-24:00. Street Parade from 12:00 to 21:00 on Sunday. Place : Kreuzberg (the street parade starts at Hermannplatz). Price : 0€
► Saturday-Monday 23rd-25th : Jazz im Park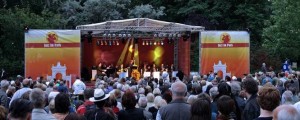 The very last event that I will recommend for this semester… is happening in Pankow ! Our favorite Bürgerpark is hosting a three-day jazz festival, with numerous bands giving free open air concerts, for a nice familial and bucolic weekend. From Soul to Jazz-rock from the 60s, with also Cuban music, chachacha and a brass quintet, Pankow feiert !
Time : 12:00-21:00 Place : Bürgerpark Pankow  How to get there from campus : Take the M1 to Bürgerpark Pankow (5 min !)
Price : 0€ More info  
► Looking for more suggestions ? 
Each week I will give you one of my favorite websites so you can find out more about different events happening in Berlin. This week, I would simply recommend the
official website of the city of Berlin
, that takes an inventory of the main events and festivals happening throughout the year, and makes the search for events in English easier.
Suggestions and feedback about this newsletter are always 
welcome
!
Viel Spaß!
Thibault