If you still find the weather too cold, there are plenty of possibilities to enjoy this week: visit some exhibitions on Monday and Thursday, go to the theatre or a concert on Sunday, Tuesday and Wednesday.
► Sunday 19th : House Concert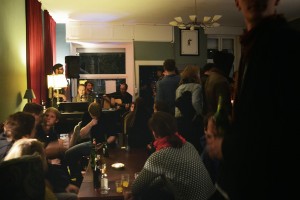 Forget the crowd, the sweat, and the impersonality of big concerts: house concerts are probably the best way to truly enjoy the music you want to listen to. It's intimate, it's gemütlich, you get to know people and even meet the artist. And that's every Sunday at Nussbreite.Nussbreite isn't a normal bar. It's a group of students, artists and musicians who, six months ago, spontaneously decided to open their living rooms to everybody, in order to share some drinks and good music. Not only do they have house concerts ('Wohnzimmerkonzerte'), but also hip hop shows, open mics, and all kinds of events (check out their monthly program). This week, they invited a singer/songwriter from the US, Ken Dolman, who is going to sing just for you.
Time : 20:00

Place : Nussbreite, Seestraße 106

How to get there from campus : Take the 150 to Osloer Strasse and the M13 to Seestrasse (travel time : 20min)

Price : 0€
► Monday 20th : Schwules Museum 

Until his resignation last december, Klaus Wowereit has been Berlin's iconic mayor for more than 13 years. Iconic for many reasons, among which his coming out in 2001, "Ich bin schwul – und das ist gut so". In order to say farewell to Klaus, Berlin's LGBT museum, opened since 1985, is currently offering an exhibition on his legacy for the image of gay men in German society. In addition to this exhibition, two others are currently on display, one on Leonard Fink's photographs of Gay Liberation and the New York Waterfront, and the other one on…the history of LGBT pornography ("an academic, critical, yet sensual show" !). Again, LGBT culture is one of the things that 'make' Berlin (and above all Kreuzberg), so visiting this interesting museum should help you further immerse yourself in the city's spirit!
Time : 14:00-18:00

Place : Schwules Museum, Lützowstraße 73

How to get there from campus : Take the M1 to Pankow and the U2 to Nollendorfplatz (50min)

Price : 7€50
► Tuesday 21st : Soeurs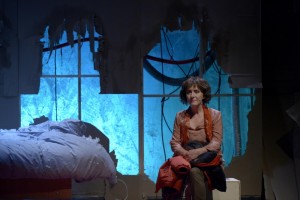 From April 17th to 26th, the Schaubühne hosts FIND, the Festival of International New Drama, featuring plays from all over the world, with english subtitles. On Tuesday, you've got the choice between a Spanish and a (Quebec) French play. I would really recommend the French one, not just because hearing an actress speak French with Canadian accent is quite funny, but because Wajdi Mouawad is an amazing playwright and director, recognized worldwide for his poignant plays.Soeurs ('Sisters') is a monolog… or rather a dialog, but with only one actress, who is playing both roles : the role of an expert in ethnic conflicts and an insurance loss adjuster. Don't hesitate to check out the rest of the program, you will want to see everything !
Time : 20:00 

Place : Schaubühne am Lehniner Platz, Kurfürstendamm 153 

How to get there from campus : Take the 150 to Osloer Strasse, the U9 to Kurfürstendamm, and the M19 Lehniner Platz/Schaubühne (45min)

Price : 9€ (ask for student price)
►  Wednesday 22nd : Classical music in the Kiez !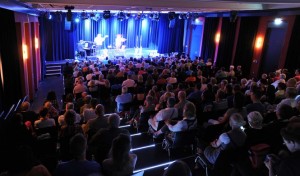 The Philharmonie is not the only place where you can listen to high quality classical music concerts…neither is it the only good orchestra in the city ! Berlin has indeed no fewer then eight large symphony orchestras, among which the Konzerthausorchester, founded in 1952. Four times a year, the orchestra leaves its house located in Berlin's most beautiful square, Gendarmenmarkt, to perform a Kiezkonzert in some more remote areas where people don't go to concerts so often. On Wednesday, they will play AstorPiazzolla's "Five Tango Sensations", some German Lieder and Finnish Tangos in the UfaFabrik in Tempelhof. UfaFabrik is a former film printing plant which has been reconverted in a self-governing culture and art project. A very interesting place to visit, even if it seems far away… and an unusual atmosphere for a classical concert !
Time : 20:00

Place : UFA-Fabrik, Viktoriastraße 10 

How to get there from campus : Take the M1 to Oranienburger Tor and the U6 to Ullsteinstr (55min)

Price : 12€ 
► Thursday 23rd : Black Bandits & Alternative Views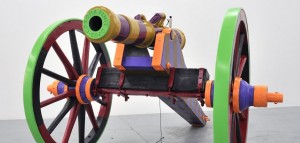 One vernissage, two exhibitions. Celebrating the 200th anniversary of the Waterloo battle, Black Bandits, on display until June, is investigating through modern art the history of Adolph Freiherr von Lützow, whose name was used for the square near Tiergarten. Exploring the link between past and present, Black Bandits shows a variety of works from 18 different artists, some of whose were specifically created for the exhibition. The second exhibition opening on Thursday is Alternative Views and presents works from 10 artists of the Naprzeciw showroom based in Poznań (Poland). 
Haus am Lützowplatz is one of Berlin's major contemporary art spaces. It was founded as a 'culture club' in 1960, one year prior to the building of the Wall, under the initiative of Willy Brandt.

Time : 19:00 

Place : Haus am Lützowplatz, Lützowplatz 9
How to get there from campus : Take the M1 to Pankow and the U2 to Nollendorfplatz (50min)
Price : 0€
► Friday 24th : Boulder Beats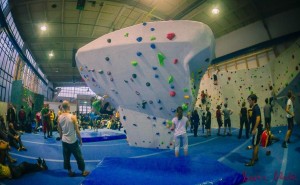 What sport is currently gaining new enthusiasts everyday in Berlin ? Indoor bouldering, off course. And you still have not tried it yet ? No worries, this Friday is offering a great occasion to do so, a good step further in this difficult learning process of becoming a true Berliner. Berta Block is one of Berlin's biggest and newest climbing gyms, and it is located in Pankow ! On the last Friday of each month, they organize a party, 'Boulder Beats', that enables you to climb with good vibes. You can also simply go there to have a drink, dance, and look at expert climbers. Then, maybe you wanna try yourself ! (personal tip : going during the week before 13:00 will make you save 2€ thanks to the early bird price).
Time : 19:00

Place : Berta Block Boulderhalle, Mühlenstraße 62


How to get there from campus : Take the M1 to Masurenstrasse (15min)

Price : 0€ for visitors, 7,50€ if you want to climb (+2,50€ if you need to rent climbing shoes)
► Saturday 25th : Five Past Blank

One of Berlin's most famous techno club is celebrating its fifth birthday, with good techno off course…but not only ! It all starts on Saturday afternoon with a family program, including some piano concerts, singers, poetry slam, a tombola, a hut party, etc. After midnight, the atmosphere is going to get more electric. Will you stay until Monday morning ?
Time : From Saturday 15:00
 Place : ://about blank, Markgrafendamm 24c
How to get there from campus : Take the M1 to Pankow and the S85 to Ostkreuz (40min) 
Price : 15€ (Saturday to Monday), going in the afternoon on Saturday will certainly be free
► Saturday 25th : SAND Launch Party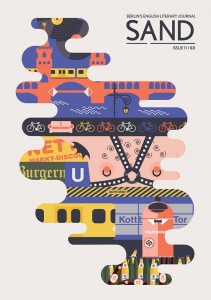 SAND, an English-language literary journal based in Berlin, and whose fiction section is edited by Florian Duijsens, is also having a party on Saturday, for the launch of their new issue. Readings will be followed by a fun dance party : come dressed as your favorite Berlin cliché and bring your favorite book of poetry.
Time : 20:30
 Place : 1820 Bar, Rosa-Luxemburg-Straße 41
How to get there from campus : Take the M1 to Pankow and the U2 to Rosa-Luxemburg-Platz (30min) 
Price : 0€
► Looking for more suggestions ? 
Each week I will give you one of my favorite websites so you can find out more about different events happening in Berlin. This week, the 
Slow Travel
 blog is offering regular posts on Berlin life, suggesting nice places to visit and
events
not to miss.
Suggestions and feedback about this newsletter are always 
welcome
!
Viel Spaß!
Thibault