This week begins and ends with some shopping frenzy, but it will also be an occasion to meet the architect of the Holocaust Memorial on Tuesday, to talk about Animal Ethics while drinking a glass of good wine on Wednesday, or to see one of Germany's best plays of the year on Friday.
► Sunday 3rd : Weddingmarkt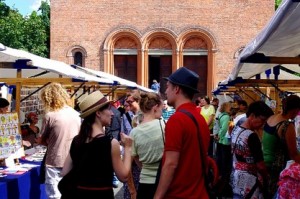 Design, art, craftwork, fashion, jewelry… Neukölln or Kreuzberg are no longer the only artistic and attractive districts of Berlin. The Weddingmarkt, a monthly art market, re-opens on Sunday and offers a nice promenade along the canal. A chance for you to discover local creations and maybe to find some last-minute presents to bring back home from Berlin ! Upcycling and creativity are at the heart of this great initiative that helps revitalizing the district of Wedding.
Time : 11:00-19:00 

Place : Nordufer (between Torfstr.und Samoastr.)

How to get there from campus : Take the 150 to Osloer Str. and the U9 to Amrumer Str. (travel time : 30min)

Price : 0€
► Monday 4th : Congress of possibilities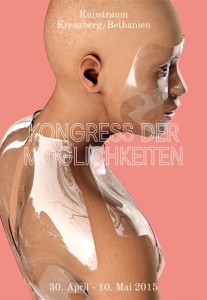 In 2010, Berlin-based artist Aram Bartholl started embedding USB flash drives into New-York's walls and buildings. "'Dead Drops is an anonymous, offline, peer to peer file-sharing network in public space." USB sticks are accessible to anybody in public space, and everyone is invited to share his or her favorite files and data, or to find other people's files. But three months ago in Cologne, the police found instructions on how to build a bomb on one of those sticks… What are the limits of such art projects ? Come and debate with the artist himself on Monday at Bethanien art house in Kreuzberg. This event is part of the Congress of Possibilities, running through May 10th, with a few other events in English (aWikipedia Hack-A-Thon for instance), and an interesting exhibition dealing with our relation to the Internet.
Time : 19:30, the exhibition is open daily from 12:00 to 22:00

Place : Künstlerhaus Bethanien, Kottbusser Straße 10

How to get there from campus : Take the Bus 150 to Osloer Strasse and the U8 to Kottbusser Tor (40min)

Price : 0€
► Tuesday 5th : Architect Peter Eisenman on his Holocaust Memorial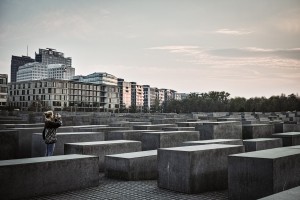 On May 8th we are remembering the 70th anniversary of the end of WW2, and you are lucky to be in Berlin for this historical event. The city is organizing a lot of events, open-air and indoor exhibitions, and a feast for memory and peace over the weekend, with free live music. It would be a good occasion to visit the German-Russian Museum, which is the authentic site of the signing of Germany's unconditional capitulation on 8 May 1945. Another highlight is Peter Eisenman's lecture on "The Memorial to the Murdered Jews of Europe and the Architecture of Remembrance" on Tuesday evening. Ten years exactly after the opening of his controversial memorial to the public, the architect is going to talk about what represented for him "a new idea of remembrance".
Time : 19:00 

Place : Max Liebermann Haus, Pariser Platz 7

How to get there from campus : Take the M1 to S+U Friedrichstr., it is a 10min walk from there  (50min)

Price : 0€ (please register by sending an email to info@stiftung-denkmal.de

More info on the lecture 

More info on all events of "Spring in Berlin"
►  Wednesday 6th : Reviving the art of Salon Conversation



"Leonardo da Vinci once referred to a carnivore as a walking graveyard. Does this metaphor ring true to you?" This is one the questions on the "Conversation Menu" for this week's new session ofThe Meaning of Everything, a thought-provoking philosophy salon that brings people together to revive the art of conversation and the exchange of ideas. Along the discussion, animated by a carefully chosen speaker, the event includes live music, homemade food and wine. This week you can debate on the topic of "Animal Ethics", raising ethical, personal as well as political issues.
Time : 20:00

Place : Friedelstrasse 11, first door to the right of "RYOKO"

How to get there from campus : Take the Bus 150 to Osloer Strasse and the U8 to Hermannplatz (45min)

Price : 20€ (including wine & food)
► Thursday 7th-Sunday 10th : XJAZZ Festival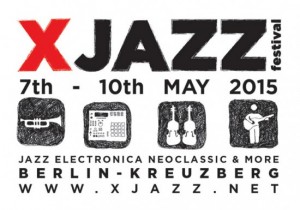 Created last year, the X Jazz Festival in Kreuzberg has become Berlin's biggest contemporary Jazz festival straight away ! With more than 60 bands playing this year, 75% of them consisting of local artists (Berlin jazz scene is already internationally renown…), the festival covers a really broad and modern understanding of jazz music, including electronically improvised music, new classical music, as well as singers/songwriters. Check out the program !
Time : 18:00-01:00 each night 

Place : Different locations in Kreuzberg between Kottbusser Tor & Schlesisches Tor

How to get there from campus : Take the Bus 150 to Osloer Strasse and the U8 toKottbusser Tor (40min)

Price : Around 10-20€ each concert. Up to 40% discount if you buy tickets for several concerts.
► Friday 8th-Sunday 10th : Starke Stücke !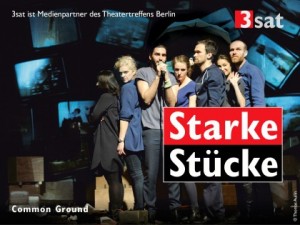 Until May 17th, Berlin is hosting an emblematic theatre festival : the Theater Treffen. Since 1964, this festival selects the 10 best German productions of the year, that are then presented during two weeks in Berlin. Even if it is almost impossible to get tickets (and now too late…), you can still see some of the plays…for free ! Unfortunately, you will only see them on the big screen of the SonyCenter, what still represents a nice experience. Common Ground, John Gabriel Borkman and The Ridiculous Darkness, all three plays are offered with English subtitles. Another way to take part in the Theatre Treffen is to visit the exhibition on Rainer Werner Fassbinder, hosted until August at the Martin-Gropius-Bau, to celebrate Fassbinder's 70th birthday (entrance fee costs 6,5€ for students).
Time : Friday & Saturday at 19:00, Sunday at 16:00

Place : Sony Center at Potsdamer Platz


How to get there from campus : Take the M1 to Pankow and the U2 to Potsdamer Platz (40min)

Price : 0€ 
► Saturday 9th : Neukölln Shopping Night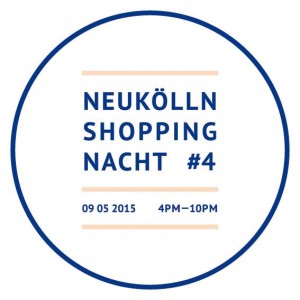 The fourth edition of the Neukölln Shopping Nacht is a good occasion to take a walk from Kreuzkölln to Schillerkiez, discovering this famous multicultural district of Berlin, currently at the heart of the debate on gentrification… and as a matter of fact, this shopping night will bring you from one design shop to another trendy café, taking advantage of special discounts and nice music. Here is your map ! And if you want to stay longer but you already spent all your coins, they also have a free after party.
Time : 16:00-22:00 + After Party
 Place : almost 30 shops, bars & restaurants in Neukölln – After Party at Twinpigs, Boddinstr. 57a 

How to get there from campus : Take the Bus 150 to Osloer Strasse and the U8 to Schönleinstrasse (45min)
Price : 0€
► Looking for more suggestions ? 
Each week I will give you one of my favorite websites so you can find out more about different events happening in Berlin. This week, have a look at 
Gratis in Berlin
, a very basic website that takes an inventory of all free events happening in the city. In spite of its really austere layout, it gives a lot of very good suggestions.
Suggestions and feedback about this newsletter are always 
welcome
!
Viel Spaß!
Thibault