Having heard a lot of people talking about ice creams during these last days, feeling spring coming much earlier than usual, I tried to get innovative to encourage you to read my newsletter.
That's why this 3rd Berliner Kulturwurst starts with a good insider tipp :
Whereas most of Berlin's best Eiscafés are still closed for their annual winter break (you will have to wait at least until March 1st), Kauf Dich Glücklick in Prenzlauer Berg is open all year long, and offers delicious home-made ice creams for 90cts/scoop. Aromas change everyday, they also have cheap and really tasty waffles and all kinds of hot drinks, they are open until midnight and the waiters are the nicest Berliners you could meet (proving that nice Berliners do exist). Just take the M1 and go to Oderberger Straße 44 on a sunny afternoon.
Now, feel free to continue reading to enjoy a new Kulturwurst week made of
– cinema (Sunday)
– free Indie/Pop & Jazz concerts (Monday + Thursday)
– modern art (Wednesday)
– theatre (Thursday to Sunday)
and more…
► Sunday 22nd : Uncle Wim !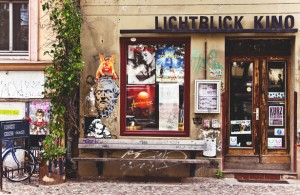 You simply cannot leave Berlin without having seen Wim Wenders' Wings of Desire. Lichtblick Kino in Prenzlauer Berg gives you on Sunday evening a perfect occasion to tick it on your Berliner to-do list. Until March 4th, this little (32 seats !) and charming independent cinema screens a series of Wenders' most famous films, unfortunately Wings of Desire is the only one with english subtitles. But as Wenders was just awarded an Honorary Golden Bear during the Berlinale, it is a good opportunity to discover his other films (you can find the program here).
Time : 22:00

Lichtblick Kino : Kastanienallee 77

How to get there from campus : Take the M1 to Schwedter Str.

Price : 5€
More info  
► Monday 23rd : Free live music + appear on TV !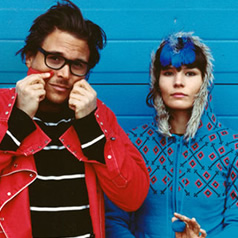 On Monday evening German Television is filming the live concerts of two very famous groups, The Dø (Indie/Pop from France) and KITTY, DAISY & LEWIS ("an eclectic mix up of Pop, R'n'B & Blues, Psychedelic Rock, Soul, Country, Jazz and Ska" (??!) from the UK), and they need a public… A great present for all music-lovers, as the entrance is free for both concerts ! But you have to register here ("Anmeldung"). It may not be available for long now so hurry up !
Time : Doors for The Dø open at 18:00, and for KITTY, DAISY & LEWIS at 21:00. They ask you to be on time !

Place : SchwuZ Club, Rollbergstr. 26


How to get there from campus : Take the M1 to Rosenthaler Platz and then the U8 to Boddinstrasse

Price : 0€. 
► Tuesday 24th : Open Mic !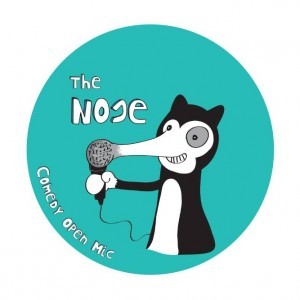 Each Tuesday the warm and cosy Kikisol Café proposes a Stand-up-Comedy evening in english. THE NOSE COMEDY OPEN-MIC is hosted by Stephan Danziger, whose comedy "delves into European history and cultural insights, provoking, educating and entertaining with a unique charm", and who welcomes any volunteer to participate and try to experience his/her skills on stage…
Time : Doors: 20:30 / Show: 21:00

Place : Kiki Sol Café, Lindower Straße 12

How to get there from campus : Take the M1 to Schönhauser Allee and the S42 (Ring) to Wedding

Price : 0€, donations are welcome.
►  Wednesday 25th : "The biographies of things" at Hamburger Bahnhof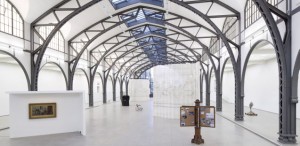 The exhibition Mariana Castillo Deball. Parergon is on display until the end of next week, so it is time for you to try Berlin's Museum of Modern art, if you have not yet been there.
The artist devotes herself to the "biographies of things." She directs her attention to objects in museum collections, where it is not unusual for them to have "spent itinerant lives wandering between courtyards, basements, pedestals, display cases, museums, traveling exhibitions and private collections." An amusing, unusual and intriguing work on the history of the collections of Berlin's National Gallery, questioning the museum as institution. At 12:00 and 16:00 on Wednesday, the museum proposes guided tours, which might be in German though.
Time : 10:00-18:00 

Place : Hamburger Bahnhof, Invalidenstraße 50-51


How to get there from campus : Take the M1 to Rosenthaler Platzand then the Bus 142 to Invalidenpark

Price : 4€/5€
► Thursday 26th : Jazz at MIM !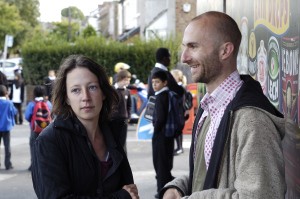 Every last Thursday of the month the Museum of Musical Instruments hosts a free modern jazz concert. They use to choose innovative and highly talented artists, who offer exceptional shows. This week, the Berlin-based Anna Kaluza Trio will give a performance of jazz improvisation. You can also check out the program for next months.
Time : 19:30

Place : Musikinstrumenten-Museum, Tiergartenstrasse 1, Entrance Ben-Gurion-Straße

How to get there from campus : Take the M1 to Pankow and the U2 to Potsdamer Platz

Price : 0€
► Thursday 26th to Sunday 1st : A long week-end of independent theatre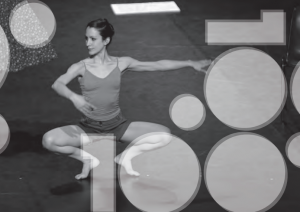 The 100° Berlin Festival is an Off-Theatre festival which takes place in Berlin's three main independent theaters from Thursday to Sunday. For its 12. edition, this well-known theatre marathon offers more than 120 productions in four evenings, mostly with young companies and performers. "The festival will be on all stages, in every courtyard, basement, lobby, foyer and attic. There will be something to see in every corner and the genres and themes couldn't be more diverse".
Some performances are in english (BLUE TIGERS & KASIMIR UND KAROLINE on Friday for example, check out the whole program), but even if you don't speak German it is definitely worth buying a day-ticket to discover the variety and inventiveness of German modern theatre, and take part in this celebration of the independent scene ! On Saturday 21:00 at HAU, there is also an open Q&A session in English on the Independent Performing Arts Scene in Berlin. HAU also hosts after-partys each night.
Time : Friday to Sunday 17:00->open end

Place : HAU (Hebbel am Ufer), Stresemannstraße 29 /Hallesches Ufer 32
SOPHIENSÆLE, Sophienstraße 18
BALLHAUS OST Pappelallee 15

How to get there from campus : Ballhaus Ost is the closest theatre. Take the M1 to Eberswalder Strasse

Price : 12€ for a day/ 30€ for the whole festival. You can also buy tickets online
► Looking for more suggestions ? 
Each week I will give you one of my favorite websites so you can find out more about different events happening in Berlin. This week, you should definitely suscribe to the
SUGARHIGH
newsletter if you want to be informed about the main events of Berlin's hype and yuppie scene. They also focus on shops and food, but have nice cultural suggestions.
Suggestions and feedbacks about this newsletter are still
welcome
!
Viel Spaß !
Thibault