Delight your ears on Sunday, your eyes on Monday, Wednesday and Friday, and your brain on Tuesday and Thursday… it's time for the 8th Kulturwurst !
Tip of the week !!! A contemporary art gallery in a huge former Nazi Bunker at the heart of the city ?Hurry up if you don't want to miss it before leaving Berlin… The Boros Collection can only be visited by advance appointment, in groups of up to 12 people accompanied by one guide. You can book a tour here for 6€ (April and May are already almost full…).
► Sunday 5th : "Every star above knows the one I love, Sweet Sue, just you…"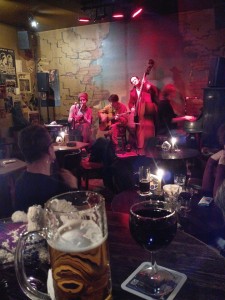 This Sunday is Easter, meaning Jesus is going to be resurrected from the dead. But each Sunday night at Speiches Kneipe in Prenzlauer Berg, another kind of resurrection takes place. Ella Fitzgerald, Billie Holiday, Frank Sinatra and all others are brought to life again, thanks to the very good Roamer Street Ragband. "In blues we trust" is the motto of this little bar decorated with photos of the many artists who once played there. There is no better plan than a nice acoustic jazz session with a glass of wine or beer for a Sunday night…and it's very close to the campus !
Time : From 19:00…to open end (if you keep clapping, the band keeps playing ! They just have regular cigarette breaks…)

Place : Speiches Blueskneipe, Raumerstr. 39

How to get there from campus : Take the M1 to Milastrasse (travel time : 20min)

Price : 0€, donations welcomed. 
► Monday 6th : Koki Tanaka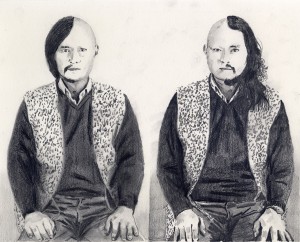 The former Deutsche Guggenheim, now called Deutsche Bank KunstHalle (art needs to find funding somehow), presents four different contemporary art exhibitions each year. Works by Japanese artist Koki Tanaka are currently on display as part of an exhibition entitled "A Vulnerable Narrator". The artist sees himself as belonging to the "art activism" movement, and his works question "how we act in emergency situations and when technical and social systems break down". The exhibition traces his path from early experiments with mass-produced goods and materials, to his collaborative actions and performances. The Museum also offer free guided tours.
Time : 10:00->20:00

Place : Deutsche Bank KunstHalle, Unter den Linden 13

How to get there from campus : Take the Bus 150 to Osloer Strasse, the U9 to Leopoldplatz and the U6 to Französische Strasse (40min)

Price : 0€ (only on Mondays, 3€ otherwise)
► Tuesday 7th : Tuesday Quizz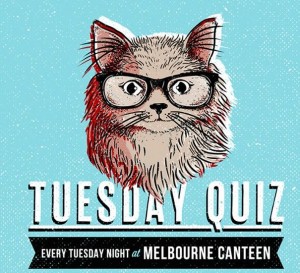 Melbourne Canteen is one of the many bars of the well-known Weserkiez in Neukölln. This one claims to be inspired by "the fresh and exciting culinary experience of Melbourne cafe culture", and on each Tuesday it offers its very international clientele a general knowledge quiz. Music, pop culture, sport, film, television, … come with your team (max. 6 people) and try to win a prize, or the jackpot !
Time : 20:00

Place : Melbourne Canteen, Pannierstraße 57 

How to get there from campus : Take the Bus 150 to Osloer Strasse and the U8 to Hermannplatz (50min)

Price : 2€
►  Wednesday 8th : 6th edition of the Arab Film Festival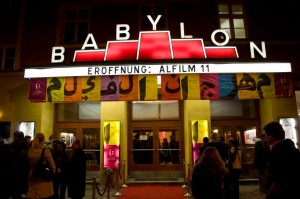 The Arab Film Festival, opening on Wednesday, is Germany's largest film festival dedicated to the very diverse Arabic cinema. It will start with Décor, by Egyptian director Ahmad Abdalla, a film reflecting on the cinema industry itself and on social conditions, paying a tribute to strong female characters of the classic Egyptian cinema. The Festival takes place until Wednesday 15th, with diverse feature films, documentaries and short movies (you can find the whole program here).
Time : 20:00

Place : Babylon, Rosa-Luxemburg-Str. 30 

How to get there from campus : Take the M1 to Pankow and the U2 to Rosa-Luxembourg-Platz (35min)

Price : 7€ 
► Thursday 9th : At the intersection between Science and Art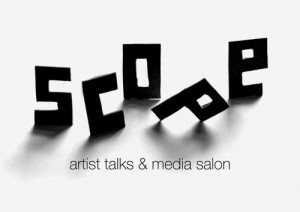 "Scope is a meeting point for the creative and the curious, a platform for sharing and learning in an informal setting." Organized each 2/3 weeks, the Scope Sessions invite artists to present a project, a concept, a process or an experience in about 40 minutes, and "unrestricted in form". Each session offers a variety of topics and approaches, and for the 42nd one on next Thursday you will get to see a physicist, a media anarchist and a photographer/microbiologist…notably talking about the experience of the State Festival (a festival binding art, science and film, organized for the first time last year). 
Time : 20:00 (Doors open at 19:00) 

Place : Panke  Gerichtstr. 23, Hof 5
How to get there from campus : Take the M1 to Pankow and the Bus M27 to Nettelbeckplatz/S Wedding (40min)
Price : 0€
► Friday 10th : 20th anniversary of the Haus Schwarzenberg/Galerie neurotitan in Mitte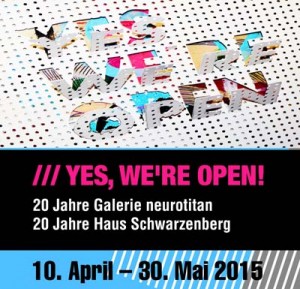 It has become a major touristic attraction…but remains a place that characterizes Berlin's street art scene.Haus Schwarzenberg is one of these many buildings that were squatted by artists after the fall of the Wall, and it now hosts galleries, artist studios, a book shop, a cinema, a bar and even the Anne Frank Museum. Between Starbucks and a profusion of luxury shops, it is still seen as an authentic place for art and creativity. To celebrate its 20th anniversary, a number of events are organized, among which the exhibition Yes, We're Open at Neurotitan gallery, opening on Friday, an occasion to meet the artists and to see a 20min dance performance by Chaim Gebber ("20 X 20″). You won't see any accomplished artworks, as the idea here is to show the process of creating an exhibition, and to sketch the precarious lifestyle of the artists. The in-process-exhibition/living art studio will then be open until May 30th.
Time : 20:00
 Place : Haus Schwarzenberg/Galerie neurotitan, Rosenthaler Str. 39
How to get there from campus : Take the M1 to Hackescher Markt  (35min) 
Price : 0€, donations welcomed 
► Saturday 11th : ZERO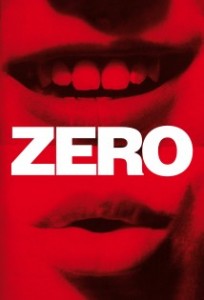 "Sometimes the real revolutions in art remain invisible until they are long past, yet the subterranean shock waves can persist for generations." Until June 8th, an exhibition on the international ZERO art movement of the 1950s and 60s is held at Martin Gropius Bau (more info here). Starting on Saturday at 20:00, a Performance night will be organized at the museum, following a concept created by one of the artist of the Zero movement (Günther Uecker) : spending the night walking around the exhibition, with muffled light and people white-dressed, and meeting here and there a dancer or an opera singer. And just before midnight, Yves Klein's "Symphonie Monoton Silence" with more than 80 musicians and choir singers.
Time : From Saturday 20:00 to Sunday 8:00 
 Place : Martin-Gropius-Bau, Niederkirchnerstraße 7
How to get there from campus : Take the M1 to Pankow and the U2 to Potsdamer Platz (45min) 
Price : 8€, 0€ if you come entirely white-dressed !
► Looking for more suggestions ? 
Each week I will give you one of my favorite websites so you can find out more about different events happening in Berlin. This week, have a look at 
Bpigs
, a guide which will keep you updated on all gallery openings and exhibitions currently on display. Galleries are listed and mapped
here
, and you can also subscribe to their newsletter.
Suggestions and feedback about this newsletter are always 
welcome
!
Viel Spaß!
Thibault