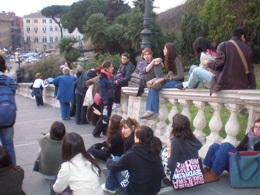 After several days in Florence, Rome was a sudden change from medieval or Renaissance architecture to the Baroque. Bearing this in mind, the last day of the Italy Exeat was a lesson on what came after the Renaissance.
We were very lucky that the Villa Borghese, a building formerly not open to the public, opened its gates recently. Very popular because of its novelty, it is situated to the North, in an area of splendid gardens which were also kept away from the public eye, because they belonged to the surrounding villas. The museum now houses a breathtaking collection of sculptures by Bernini – from his youth to his mature development as an artist.
Following the evolution of his style, we first saw the Aeneas, Anchises and Ascanius – a representation of Aeneas fleeing Troy, carrying his father and son. The allegorical sculpture depicting the three ages of man, was created when Bernini was 21 years old. Next we saw The Abduction of Persephone. In this sculpture, Bernini's attention to detail is remarkable as Hades' hands actually press deeply into Persephone's skin.
Apollo and Daphne is considered Bernini's masterpiece – it captures the metamorphosis of the nymph into a laurel tree (from Ovidius, Metamorphoses). The piece combines dynamic and static features in figures turning and running, the transformation of the nymph, and the way Apollo ends the pursuit by grabbing hold of Daphne. The details are again fantastic – the hair of Daphne intricately turns into branches and her feet into roots.
Bernini's David is quite interesting in comparison to other depictions of the same biblical character. Contrary to its predecessors, this dynamic rendering focuses on David's movement as he swings the sling in his struggle with Goliath. Our visit of the Borghese Gallery ended with a long walk through the gardens on our way to the Etruscan Museum.
By Clara Sigheti (2007, Romania)