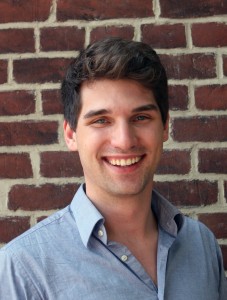 "Students should be made aware of the fact that there is no such thing as knowledge as such – knowledge that just exists out there and is discovered by people as the objective truth."
[hupso_hide]
Hannes Klöpper (Germany) is a 2006/2007 Academy Year alumnus of ECLA of Bard. He holds a Dual-Master's in Public Administration from Columbia University and the Hertie School of Governance in Berlin and a B.A. in International Relations from the Technische Universität (TU) Dresden. Hannes is the co-founder and the current Managing Director and Chief Academic Officer (CAO) of the online open-course platform start-up iversity, situated in the northern borough of Berlin called Bernau. Last year Hannes wrote a book in collaboration with Yehuda Elkana on the future of the university in the digital age. In addition to that, he worked on the "New Digital Society" project in 2010/2011 as an associate of the "Stiftung Neue Verantwortung," and was also one of the initiators of the blog for "Causa Guttenberg." Today we talked about his experience at ECLA of Bard, his life after the Academy Year, as well as the future of education in the context of his work on iversity. 
How would you describe your Academy Year experience at ECLA of Bard?
It's a somewhat monastic experience, up there, in Pankow. It's rather small and out of this world, but in a good way. The college was full of interesting and diverse groups of people. Certainly, one of the strengths of the program was that we had around 40 students from 20 countries. We also had students from countries you wouldn't necessarily otherwise have international students from. In that respect, it was different from other institutions. The approach of team-teaching and the value-based education were particularly interesting. All these things made it a special kind of experience.
Did you decide to join ECLA of Bard after you had completed your B.A.?
Yeah, I did. I did my B.A. in International Relations, which I would not say was – in terms of the curriculum – practice-oriented, but was certainly relatively focused. We did not have that much of an opportunity "to look left and right," and do other things. It was a Bachelor's program, and I thought that there were some areas in political theory and philosophy I would have liked to dive into before leaving university and getting a job.  So I started looking at opportunities and thinking about ways I could potentially do this.
Actually, it was while doing research on my Master's program and the people involved in it that I stumbled upon ECLA. It's quite interesting: I was looking into the Hertie School of Governance, as well as the Humboldt-Viadrina School of Governance, and found out that Stefan Gutzeit was a member of the initial management team at the Humboldt-Viadrina School of Governance. He was one of the people I "googled" to find out who the people behind the institution were, and what they had been doing before. I stumbled over Stefan Gutzeit's CV, and found the European College of Liberal Arts there: Gutzeit was one of the initial founders of ECLA. Later on, I found an article about the school in Die Zeit, a German weekly, and thought that it sounded interesting. I checked out the website, and then decided to apply to Hertie as well as to ECLA at the same time. I was admitted to both, and deferred the Hertie program for a year in order to go to ECLA, take a break from my career education, and do something I thought was building a mindset rather than a skill set.
In your opinion, what is the value of a liberal arts education?
It's hard to summarize it in a sentence. I do think that – talking about what I have just mentioned about building a mindset rather than a skill set – it offers you the opportunity to engage some of the big questions in life. As a person, and as a member of society, you do encounter these time and again, throughout the rest of your life. Having received this kind of education is helpful, because it allows you think through these questions against the backdrop of the reflection period you had in the past. It helps in assessing the right course of action or your general attitude towards something. It also helps you with comprehending the wider context, and finding your own way of relating to different perspectives.
Would you say that ECLA of Bard influenced you in your future academic and professional work, as well as life? If so, in what ways did this come about?
Well, it certainly did through the core course topic – education. In the first semester at ECLA we read The Republic, which, in a way, is all about education. That to me was interesting, and I guess it piqued my interest. I mean, the interest had been there before. Even though I had just graduated with my B.A. degree, I was still checking out online what kind of new Bachelor programs were coming up, and kept track of the university landscape in general.
At ECLA, I spent a lot of time reading in the papers about the "Excellence Initiative," which was going on at that time. It was a major reform initiative in German higher education. I spent a lot of time researching and reading about it. I thought to myself: "There's got to be a reason why I'm drawn to this topic, since whenever I have time to spare, I read about this stuff, so clearly there is more to it."
That's when I decided I wanted to pursue this professionally. I talked a lot to Larry Boetsch – who was president of ECLA at that time – about career opportunities in this sphere. I decided I wanted to do an internship to learn more about higher education and again: one late night, doing background checks on someone, I stumbled across someone who runs an education consultancy in Silicon Valley. I said to myself, "OK, that sounds interesting. A consulting company. In education? – I have never heard of this!" I got in touch with him, and ended up doing my internship in Silicon Valley with him and learned a great deal. Having been part of the Silicon Valley scene for a couple of weeks, I also decided I wanted to combine my interest in education with the "start-up spirit" in some way, and to use technology and the opportunities afforded by digitalization as a means to create innovation in higher education. That certainly set me on the path. A few years later I am sort of "living the dream" – building a "start-up" in higher education!
What is the main concept or idea behind your start-up, iversity?  Did it come about directly through you or in partnership with somebody else?
Jonas – my co-founder – and I were both working on this in different capacities, I guess. Jonas was the initial founder of iversity. He started it as a student-project raising some funding in the form of an "Entrepreneurship Scholarship." He built an alpha version of what was at the time a cloud-based learning management system, and kept that going for a while. At the same time, some friends of mine and I won the student idea competition Generation-D with the concept for an online platform that would make higher education courses available online through a dedicated web-platform. Sounds pretty familiar, I guess. That was in late 2008. That idea never materialized, but I still sort of dabbled in the "start-up" space and remained interested in higher education. After that, I started working on a book about the future of the university, together with Yehuda Elkana. It was in that context that Jonas and I met. We teamed up and half a year later raised funding and founded the company in it's current legal form in the summer of 2011.
In the context of your book on the future of the university in the digital age with Professor Yehuda Elkana, how do you see the higher education system in the future?
Yehuda came to this question from the perspective of the philosophy and sociology of science. He called for a renewed engagement with university curricula, the content that is being taught at universities. I fully agreed with what he had in mind. However, I felt what was missing from his account was the role that digitalization could and would play in the whole affair. Shortly after we began to work together he suggested that we write the book together. That way it became a book about what it is that the universities should be teaching and how they should go about teaching it.
Alright. So how should they?
There is a lot of talk about the university being in crisis. But these lamentations about the demise of the university usually focus on budgetary and structural issues. We believe that there is an intellectual staleness that is at the root of this feeling of crisis. We ceased to discuss the objective of higher education. What it is and what it should be. It's been reduced to that notorious term "employability," which is a rather narrow conception. Yehuda proposed make it the objective of higher education to teach students a certain understanding of knowledge. He made a distinction between the body of knowledge and the images of knowledge. Students should be made aware of the fact that there is no such thing as knowledge as such. Knowledge that just exists out there and is discovered by people as the objective truth.
There are various approaches to knowledge and different perspectives on it.
But if you go to most universities and talk to the people in charge of teaching, they would typically say: "Yeah, that's nice, that sounds great, but we have other problems. We have to graduate students, and we have all these budget pressures, etc. You know, it's a very elite concept, and you're lucky if you are able to get this kind of education, but we have to focus on the basics here." This is where our two perspectives converge. This is where I come in and say, "Well, if we make smart use of the opportunities afforded to us by digital technology, and make the delivery of certain courses more efficient and more effective; if we use digitalization in other ways to contextualize knowledge, then we can make this kind of education available at scale."
And that's, more or less, the core of the argument: first of all, we should rethink what it is that we teach and what the objective of our teaching is. Secondly we should explore what digitalization can do to get us there.