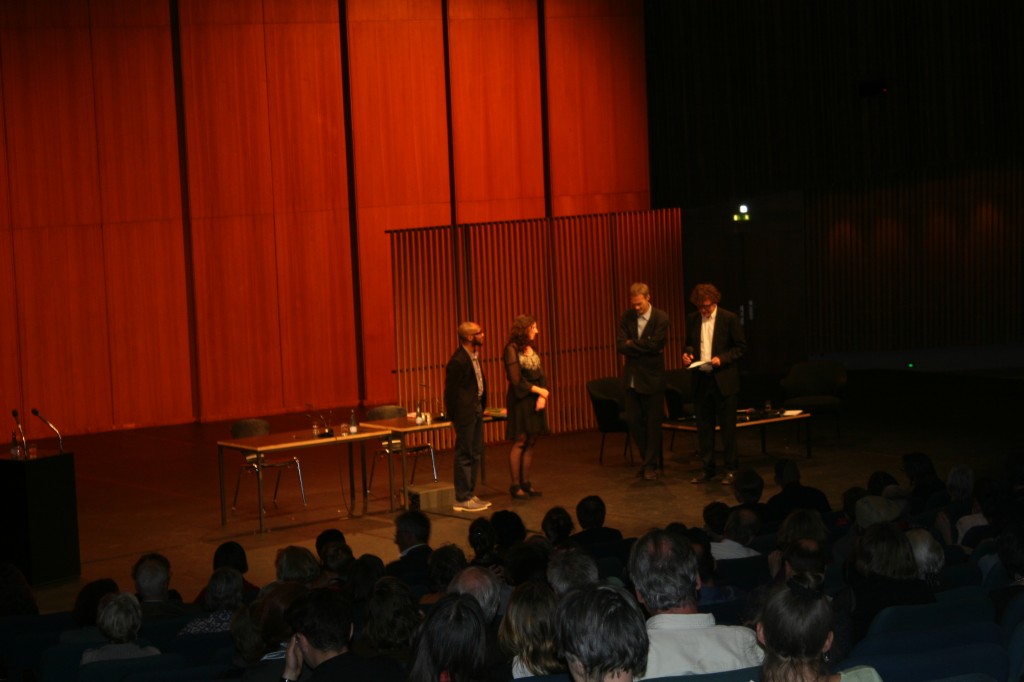 This year's International Literature Award, jointly presented by Haus der Kulturen der Welt (HKW) and Stiftung Elementarteilchen (Hamburg), was awarded to Teju Cole––a Distinguished Writer in Residence at Bard College. The award ceremony, along with readings from the works of all shortlisted authors nominated for the annual award, took place in Haus der Kulturen on June 12th, 2013. The translator of Cole's awarded debut novel Open City in German––Christine Richter-Nilsson––received the award together with the author for her convincing, elegant, and fluent translation.
Teju Cole is a Nigerian-American novelist, photographer, and art historian. He was born in the United States to Nigerian parents, but grew up in Nigeria to move back to the United States at the age of 17. Cole currently lives in Brooklyn, New York––the place he considers his home and the city he lively describes in his novel Open City. His additional works include a novella, Every Day is for the Thief, and regular contributions to publications such as the New York Times, Transition, The New Yorker, A Public Space, and Tin House.
The work and life of Teju Cole are familiar to the ECLA of Bard community ever since September last year, when he visited our college to read from his debut novel Open City and answer questions about literature and the life of a writer. I remember him as a light-hearted, down-to-earth, modest young man, interested in various life phenomena and always ready to answer questions about anything one might come up with. He affirmed this image when I approached him at the ceremony to congratulate him for winning the Annual Literary Award––a gesture he accepted with warm regards and special gratitude that ECLA of Bard students still remember him and show interest in his work – and not surprisingly, since his close professional association with the Bard College in Annandale-on-Hudson, New York, makes us too his students.
The Award Ceremony of Teju Cole and his translator, Christine Richter-Nilsson, was preceded by the three hour Long Night of the Shortlist, during which the shortlisted nominated authors organized readings and conversations with the visitors on three stages on the roof terrace in HKW. This relaxed event with drinks and desserts was an excellent introduction of the audience to Teju Cole and his book. Cole's novel Open City never fails to captivate its audience thanks to its unique perspective and introspective narration. The audience at Haus der Kulturen der Welt listened to the author somewhat enchanted––soaking up every word and wondering to which parts of New York and the protagonist's mind every newly read fragment could lead them.
Open City is a novel about New York after the 9/11 terrorist attacks––wounded yet hopeful in its atmosphere. The story is told from the protagonist's point of view. He is the Nigerian immigrant Julius, a young graduate student studying psychiatry who spends most of his time wandering and pondering around Manhattan. The novel focuses on his inner thoughts as he dreamily walks through the city, portraying scenes of both present and past events he still dwells on. During the conversation at the Award Ceremony, Cole stated that the novel is told from "a perspective of a photographer". The scenes in the novel are the descriptions of the photographs he wishes to take, he says. As a photographer myself, I too find the change of perspective in looking within the 'scenes' of the novel, as a consequence of photographic thinking, to be perhaps one of the most intriguing, and definitely one of the most unique, aspects of the Open City.
In addition to questions about his book, Cole answered personal inquires about home, photography, life, and realism as a movement in the 21st century. He talked of Brooklyn as his home and a place that he has a special connection to––perhaps so because his wife and books are situated there, he jokingly continued. Besides Brooklyn, home for Teju Cole can be anywhere, where there are people who have an "open-minded and interesting attitude towards the world".
Cole tried to convey his attitude towards the world better through talking about his relation to photography and quoting one of his favorite poets, W.B. Yeats. He looks at the world as through the lenses of a camera, always searching for a moment, constantly being captivated by movement and pretty much everything––a state, which he described as an "ecstatic experience of the world". Cole then quoted a line by one of his favorite authors – Yeats: "There is another world, but it is in this one". It seems that Teju Cole is, through his life work of writing and photography, constantly searching and rediscovering this world Yeats is talking about. This is one of the defining characteristics of his novel too, in which the protagonist is found wandering the streets of New York.
When asked for the definition of 'realism in the 21st century', Cole mentioned the images of killing and death, continuously present in the media during the Vietnam War as an example of realism. These images tend to raise questions – and Cole is very comfortable with questions – since for him the definition and purpose of 'realism' is: to raise more questions than he has the answers for. Sadly, he added, the practice of such 'realism' is rather decreasing than increasing in the media, the testament for which are the erasure and concealment of images from the recent war in Iraq. Ironically, the more military brutal the United States becomes, the more images it conceals, he remarked.
The conversation with Teju Cole concluded with the address to the translation of the Open City into German. He had nothing but words of gratitude and professional satisfaction for his friend and translator Christine Richter-Nilsson, whom he personally requested as a translator in German because of their previous cooperation and his trust in her work and professionalism.
The conversation with Teju Cole succeeded by the Award Ceremony undoubtedly left an imprint in my memory as one of the most enjoyable literary evenings I have attended. Teju Cole is a creative young man with extremely interesting opinions. Listening to him talk about his fascination with life and curiosity about its offerings was both intriguing and thought-provoking. Cole's passion for writing and photography, despite his popularity and literary acclamation, keeps him grounded and focused on his work––solely thanks to the life energy and pleasure he derives from it. He remains a modest author, who takes his work to be no better than any other on the Shortlist, although to me, personally, he represents one of the most respected authors of the 21st century––whose writing is driven by temperament and emotion, rather than money and appealing to most convenient audiences.
Photo gallery: