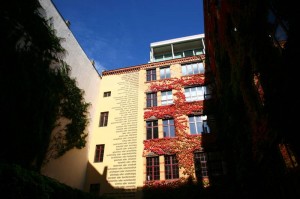 As a culmination of the autumn term's art history elective on Representation a group of ECLA students visited the Hoffmann private collection of contemporary art on December 3, 2011.
The gallery, owned by Erika and Rolf Hoffmann, occupies two floors of an apartment building located at Sophienstraße near Hackescher Markt.
Walking to the gallery is an experience itself, as Sophienstraße is lined with cozy cafés and little curiosity shops, amusing diversions on the way to Sophie-Gips-Höfe, the entrance of which faces an early eighteenth-century century Baroque church, Sophienkirche. The courtyard of Sophie-Gips-Höfe opens onto a refurbished old factory building with brick exteriors, a home to artworks produced in recent decades.
In the foyer of the exhibition space a short stop-motion animation film titled "Weighing and Wanting" was playing. The film, by South African artist William Kentridge, transformed itself and re-ran through the use of drawings that were repeatedly erased. It shows a man's brain scans which slowly turn into scenes with a woman, depicted in an alternately affectionate and violent manner.
As the film progresses, the woman's bodily curves eventually sketch out tall transmission towers which stand monument to mankind's rapid industrialization. The film served as an icebreaker as the tour guide engaged ECLA students in a discussion about the political underpinnings of the film. Outside the film viewing room, Kentridge's sketches for the film are displayed.
The group next saw some works by Jean-Michel Basquiat, an American artist who had worked with Andy Warhol. His graffiti are reminiscent of Andy Warhol's early collage work of black-and-white ads, with a hint of Cy Twombly's deceptively childish-looking marks and drawings. In the same room, his street art treatment of a shipping crate is also displayed.
The group moved on to text-and-image art by Bill Beckley. Encountering a private guest over a meal in one of the Bill Beckley rooms was a reminder that the gallery also serves as living quarters for the collection owners.
One impressive work by Bill Beckley is titled Roses are, Violets are, Sugar are which clearly references Barnett Newman's Who's Afraid of Red, Yellow and Blue IV, even recreating Newman's "zip painting" technique by using a thorny plant stem, a plant vein and a streak of sugar. These elements can be read in relation to the botanical process of photosynthesis which sustains the life of a plant.
Soon enough, the group was led into a room with three photographic recreations of Manet's Olympia by Polish artist Katarzyna Kozyra. One features an elderly lady on a bed posed as the reclining nude while the other two feature the artist herself: in one instance a faithful recreation of Manet's protagonist with the exception of the fiery red hair, the second showing the reclining nude on a hospital bed. T
he hospital scene was quite striking as an image of a hairless nude woman makes a strong reference to cancer. It puts Manet's work in a very different light, particularly when compared to how Manet's critics at the time harshly judged the woman as ugly and the painting as scandalous and immoral. The photo recreation goes against the typical view of the woman as an object of spectacle when death and illness are clearly impinging on whatever erotic sensation may be attached to the female nude.
The next room seemed to have an opposite take on the female body as the walls were covered by photographs of naked women, bound and contorted into apparently painful positions where some women seem to be tied and suspended on air, occasionally punctuated by a photo or two of the Tokyo skyline.
These photographs were taken by Japanese artist Nobuyoshi Araki. Hung in the middle of the room are several traditional Kimonos whose sheer breadth and volume seem to obscure and disrupt the eroticism of Araki's works.
Two works shown at the end of the tour were really awe-inspiring, inducing gasps among the group of already wide-eyed ECLA students. One was by Japanese artist Chiharu Shiota, consisting of a long white gown suspended on air through what must be hundreds of web-like yarn stitches that enclose the gown and are enclosed by a steel frame. It truly captures a sense of marital claustrophobia, encompassing the viewer within its imposing cobweb structure.
The last work on display was by Australian hyperrealist artist Ron Mueck – a silicone sculpture of a squatting naked man with his arms stretched out and his head hidden and turned towards his body.
The astonishing detail of this sculpture, from the microscopic hairs, light blood clots on the skin to wrinkles on the entire body, was daunting to process. The Representation class, having started with Plato's indictment of imitative arts, had gone full circle and saw what might truly be an alarming art piece to those who espouse Plato's argument against art in Book X of The Republic.
The Hoffmann gallery tour, which also served as the last session for the Representation elective, was a succinct summary of all the art historical narratives discussed in class, but most importantly, it proved that for the art being made today, traditions and conventions are alive and well-recognized, and are being modified and challenged such that even an art critic like Arthur Danto might be tempted to revoke his claim about the "end of art".
 by April Matias (2nd year BA, Philippines)