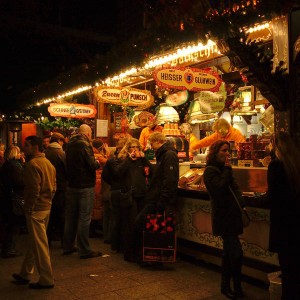 In Berlin, even before snow sets in and the decorations are put up, holiday spirit abounds. You can go to your friendly neighborhood supermarket in November and see a bevy of seasonal sweet treats like: Stollen, Lebkuchen, Pfeffernüsse and Spekulatius.
Christmas markets must be the most anticipated holiday fixture in the city, which seem to fill up every major thoroughfare in the German capital. There are several things one can expect from Christmas markets: large crowds, pastries and delicacies from other countries, and most importantly, Glühwein. This year, I decided to get a group of ECLA students together to visit one of Berlin's biggest Weinachtsmärkte in Schloss Charlottenburg.
That night there was a nice holiday chill in the air and I came with a mission to find a Bayerischer Bierkrug to take home (to Manila) as a souvenir. Soon enough, my single-mindedness of purpose turned into wide-eyed gaiety over the knick-knacks and bric-à-brac that filled the shop stalls in Schloss Charlottenburg. From microwaveable stuffed toys to beach wear, there is just no telling what one can find at the Christmas market.
Food soon turned into the primary object of attraction, as it is not likely something that one can avoid at the Christmas market. The aroma of freshly baked quark balls filled the packed rows of shops, and as I turned around the corner, I caught sight of roasted almonds and other nuts.
The 'foodie' discovery of the night, all thanks to a friend's introduction, was a kind of pastry called kürtoskalács or Hungarian chimney cake. It was an euphoria-inducing moment to taste something new to my palate. After downing a cup of glühwein (to keep up with tradition), it was off to the palace.
Had our group arrived a little bit earlier, this would perhaps be the most attractive part of going to Schloss Charlottenburg's Weinachtsmarkt. But when we finally ventured to walk around the palace, it was already too dark to see anything else of spectacle but the palace itself, standing there with such grace and grandeur.
Soon enough it was time to head back to the dorms for another day's worth of readings, but we returned with a boost of cheer, having been delighted in new things discovered and feeling that people had come out to celebrate the season.
by April Matias (2nd year BA, Philippines)