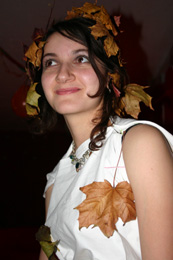 In the final minutes of the witching hour, after the "scary" film screening on Friday, it seemed that Halloween was over at ECLA. But the real trick or treat came with Saturday's unexpected party held by a few students calling themselves "The Horror Committee". In spite of the short notice, students and faculty alike managed to improvise some truly creative outfits, ranging from beer-bellied Falstaff from Henry the IV to the Garbage-Bag Girl, a walking advertisement for recycling.
A lot of effort was put into decorating the party room in House 24 with just about everything: spiders, balloons, evil witches and even disco lights. In this setting, students competed for the best costume award – among others, there was the Dead Hector from the Iliad, a Gorgeous Gypsy, an 80's Girl, an Italian Mafioso, the Salt and Pepper couple, a Toilet Paper Mummy, a Flower and our favourite – Autumn. We felt the competitive tension rising in the air until our judge David Hayes, disguised as Allen from Indiana, announced Anca – the Garbage Bag Girl – the victor.
The dancing and digging into sweets went on into late hours, after which the party relocated to the kitchen for the carving of the pumpkins. Late into the night, Jeff finished carving the first monster and his pumpkin, illuminated by candles, was put on display on the balcony of House 24. Lika and Eka challenged Jeff by carving a second one the next day.
All in all, it must have been the "Student Cleaning Force" who were most terrified by our All Hallow's Eve, since the mess we made would have made zombies look good in comparison.
By Clara Sigheti (AY 2007, Romania)