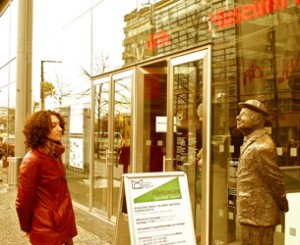 As a part of the 'seeing Berlin' programme, the visit to the Film and Television Museum in Berlin complemented the elective courses, Introduction to Film Studies, Heroes on Screen, and Woody Allen – a Poetics of Fun and Philosophy, held by film professor Matthias Hurst this year at ECLA.
Entering the museum gives a real sense of initiation into a different world: in the first room the ceiling, floor and walls are totally covered in mirrors. Greeting the visitor with a multiplicity of different images, the museum prompts reflection on the role of cinema in our lives. Large screens signal the path through this maze, displaying images of the most famous actors and actresses of early-German cinema.
Organized in periods and themes – Pioneers and Divas, German Expressionism and Caligari, the Weimar Republic, Film under National Socialism, The Post-War Years to the Present – the museum's permanent collection brought students into closer contact with the history of the German cinema, studied as part of the Introduction to Film Studies elective in the autumn term. Germany has a particularly important role in film history as the birthplace of cinema, just a few months ahead of the Lumière brothers in France. However, it was the rise of Marlene Dietrich that put German cinema on the map. The Deutsche Kinemathek has an expansive collection devoted to the actress and her most important films. It includes costumes, letters, props and recordings of her audition for Blue Angel, the film which took her from Berlin to Hollywood.
The museum's exhibits dedicated to German expressionism, and particularly to the film The Cabinet of Doctor Caligari (1919-1920), generated discussions among students for their influence on the subsequent development of the horror genre. The exhibit of the controversial work of Leni Riefenstahl, prominent film director in 1930s Nazi Germany, gave rise to further debate.
In the heart of Potsdamer Platz, the modern commercial centre of western Berlin, the Deutsche Kinemathek – Museum for Film and Television was built as early as 1963, but only opened to the public as a film museum in 2000. It presents parts of its huge collection in permanent exhibitions and in themed exhibitions which change annually.
by Livia Marinescu ('08, Romania)