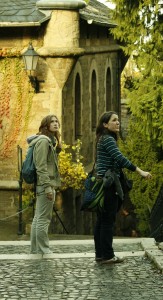 After three weeks of intensive academic activities, most of the ECLA community embarked on a three-day excursion to the Harz region that began early on Friday, October 23. First stop was Magdeburg, a small city by the Elbe River with quite a number of interesting examples of medieval architecture, as well as more modern buildings. Here faculty and students visited the Magdeburg Cathedral, an impressive gothic structure that dates back to 955 AD.
By the afternoon, the group reached the historic city of Goslar – our final destination. The first activities involved exploring the picturesque town centre, which looked as though it had stepped out of a history book. The settlement at Goslar was founded in 922 and only a hundred years later became an Imperial City, one of the most important of the Holy Roman Empire. Famous for the Rammelsberg Ore Mine, both this and Goslar's Old Town were declared World Cultural Heritage Sites by UNESCO in 1992.
One of the most thrilling experiences took place on Saturday when faculty and students set out to Brocken, a mountain 1142 meters high and the highest peak of the Harz region. The long hike took around six hours to the top and back. Since the weather was warm and sunny, the undertaking on the whole was both fun and challenging. At the beginning, there was only a path through the thick forest, a great view that every now and then offered wooden bridges over streams and landings to rest from long hours of walking. The path turned out to be more and more difficult as we climbed towards the peak since about half the way up we encountered snow. People of all ages and diverse origins were taking the same tour, giving the experience a truly communal feeling.
Closer to the top, the path ran alongside railway tracks and every fifteen minutes or so a black and red fairytale train with steam popping out of its chimney would make its way past. The Brockenbahn, built in 1899, is one of the three metre gauge railways that run across the Harz National Park. It is certainly a big attraction for those who want to know the Harz region but aren't tempted by the long hours of walking.
Brockenbahnof, the highest narrow railway station in Germany, served as a military base for border surveillance during the Cold War. Until the Berlin Wall fell, the mountain was off limits to all but the Soviet army. For both local inhabitants and visitors alike, the opportunity to hike through the park signifies a celebration of complete freedom.
Once on ground zero again, the ECLA troupe gathered in a warm place to share views on the experience while sipping hot chocolate.
By María Cruz (AY '10, Argentina)