As I chose between two outfits with vaguely Mediterranean patterns that I had worn to previous BCB Commencement ceremonies, I slowly prepared myself to see my friends graduate. I picked the long dress that I had worn to last year's ceremony, which I didn't get to show many people because I had to leave early to finish a final essay. While making my small aesthetic decisions for the day – putting my hair up or down, short or long necklace, blue or white shoes – I was taken back to memories of the first Commencement ceremony I had attended at BCB, in 2016, when I had worn the Mediterranean-patterned skirt that I chose not to wear this year.  Along with then-sophomores Nathan French and Lisa Vogel, who have since become two of my closest friends, I watched Commencement 2016 on the lawn beside the cafeteria. It had been one of those friendship-building events because we had somehow failed to really hang out before that, even though we had lived on the same campus together for a year.
And now I was about to see them both graduate.
For me, May 19th started with Lisa's mom being horrified at the fact that her daughter and I had managed to hoard 40+bottles at our shared apartment that should have been taken to the supermarket to be recycled a long time ago. It continued with me meeting Nathan's parents for the first time as I picked them up at S+U Pankow. We then got on the M1 and met Iva Tomić's family (BA4, HAST). When arriving at Ballhaus Pankow, where the ceremony was held, I got to briefly talk with Nina Lewis' (BA4, HAST) family and Sullivan Carter's (BA4, HAST) mom. Even though English predominated, the space echoed different languages – Czech, German, Spanish, Arabic – and I was pleased to be able to understand most of the Serbian speakers.
I sat down to watch the ceremony with Nikita Moutsopoulou (BA2, HAST) and Walker Gawande (Exchange, Skidmore College).  I felt more comfortable in Ballhaus Pankow this time around as it was still familiar to me from the previous year. Luckily, no impending essay deadline loomed over me this time. Instead, I found myself observing people interact with the space around them. Their button-ups, heels and special occasion dresses complemented the room's tall ceilings and large windows. Some of the parents seemed to be admiring the Baroque architecture that had been a part of Pankow since 1880, waiting for their children to come out to the podium. Some read the ceremony's program, trying to figure out what the theses were about. I, too, looked over the topics once more. Some, like Nathan's "Describing the Working Class: From Fiction to Social Theory," I was already well-acquainted with. But others, like Hannah Händschke's "German Legislative Methodology and Feminist Ethics," I knew practically nothing about, putting me in a similar position as many of the parents.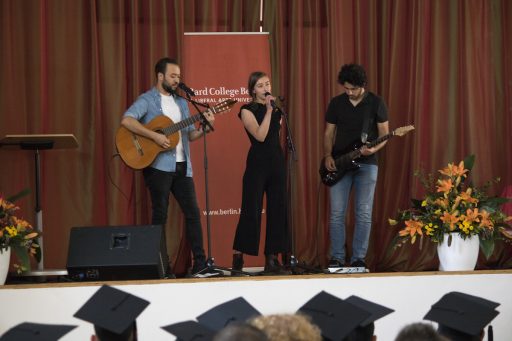 Soon the ceremony opened with Adeeb Hadi's (BA1, HAST) performance of the folk song "You Fell in Love" followed by Adeeb's own composition, "Don't Be Afraid of Tomorrow", whose theme seemed to suit the occasion. Student Giovanna Castronari (Academy Year) also performed an original piece. The two, along with Nafeh Kurdi (BA1, EPST) on the electric guitar, concluded the musical opening with  "Rivers and Roads" from The Head and the Heart.
A year from now we'll all be gone
All our friends will move away
And they're going to better places
The song echoed a nostalgia that was yet to come.
After the musical introduction followed the Commencement Address by Josh Kun, whom our Dean Catherine Toal introduced as:
far transcendent from any single or multiple professional affiliations. He is not only a scholar, but an artist, a writer, a teacher: all of which is also to say that we have absolutely no idea what may happen in speech and sound in the next twenty minutes, which is exactly why we invited him.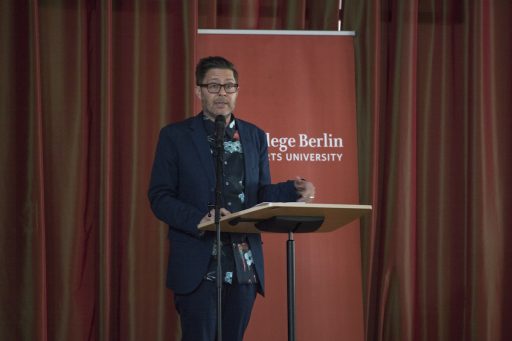 Kun explained that the term "commencement" is etymologically tied to new beginnings. And yet, the day of commencement is not a clear-cut start, but rather what Kun called "a threshold". He shaped his speech around this idea, emphasizing the significance of borders, edges and in-between spaces.
Kun told us about his visit to the Berlin Wall Memorial:
I saw flowers next to the black-and- white photographs of Germans killed trying to jump the wall and make it across that liminal zone between East and West, and I thought of the thousands who die in the Mexican desert each year. I thought of the nearly 100 Palestinians killed already this year in Gaza.
Borders have historically created violence in various forms such as nationalisms and displacements. They have forged complicated country relationships; they have produced immigrants and refugees whose experiences are not tied to any one place, whose stories are not so easily reconstructable. He urged us to think dialectically so as to fully understand these thresholds and fragments, to put ideas in contrast to one another in order to come closer to the truth. Kun ended his speech by going back to a metaphor that he had used earlier to illustrate the dialectics of the historical and political examples in a more tangible way: He spoke about how DJs work with edges and thresholds of songs in order to make connections that create something new from already existing ideas.
"Think like DJs!"
Josh Kun advised the graduates to look to history when trying to create something new: "To think like a DJ is to think about the present and the future with the ear of a historian. Know that the new work you will do will only be powerful, will only move you and move those around you, if it's knowingly attuned to the past."  With all of that in mind, Josh Kun finished his address: "Be healers, you guys; be connectors; make the music of your lives. Congratulations!"
Kun's speech made me feel as if an education like that of BCB, which seeks to examine the origin of society's values, its connection to political realities, and so much more, was worth it. It made me feel like an education like this one could one day help me speak truth to power in a historically informed way.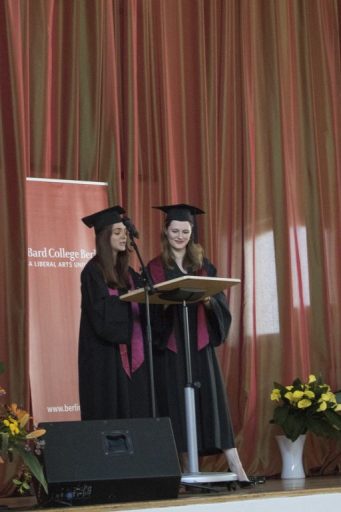 In this spirit of recounting the past, the student address by Lisa Vogel and Andrea Riba started off by empirically tracing key events that marked the history of this community of the 25 graduates. Besides the more tame parts of this walk down memory lane, such as the group's obsession with Beyonce's "Single Ladies" or the now deceased campus cat, Lisa couldn't help but mention an unforgettable incident of the 2015 L&T: "But we rose from the ashes of the fire that broke out in one of the dorms during our first week (Sorry, Catherine…)". Lisa expressed how the Class of 2018 maintained a feeling of togetherness through confusion, even though they were people with different personalities and interests, as Andrea explained in her part of the speech. Perhaps most importantly, both Lisa and Andrea emphasized how many questions — both serious and unserious ones — relating to justice, and Club-Mates, and future plans their time at BCB had made them ask. Andrea finally remarked:
But luckily, thanks to the past four years, and thanks to our professors who led us out of Plato's cave and showed us how to go even further by ourselves, we are now equipped with the tools to start figuring out the answers.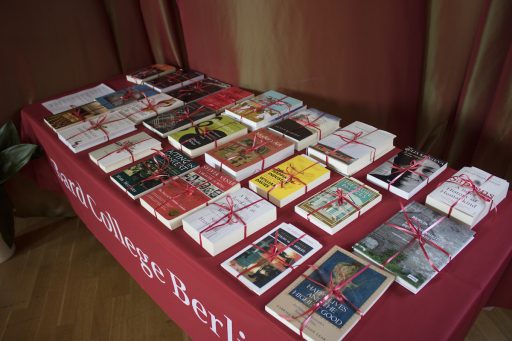 Following this address, which covered so many various aspects of the graduates' education, BCB managed to assign just a little more reading with the book gifts from each senior's thesis supervisor, presented by James Harker. These gifts, too, exemplified the diversity of the graduating class. Irina Bunčić got Maria Todorova's "Imagining the Balkans" from her supervisor Elena Stavrevska after writing a thesis about the NATO bombing of Belgrade; Lavia Lin received Meyer Schapiro's "Modern Art" from her supervisor Geoff Lehmann after exploring the connections between painting and jazz for a year; Donovan Stewart was given Michael Naas' "The End of the World and Other Teachable Moments" by his supervisor Tracy Colony.
Finally, our Dean, Catherine Toal, delivered what she called "less of a charge than a salute to the Class of 2018". She expressed the importance of the different paths that led people to pursue a liberal arts education in a country that is perhaps not their own and in a language not their first. She recalled the students' different individual achievements, such as learning ancient Greek, or reading French theory, or the fact that this class contains the women founders of the school's Student Parliament. She noted the class' joint interest in the politics of representation in forms of national memory, religious persecution, feminism, and public policy, exemplified through the different thesis projects. She listed some of the achievements and future plans of the graduates, like a PhD at the Committee on Social Thought at the University of Chicago, an MA in Human Rights and Humanitarian Action at Sciences Po in Paris, an MA in Globalization, Environment and Social Change at the University of Stockholm, MAs in International Relations, Francophone Studies, European Literature, and many others. Lastly, Catherine asked of the audience:  
In celebration of that spirit daring and experiment that has guided them so far and of the imminent moment of the awarding of the diplomas, please join me in applauding our graduates.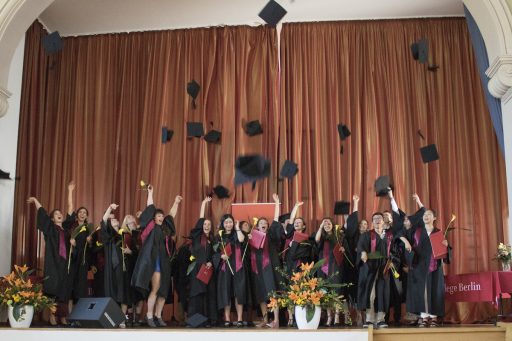 And then caps were thrown and glasses of Prosecco were grabbed.
My immediate reaction was happiness and pride. But then there was a feeling of not being ready to see everyone go yet. I felt a nostalgia for the lunches we used to have after the Modernism core course; the times I spent hanging out in the Writing Center with Nina; the (cafeteria) workers' solidarity I shared with senior friends like Michal, Irina, Raul and Flavia; the Postwar Experimental Fiction class I took with Lisa and Nathan. It was a moment of real acknowledgement that I would not be returning to the same campus come September.
But then, I, like the graduates, grabbed a glass of Prosecco and snapped out of it. I met Hana Khalaf's family and was taken aback by how much her younger sister looked like her. I showed Nina's dad the Writing Center article that I wrote about her, which he was eager to read. I met Irina's Macedonian boyfriend, and we talked about how nice lake Ohrid was. I saw alums like Aya Ibrahim (2015) and Nan Baron (2017). I posed for pictures with Nathan's and Lisa's families. I talked with Nina's aunt about different nationalisms and the trip to Macedonia that she took decades ago. I watched parents meet professors and contemplate the kinds of people that have helped shaped their children's intellectual lives.
As the reception came to a close, I realized I had managed to have fun with only limited thoughts about my own graduation — thoughts about speaking Macedonian with my family, about leaving BCB, about which friends would end up seeing me throw my cap in the air, about fears for grad school and jobs, about a future that elicited more excitement than doubt. Soon I pushed those thoughts to the back of my head as some of my non-senior friends and I headed to coffee with our senior friends and their families. My friends' families were about to meet our loose Berlin family in a cafe in Pankow that neither group could take real possession of, but which belonged to all of us during the brief time that created the memory when two separate worlds interacted with each other at what Josh Kun might have called a "threshold".