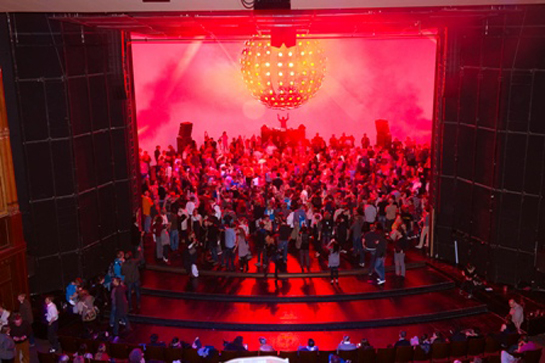 Saturday the 28th of April was Berlin's fourth annual Lange Nacht der Opern und Theater: the 'long night of opera and theatre'. With 57 venues putting on over 150 performances within a single five-hour window, the event seemed to scream "Look at me, I'm cultural" so loudly that no self-respecting Berliner-hipster (or Liberal Arts student) could resist.
And the cultural mix was indeed liberal, ranging from Händel to cabaret with improv-theatre, ballet and tap-dance in between. And of course, no festival is complete without its fair share of oriental jazz or an 'octopus-variety' show.
For ten euros, we students were able to fit into this one night as many of these short preview performances as possible, being shuttled around the city in dedicated buses from venues as esteemed as the Konzerthaus to Berlin's more obscure Neukölln and Prenzlauerberg stages.
Thinking we'd start the night off with a bang, we headed to Kreuzberg's Hebbel Am Ufer theatre to see Monteverdi's L'Orfeo. Not much of a bang, you might think, apart from the fact that it starred electro-singer Peaches (more well-known for her saucy lyrics than her soprano) alongside an androgynous leather and stocking-clad cast. Apparently edgy good-looks were a requirement even for the orchestra.
We next entered into the kitsch ostentatiousness that is the Komische Oper to see another modern adaptation, this time of Bizet's Carmen. Featuring Polizei and Flamenco dancers, and performed against the backdrop of a Sparkasse bank in a mixture of German, French, Spanish and Italian, the Dance of the Vampires performance that followed seemed really quite pedestrian.
Tanz der Vampire, based on Roman Polanski's film The Fearless Vampire Killers was a family-friendly, cheesy guilty-pleasure of a performance, and, already at 11pm, we just had time to rush from the Theater des Westens to the Schiller Theater for some late-night snippets of opera.
Then, feeling all cultured-out for the evening, the night culminated in a huge party at the Volksbühne, where the old and young, tourists and Berliners danced on the extended stage looking out into the auditorium. A very dramatic way to end the long night.
by Zac Barnett (1st Year BA, UK)