This piece was originally published by Al-Fanar Media on March 18, 2015. Republished with their kind permission.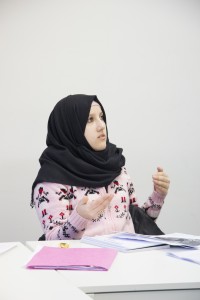 I am a Palestinian student, 20 years old. I was born in Jerusalem, but I have been there only twice. I grew up in the Al-Arroub refugee camp, north of Hebron. Originally, I am from Gaza, but I have never been there.
The Al-Arroub camp is a very crowded place of about 10,000 people. I live there with my family—three brothers and two sisters. I studied until the ninth grade at the United Nations Relief and Works Agency for Palestine Refugees school. It was a good education. Afterwards, I went to high school in the camp.
The only thing that I could think about during school was how much I wanted to go to the United States to study. Why the U.S.? Probably because I was watching Hollywood movies too much. I was obsessed with the easy life I saw depicted on the screen, the modern, developed lifestyle with technology, easy transportation and freedom, especially freedom of movement.
In 2012, I graduated from high school, and it was time to decide on a university. Should I stay in Palestine or study abroad? I was torn. Then I received information about an American college in the West Bank,  Al-Quds Bard Honor College. I decided to attend because it has a strong, American-based education program where I could study journalism, a lifelong dream.
Thus I started my new life, a life outside the camp. I discovered my homeland's cities—Hebron, Bethelehem, Abu-Dis, Ramallah and Jenin. I also encountered the everyday hallmarks of life in Palestine for the first time. I saw the checkpoints, the Israeli soldiers, the settlers and settlements and the "segregation wall" on my way to the college every day.
Even though I went to an American-influenced college, my dream to leave Palestine didn't change. In fact, my desire to go abroad grew after I met exchange students from China, France, Italy and the U.S. who studied at my school. We talked for a long time about the differences between life in Palestine and other countries, especially regarding restrictions on travelling freely and economic development in Palestine—or the lack of thereof.
Still, I could not imagine how life looked outside Palestine until I had the opportunity to visit Istanbul for week to attend a conference with Bard College. I was shocked.
In Istanbul, I was struck by the buildings—huge buildings with amazing and different facades. In Istanbul, I could see the sea everyday without a permit, unlike in Palestine.The first time in my life I saw the sea was three years ago when I got a permit to enter Israel. In Turkey, I rode a train for the first time. Best of all, in Istanbul, I could freely and easily go outside anytime I wanted. There were no checkpoints, no fear, no restrictions.In Palestine, it is not safe to go outside at night, and our day ends at 9 p.m.
My parents knew I would be shocked by Istanbul, so they decided to let me stay in Jordan for a couple of days before returning to the camp.They wanted me to gradually work my way back to life at home, gradually acclimaticize. Unfortunately, it didn't help. I spent a month thinking about the huge gap between Palestine and Turkey or even Jordan, especially about the freedom and flexibility to move around.
I wanted to taste this freedom again. So I decided to study a semester abroad at Bard Berlin, one of the branches of Bard College. Now, I am in Berlin and life is super easy, simple and comfortable. Everything here is totally different from home. For instance, I don't have to wait for an hour for a taxi from my camp to arrive at the college or be stopped at a checkpoint for an hour and miss lectures. I don't have to worry about finding a taxi late in the day because of a late class. I don't have to worry about doing my assignments early and quickly before the electricity turns off, as it often does in the winter. I don't have to worry if I need to buy anything at night—I don't have to delay buying it until the next day. I don't have to feel bored on the weekends because I can't do anything or go anywhere, like to the cinema, zoo, park or a café because they are too far away—the cafés at the camp are for men. I don't have to be worried or feel afraid about Israeli soldiers knocking on the door at midnight to inspect the house. I don't have to worry if I open the window that I won't smell fresh air but tear gas.
Freedom is the main element that makes Palestine different from Istanbul, Jordan and Germany. There are the big freedoms, like not being fenced in by a wall. Then there are the smaller daily ones—to move around the streets quickly and easily, shop and go to a park or study at night.
Being deprived of both kinds of freedoms stops us in Palestine from realizing our potential and joining the modern, developed world. We have the talent. We just lack these freedoms. But we don't have to let that stop us. We can create opportunities even in my camp to educate ourselves, develop talents and skills. We just need to internalize that a lack of freedom shouldn't  kill our dreams and ambitions, talents and abilities–instead, developing those will bring us closer to it.
Asma' Jawabreh is a student at Al–Quds Bard College for Arts and Sciences who is currently spending an exchange semester at Bard College Berlin.