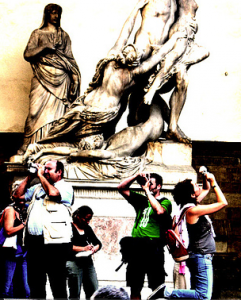 A tourist here, a tourist there, there are tourists everywhere.
Before going to Florence, just like any other good tourist I researched in detail what the web had to offer about the Italian customs, you know, the little nifty tricks that could save one a euro or two.
Some websites recommended having quick breakfasts, coffee and a bun with butter and jam, maybe a croissant with some Nutella. But most importantly, it was recommended to drink one's coffee at the counter because sitting down for a cup of cappuccino will cost one thrice as much, a mistake that I actually made during our visit to Urbino.
After passing Assisi, Urbino, San Sepolcro, and Arezzo, we finally arrived in Florence and even after a ten minute ride to our hotel it was clear that Mary McCarthy really was right in her book The Stones of Florence, whereshe writes that Florence is a city of stone, a dark, manly town overfilled with banks, loan agencies and insurance companies.  
But Florence is much more than a big business center. It is an historical gem decorated with countless monumental cathedrals and churches, palaces, public houses and squares that were erected with Gothic or Romanesque architecture and built by Arnolfo di Cambio, Filippo Brunelleschi and many others. Florence is also a city that is infested with pests wearing cargo shorts, expensive cameras swinging around their necks, pointing and coyly smiling at the buttocks and genitals of different statues.
Luckily for them, there is a lot to point and laugh at because numerous statues are dispersed throughout the city and next to the dozen or so statues located in the Piazza della Signoria, primarily a copy of Michelangelo's David positioned outside the Palazzo Vecchio and Baccio Bandinelli's Cacus and Heracles, one can find bronze statues in the Indipendenza Square depicting crucial historical figures for Italian unification such as Bettino Ricasoli, an Italian statesman and a fighter and Ubaldino Peruzzi, the first mayor of Florence.
The statue of a sculptor, painter and musician Benvenuto Cellini on the Ponte Vecchio bridge is another must see in the sense that it cannot be avoided. Besides being located on the famous bridge, Cellini's statue is the point that is desired and fought for by many winking and lip licking street artists, primarily the Spanish ballad and 'No woman no cry' types of guitar soloists who, with the drops of sweat on their foreheads and unbuttoned shirts, woo the short-skirt-tourists who have come to Italy primed to be overawed by the fatal fragrance and romantic ways of handsome Italian men.
Mary McCarthy writes that Florence is congested with obnoxious tourists. Innumerable groups of tourists lead by their tour guides who usually dress in bright colors and are holding a flag so that they could be more easily spotted in case a member of his/her group wanders off or is swept away by a wave of other identical tourist groups. The student tour groups are energetic and loud, measuring each other as they pass or happen to be in front of the same piece of art in a museum. They observe each other more than they observe the art work, probably thinking: "We could so take them in a fight."
Professors and tour guides are behaving in a similar way, laughing at their competition's incompetence and waving their flags and pointers uncomfortably close to the noses of their foes. A group of older tourists bashfully glimpse at the younger groups, thinking: "We are so behind. We should have done this tour long ago."
Tourists that have decided to stroll the city on their own or with a friend take many pictures under the statues that they know nothing about. What is important is to have a piece of concrete evidence, pictures that show that they were in Florence, in a place that is of great historical importance, at least according to the art historians and other experts. They were there and they have pictures and key chains to prove it. And while the adults are taking pictures of monuments and beautiful architecture for the show-off purposes, two Italian teenage boys spot a young lady tourist with big breasts and politely ask her to take her picture next to a copy of Michelangelo's David.
Two other young women count and fight over which one of them received more 'ciao bellas.' In the Piazza della Signoria the same songs play over and over again. They are the theme music from the movie Titanic and the other one is Andrea Bocelli singing Con te Partiro. A handful of tourists languidly close their eyes to fully enjoy these melodies while a thought pops into their heads: "I have heard this somewhere before, this is what Italians listen to, we are experiencing genuine Italian culture."
And then there was me, sitting in my white V-neck t-shirt, wearing my loafers without socks, writing into my notebook with leather covers. In Florence, tourist-superficiality really knows no end. After a week of visiting museums and seeing many perfect works of art that will prevent me from drawing anything in a long time out of feelings of shame and incompetence, I am happy to be at the ECLA quarters, relaxing and getting ready for more Renaissance. Florence was a great experience, with art, blisters and gelato and I wouldn't have it any other way.
 by Milan Djurasovic (AY'11, USA)