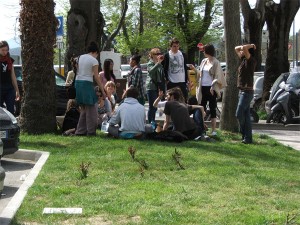 One of the biggest attractions of the academy year program is the Florence trip, which takes place every year before the spring term starts. The trip to Florence promises a very extensive education on Renaissance art and architecture interspersed with a glimpse of the political and historical ramifications of those works of art.
When I came to ECLA, students who had attended the program the previous year fed me their anecdotes about what Florence was like and what they did. Nothing of that reappeared except for the physical structure of the city itself.
The Florence trip is a cut out of ECLA's usual time frame.  It places you in another framework altogether — with different parameters of academics and relationships. During the one week that I spent in Florence along with 30 other students and professors, I strongly felt the changing dynamics of our relationships with each other and with knowledge.
For the first two terms, we studied the meaning of justice and what Socratic education is like. We also looked very deeply into how we understand the notions of love and passion. The last string in the series of knowledge was to see how art and architecture bring forth the complete understanding of what knowledge is and how we as human beings relate to it.
In trying to understand the creations of Ghiberti, Donatello, Raphael, and so many more artists and architects we closely observed the creation of knowledge and its manifestations in great pieces of art. With aching feet we stood with art historians and our professors, trying to absorb the meaning of creation, a process that will in turn affect our ability to create something in the world in which we operate today.
My dire question as to whether the philosophical training that we receive at ECLA is useful or not was also gradually answered.  In a candid discussion with Peter Hajnal and Jakob Dreyer, we all agreed that philosophical education enhances peoples' ability to contribute to the world. Philosophical education does not just consist of some big ideas that appeal to us on the basis of their popularity.  Rather, it helps us to create by providing us with foundational ideas, just as philosophical ideas were the foundations of creation in the Renaissance.
On a lighter side, during the Florence trip, we already began to see new musicians cropping up.  The Waldstrasse Boys made progress on their new albums and made the trip ever so joyful.
Not only did this trip help me engage with the creation of knowledge in such a genuine and honest manner but it also made me see the new developments in our interpersonal relationships. It would not be wrong to say that at ECLA we all exude very high level of energy. Relationships are intense and meaningful.  We all tend to bring energy from the seminars into the dorms. The spirits of learning, competitiveness, admiration, and jealousy, all seem to co-exist at the same time. Our very beings, however you might interpret "beings," develop in various dimensions, due to the many ways in which we relate to one another and the various texts we read.
Art also helped our beings to expand. We were able to absorb a deeper sense of each other by engaging with the pieces of art that we looked at for hours.  Michelangelo's nonfinito sculptures raised questions about the ideas of perfection and imperfection. Nobody knows what perfect is. Sometimes a half finished piece of art can be considered perfect and give that artist a legendary status.  For me personally, a certain kind of humor that sometimes seemed condescending now appeared more human — special courtesy to Anna Krasztev-Kovacs and Jelena Barac – as a result of understanding the ambiguity in the notions of human perfection and imperfection.
Art did wonders for me. As we reached Berlin with aching feet and bones, our minds and hearts were fresh as ever and the spring term welcomed us with open arms.