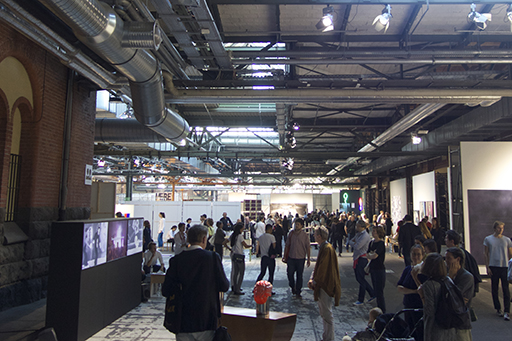 Berlin Art Week—for six days in September, virtually every gallery and exhibition space in the city opens its doors to showcase artists from across the globe. The event was headlined by a few bigger events and exhibitions, namely the opening of the week at Akademie der Künste (Academy of Arts) and the impossibly large event: "abc art berlin contemporary."
I was lucky enough to have a ticket to the abc event even before I arrived in Berlin—a gift from a family friend back in the States who couldn't make the trip for this week-long exhibition. With essentially no knowledge of what sort of event I was attending, nor any expectation of what I would find there, I hopped on the U-Bahn with my roommate Kellan to check out the happenings.
We arrived at Station Berlin, formerly known as Dresdener Bahnhof, the first station that provided a direct railway to the city of Dresden, south of Berlin. Under Kaiser Wilhelm II, the station was renamed as the Postbahnhof, receiving and sending out all the mail in Berlin. Today it stands as a behemoth exhibition space, completely renovated and ready to host the 114 artists exhibiting at the "abc" event along with all 28,000 guests that graced the halls over the three-day program.
A sea of people stood outside the entrance to the event, enjoying the barbecue and drinks being served in the garden area. We walked into the event, I flashed my pass, and had no idea where to begin —there was simply too much to see. A booth was set up for each artist at abc, with temporary walls sectioning their area off from others. This gave each artist and gallery their own space to meet and talk with guests, and showcase their best work.
The range of artwork on display through the hall represented nearly every medium imaginable. Of course there was plenty of sculpture, drawings, paintings and photography to see, but a few performances and some unexpected surprises made the exhibition truly memorable.
Before the event, I had received specific instruction from the friend who had sent me the museum pass to find the representatives from the Night Gallery in Los Angeles, but with so many artists and galleries taking up the space, I had no idea how I could ever track them down. We walked towards a corner of one of the rooms, and a door was left open leading to an alleyway outside. A little placard sat next to the door explaining that there was a performance going on outside—coincidentally, of an artist represented by just the gallery I was looking for. Outside stood a young guy with a microphone, rolling a tire rim over rocks and amplifying the jarring sound. He also had a tool bag with him, and a bag of un-popped popcorn. When he seemed to get bored of amplifying the sound of metal screeching over rocks, he reached into the bag and began hitting the microphone with the bag of popcorn, making a deep bass sound that reverberated down the alley. The charade went on for about 20 minutes, and I was completely captivated. Something about the sheer weirdness of the performance, but also the artist's self-awareness that he was doing something silly was very engaging. The artist couldn't help but smile as he amplified these sounds down the alley, everyone was in on the 'joke' together. I found out later that the artist is known as JPW3, who primarily makes mixed-media paintings, and full-room installations.*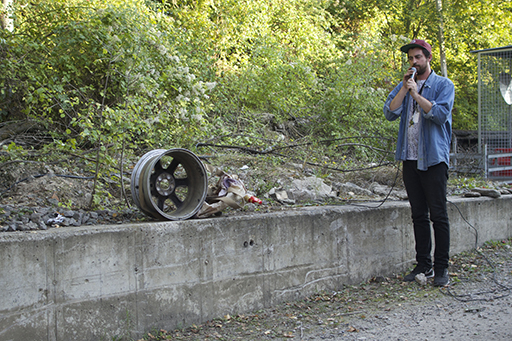 Walking back through the exhibition, I stopped by a booth that looked familiar, though I hadn't been there yet. On the walls stood four different collages and one diptych featuring two bottles of Fiji water, each image of the bottle warped and digitally deteriorated in its own way. On the facing wall was an image of an arm with three watches on it, on a brushed metal background. The image was eerily familiar, and as I looked to find the placard showing the artist's name, it was no surprise that it read "Yung Jake," perhaps one of the biggest (and most successful) enigmas "born on the internet." Having one of the most self-aware and exploitative presences on the internet, Yung Jake was able to carve out his own corner of the "internet-art" niche writing music, making collages, and implementing virtually every facet of the internet into his art work. In his music, he makes references to other musicians, artists, and internet jargon. In his song "Datamosh," Jake raps "Datamoshing cool, datamoshing great/ Justin Bieber move him with my face/ Then use it for an art show, use it for a piece/ Projected on an apple projected on a peach." And that's just what Yung Jake does. Seamlessly sampling some of the most overplayed tropes on the net, he then incorporates his technical digital production skills and makes art. And not just art because he calls it art—art that is featured in a huge exhibition space with some of the biggest names in the contemporary art scene.
I had known Yung Jake's work a bit before seeing him at abc—his song "Look" had made its way across Facebook and tumblr, his name being thrown around at parties, both bitterly and in admiration. For someone who doesn't employ traditional "technical skill" to his art, Jake is now showcasing his projects in world-class galleries, traveling the world and bringing the world of internet art to the high art crowd. Perhaps most surpassing about Yung Jake's whole project is how his work has been completely antithetical to the "free-ness" of the internet, where music, images, books, and all media that can be digitized are available for free. Jake has capitalized on this "free-ness" and made a business out of it, and now he's a serious player in the art world.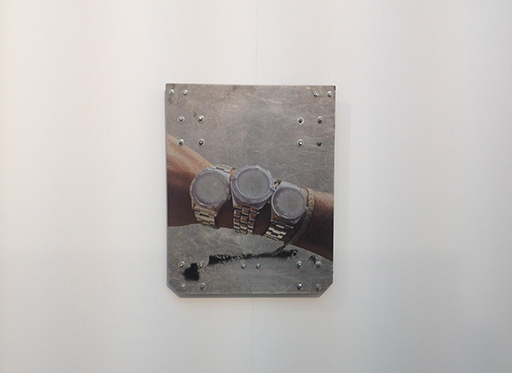 On my way out of the exhibition, I spotted Jake standing outside, speaking with a few other attendees. It was clear in that moment of seeing him in person that his internet presence has expanded outside of the digital world, making him a real and important artist in real life. With the proliferation of internet and digital art across the web, as well as the ability for nearly anyone to share their art digitally – be it through Instagram, or their own blog – Yung Jake has set the precedent for individuals seeking success in their medium to overcome the limitations of the digital world and share their work with real people, in real life.
*You can look at more of his work here: http://nightgallery.ca/artist.php?id=98&name=JPW3-_