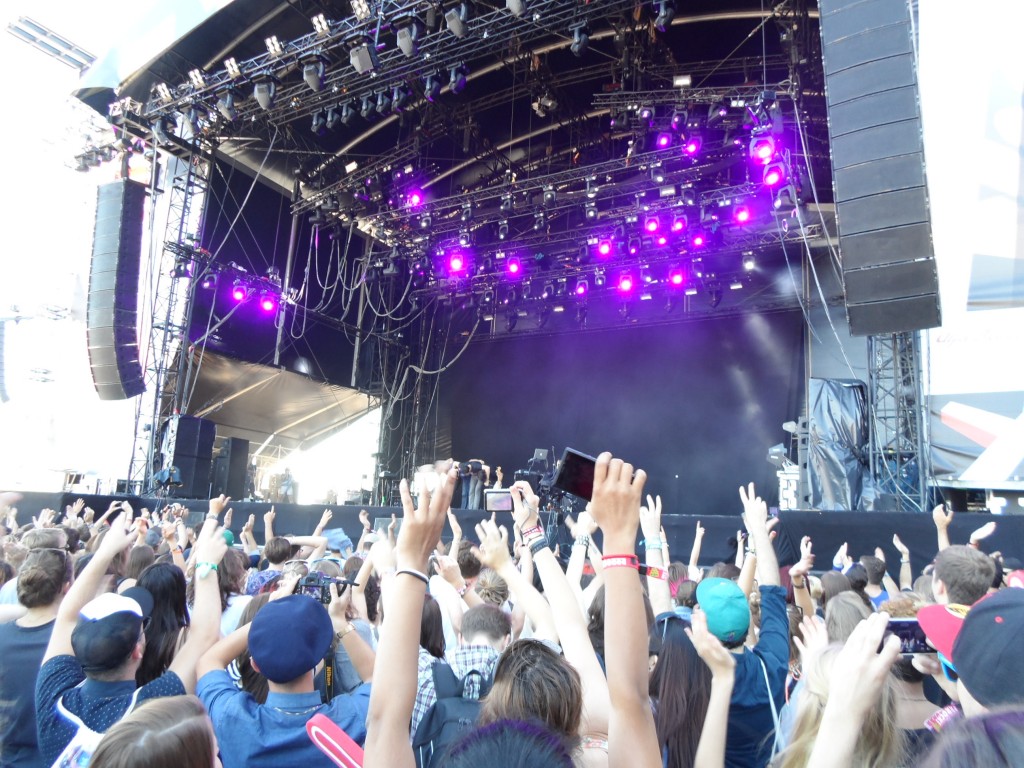 Uff… so it is over: a sleepless week in the name of the Berlin Music Week 2013. It started with a small festival First We Take Berlin, which was scattered in clubs all over Kreuzberg with performances by more than 80 less known bands. Then, on Friday and Saturday (6th and 7th September), evergreens like Blur and The Pet Shop Boys took over the former airport Tempelhof during the main event, Berlin Festival 2013. Finally on Sunday, as David Guetta set the stage on fire, the genuine artsy feeling of the festival ultimately gave way to a sea of hand-held luminous pink sticks. In short, there was something for everybody. I personally think that this something was The Pet Shop Boys, who turned Friday evening into an unforgettable aesthetic experience.
On Friday afternoon, the festival was opened by Bastille, followed by Capital Cities who moved the crowd with their hit "Safe and Sound." The chilly and rainy weather of the past month was substituted with summery sunshine exactly for the two days of the festival––a happy chance, which contributed to the already prevalent positive energy at Tempelhof. Crowds flowed from hangar to hangar, from the main-stage to a different stage, and from that stage to the Art Village. There my friends and I found all sorts of artsy stuff, including furniture made of random things and a lot of duct tape. Girls were having their faces painted with glitter, while German-speakers entered the poetry salon: a smart decision given that the poetry slam was really good––that said by me, but also by others who do not understand a word in German. Girls and boys from the Art Village were distributing paper masks and markers to everyone and so the airport was fraught with girls, who looked as if they came from an oriental wedding, and funny paper-made bear faces (Berlin = Bärlin = Bearlin).
The ones with the best masks were the gay-toned Pet Shop Boys, though. Futuristic and outer-space-looking costumes, trendy caps, phosphorescent orange suits, fancy looking blazers combined with goat horns––I wondered how many suitcases they had brought. While they were changing, bright moving images were being projected on the wall, lasers shot into the audience, and a couple, wearing hats with attached huge horns and long hair, was dancing. It probably lacked substantial meaning, but it was aesthetically impressive. At one point, The Pet Shop Boys came out both tied to a bed on which young dancing bodies were projected. The whole show was aesthetically very appealing. And the music? All the big hits were played. From under the stage, people of all ages were jumping while smiling at the two performers in their sixties. The numerous homosexuals all around were hugging each other and I think there were even tears. It was intense.
After the last beat, the crowd got even denser and pushed further forward––the night belonged to legends and Tempelhof was closed for the day with a Blur gig. "Girls who are boys/ Who like boys to be girls/ Who do boys like––they're girls/ Who do girls like––they're boys/ Always should be someone you really love"––the famous song "Girls & Boys," with its ambiguous-about-sexuality chorus, was a smooth transition from the gay-toned British duo. Front man Damon Albarn was pretty aware of the effect he had on the audience and so he showed off and looked quite full of himself. The audience loved him even more. In between songs he poured all of his water bottles onto the people and whenever he would raise his arm, the crowd started screaming and jumping even higher than before. While Damon was teasing the audience, the bass guitarist Alex James looked completely untouched; with an unlit cigarette stuck on his upper lip, it was as if he played in a different state of mind. It looked quite sexy. After "Girls And Boys" and "Coffee & TV" came slower songs. Damon dedicated one to the situation in Syria and sang another one in German. He received a big applause for both. Although encores were not a matter of course during the festival, Blur deserved one. They had a great song to call it a day––with all five musicians jumping on the stage, the crowd pogoed to "Song 2" so wildly that afterwards all people found themselves in a different place than where they had stood before.
Saturday 7th September at the former airport Tempelhof and the second day of the Berlin Festival 2013. You know how concerts usually start half an hour late? Apparently not in Germany. We arrived to see Ellie Goulding 5 minutes late and the gig was already in full action. Well, "in full action" might not be the best way to describe that particular performance. I was personally most looking forward to this very concert and it disappointed me the most. Her music tends to be very energetic, but the audience stood motionless. We first attributed this to the fact that it was a sunny day and the people were shy to dance while everybody was watching––that wasn't the reason, however. The concert was not loud enough and Ellie seemed somewhat cold. She walked around the stage in shorts and a loose white T-shirt and seemed to sing for herself only.
It is interesting that whenever there is a guy on the stage looking like he does not give a damn, it drives the ladies crazy, yet when a girl does the same, the audience stays indifferent. Ellie looked like she was not really interested in the public and so the audience lacked a connection with the singer. It was as if the music they came to listen to had nothing to do with the performer. Ellie sang well, but it was boring. It is ironic that her music is so electronic and full of sound, but when performed live it sounds too acoustic and naked. You expect a certain beat and energy and it just does not happen. I was impatiently awaiting the single "Burn," sure that it would finally move the crowd. But that was not the case. "Yeah we got the fire, fire, fire! And we gonna let it burn, burn, burn, burn!" shouted Ellie and I simultaneously the words of the chorus, but the crowd remained motionless, eyeing me as if I were some weirdo…
Luckily, the British band White Lies and the German rapper Casper improved our mood. Casper jumped all over the stage with impressive energy, put on a Darth Vader mask, bombed people with opened water bottles, apologized from time to time for an especially accurate shot, chatted with the audience, and joked around. Too bad he spoke entirely in German; yet he still managed to move the whole crowd. During the single "Mittelfinger hoch" ("Middlefinger Up") he asked everyone to raise their middle finger and so during the whole song people were happily jumping around, sending each other to hell. Although rap is really not my favorite type of music, I enjoyed Casper's performance a lot. Some things need to be really good so that one can come to recognize that they are good to begin with. It is the same with German language – many people dislike its rough sound, but German and rap are just a really good combination.
After Casper came the star of the day: Icelandic singer Björk. She was wearing a white dress and a spiky hat which made her head look like a huge, white sea urchin. Behind her was a choir consisting of girls dressed in glittery robes dancing various styles of choreography during the songs. Behind them were three screens with quite unique visual projections. As we watched them, we were taken on a journey through a digital tunnel. It was difficult to stop staring at the screen, because it felt like we were part of a videogame. Some of the remarkable projections screened a moon changing shape and a bizarre swarming of pink sea stars and white sea worms on a sea shore. I am not quite sure how to interpret the aesthetics of the piece, as it was calming yet somewhat sexual at the same time.
Although the show was impressive, we left before it ended in order to see the Klaxons, which was difficult because the crowd at Björk's concert was dense and never-ending. It was a good decision, though, because the atmosphere at the Klaxons' gig was great. The fans took advantage of the fact that the hangar was not as full by pogoing to hits like "Golden Skanks," "It's Not Over Yet" or "Atlantis to Interzone." They would grab each other's arms and jump in a circle. At one point there were technical difficulties and the band needed to leave the stage for some five minutes. The atmosphere was so good that no one felt annoyed––on the contrary, the crowd filled the silence with a loud "oooh aaah," the opening theme of "Golden Skanks." I would personally call this concert my best experience from the festival.
The rest of the night was one big after-party. At the Art Village a silent disco took place – something that at first sight looked like a bunch of freaks dancing without music, and at a closer look seemed like a bunch of weirdos partying together with their headphones on. When personally experienced, however, it was an awesome party where you could simply click a button to choose between two DJs mixing everything from Rihanna and Oasis to Blur and Nirvana. Holders of the entrance ticket to the official after-party at Arena Berlin in Kreuzberg had one more chance to see a big name perform, because Justice DJ Set were on the list. Those guys really know how to mix music and when they played "We are your friends, you'll never be alone again!" as an encore, I was scared that people would lose their arms, legs, and voices, seeing how everyone was jumping and screaming of joy and gratefulness. But even if they did, I guess it would have been worth it. Berlin Festival 2013 was worth it.
Photo gallery: