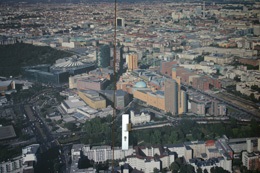 With the end of the year at ECLA there comes a time to ponder the meaning of our academic experience here. However, there is yet another side to the ECLA experience – Berlin and its culture. Some students speak of The Island of ECLA, ECLA-Land or The City of ECLA (referring to Plato's Republic). There are even ECLA flags outside of every building, as if our actual location in Berlin was irrelevant and we lived in a space separate from all others. Bearing this in mind, dare we ask:
Could ECLA exist without Berlin?
Art history lecturer Aya Soika spoke of her involvement in the Seeing Berlin programme, which introduces students to Berlin's exhibitions and cultural events throughout the year. "Berlin's museums have artworks that are part of a cultural canon. The cultural and artistic wealth of the city provides the ideal setting for discussions related to a wide range of issues; not only art historical but also philosophical and historical questions, relevant to ECLA's curriculum", she explained. Indeed, it would be hard to imagine our core course in Renaissance without the art collections of Berlin, a study of Greek Antiquity without the Pergamon Museum or understanding contemporary art without the variety of temporary and permanent collections throughout the city. In such a rich cultural setting one could spend a lifetime discovering all that Berlin has to offer, which is why Aya believes that what we experienced during the Seeing Berlin Programme is only a glimpse.
With some individual effort students were able to explore the city on their own, but also as a part of the German language classes. Dirk Deichfuss, our German teacher, sought to familiarise the students with Berlin's culture, which is inseparable from teaching the language. With this in mind, he takes his students to different landmarks in Berlin and nearby, "in an effort to integrate the city into the German class and the other way around". "Learning a language should come together with the culture, knowledge of cultural aspects, habits and traditions of the people who speak it as mother tongue", says Dirk. He feels it is only natural for him as a Berliner to show his students the unique aspects of his home city. "My impression is that many students enjoy the liberal atmosphere of Berlin and the diversity it offers, both historical and educational, as well as in terms of entertainment and leisure" he explains. With regard to the language, Dirk Deichfuss is most happy when students after only one year of German manage to speak it in their day to day activities. The goal of his lessons is to inspire "the joy of language study, especially considering that German is thought to be a difficult language". The success of his students in the Goethe Institute language tests, such as Zertifikat Deutsch and Zertifikat Mittelstufe, was proof that ECLA has "a great number of students, who are ambitious to learn German".
Nikki Gilbert (USA, Academy Year 2007) doubts that ECLA would be able to have the same kind of community life were it to be located somewhere else. "The bigger the city is – the more individualistic city life becomes, but Berlin is different". Jeff Marshall (USA, Academy Year 2007) also makes a distinction between Berlin and the district of Pankow, the latter being a quiet neighbourhood which allows for study and tranquil reflective thought. Jeff believes that it is apparent that German philosophy is relevant to living in Germany and the other way around. "Having ECLA in Germany creates an intimate relationship to our current texts, giving them much more flavour", Jeff concludes. "It is unique to have a Liberal Arts college in Europe. ECLA could never be the same on another continent".
Could ECLA exist without Berlin?
By Clara Sigheti (2007, Romania)