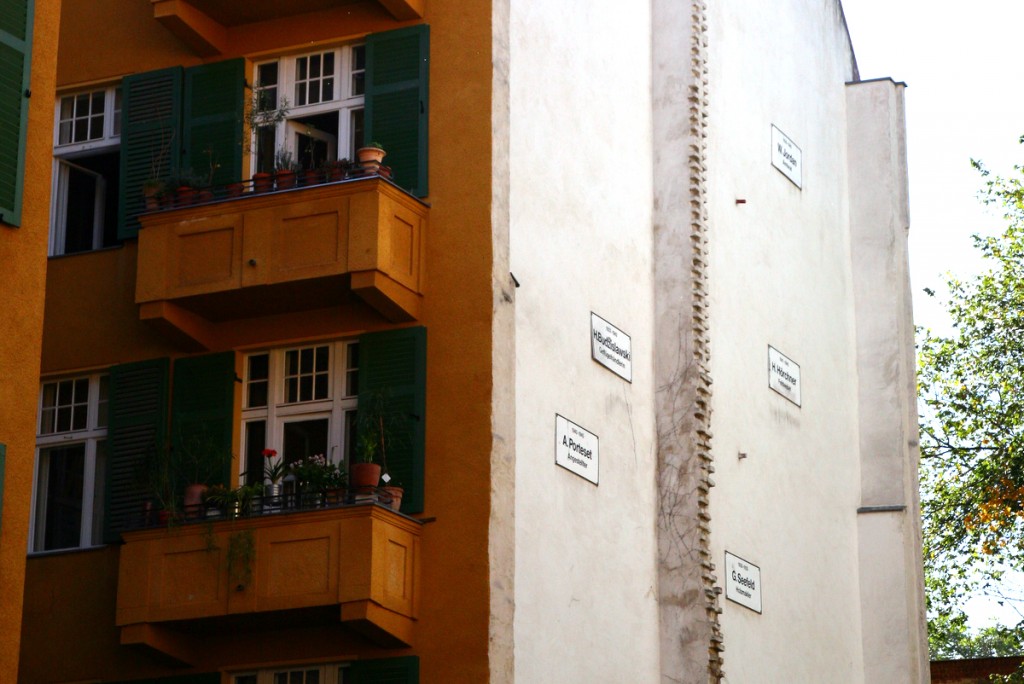 As students from different parts of the world, we contemplate this 'vividly-coloured' city – Berlin – through the prism of our own upbringing. It has much to offer, indeed: if environmentally-aware – its green parks are a 'snapshot' of nature's bliss; if interested in history – you'd never complain about the lack of a city 'aura'; if merely curious – take a stroll along its streets, and the city will slowly unfold itself to you.
Still, despite the unrelenting courage, inquisitiveness and readiness for discovery, one may sometimes fall short of grasping the city's 'spirit' without being open to new perspectives on it from those who 'have breathed its air' for longer. And here is where we – the Die Bärliner team – come to act as mediators between the bearers of opulent knowledge and experience of Germany's capital and the enthusiastic blog readers, eager to explore it. The "Berlin Through the Eyes of…" blog series, comprised of interviews with the ECLA of Bard faculty and staff, is meant to impart to students and blog readers a wide range of sensible and vivid points of view on this wonderful city.
As a companion to us in the discovery (and re-discovery) of the city is the ECLA of Bard professor Aya Soika, whose own life is strongly entwined with the city of Berlin. Enticing us to embark upon a historical voyage of this formerly divided city, and offering us some great insights and tips for further exploration, Aya Soika enthusiastically shares a part of her rich experience and knowledge of Berlin. 
Where are you originally from and how long have you been living in Berlin?
I was born in Berlin in 1975, and grew up in the heart of Kreuzberg in former West-Berlin – a few minutes' walk from the Checkpoint on Oberbaumbrücke and the River Spree, which used to divide West from East. So, all in all, I have been living in Berlin all my life, with longer intervals abroad, mainly in England. We are now based in the South of Berlin, which means that our car number plate no longer carries a "B", but deep in my heart I still consider myself a Berliner!
Having lived in Berlin for so long and having experienced its very diverse nature, what part of the city would you mostly be able to identify yourself with?
The great thing about Berlin is its diversity. Biking and walking through the city creates a sense of familiarity with many central districts, and each of them has its own character and (sometimes hidden) beauty. But to answer your question, it would probably be the neighbourhood around Schlesisches Tor in Kreuzberg, where I grew up, mainly because I have known it so well for so many years. The other part of the city would be the Museum Island – it is always a great joy to revisit the permanent collections.
What are the most striking changes you have witnessed the city undergo in the past decades?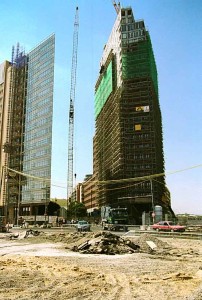 Potsdamer Platz is a striking example of the transformations that have taken place, even though one can hardly tell anymore. I used to cycle to school along the Berlin Wall and across the vast, empty square every morning. Day by day I used to witness the construction of a whole new square. You can still get a sense of what it looked like before 1989 in Wim Wenders' film Der Himmel über Berlin ("Wings of Desire"). The place became a gigantic construction site during the late 1990s, and was filled with great hopes, but the Sony Centre and other malls have turned out rather bland.
There are less visible, perhaps even more striking changes, which concern the city as a whole: Berlin has gained visibility as a cultural and artistic centre. Prenzlauer Berg and Mitte have changed very much, but even neglected quarters like Kreuzberg and Neukölln have become very popular more recently. It still amazes me when I see tourists walking along the street where I grew up. This would have been unheard of in the 1980s and 1990s.
Although this is a broad question, what was it like, from your individual perspective, to grow up in a divided city? How were you able to get around to West Germany?
Many adults – especially the older generation – were very much aware of the special status of Berlin. My parents felt they could never be sure of the city's fate, and they stored matches, candles and other things which may have been useful in case of a second blockade. And they were not even the only ones: the West Berlin Senate stored 44.000 tons of canned meat, which had to be sold regularly as "Senate Reserve" before its expiry date.
As a child, I got used to living in a walled city. Going on holiday via the transit motorway was an annual routine for thousands of West-Berliners. Visiting family friends in East Berlin felt like a day trip into another world. The thorough control procedures at the checkpoint added to this sense of doing something special, but were probably the reason why we would go over to the other side only once or twice a year. Visiting family friends in Bavaria also felt like a trip to another world, of course!
Do you feel there is still a difference between the East and West sides of Berlin?
I would argue that the difference between Pankow in the former East and Zehlendorf in the former West is smaller than the one between the former Western districts of Zehlendorf and Neukölln. Differences in Berlin are created through other factors: unemployment rates and the challenge of how best to provide the children and grandchildren of Turkish migrants with a solid education, for example. There is also the problem of rising rents and its effects on the diversity of the population in central districts, no matter whether former East or West. Of course there are still (small) differences, but overall I would argue that Berliners are united by a sense of being "Berliners".
One difference which comes to mind: my friends from the East recommend the bakeries which make proper East-German buns ("Schrippen"). They look the same but their texture is better, less fluffy.
Always looking forward to visiting interesting places in Berlin, experiencing the multiple aspects of the city's life, as well as eager to treat ourselves to things it can offer, we believe you may have great insight into what places make it special, and particularly appealing for a city dweller.
Tell us about one place in Berlin that you believe is rich in history.

Grosse Hamburger Strasse in Berlin-Mitte. Some houses still carry damages caused by grenade splinters during the Second World War. In-between two of them stands the so-called "Missing House", one of the many missing, bombed buildings of Berlin. In 1990, the void was converted into a memorial by Christian Boltanski. The artist placed signs with the names, approximate location in the house and occupation of those who lived in it before its destruction in 1943, reminding us of the many stories of the inhabitants of one single house. The street is also home to the former Jewish cemetery which has been transformed into a park. The Jewish primary school, the Protestant Sophienkirche and the Roman Catholic hospital on the opposite side are still functioning institutions, highlighting the sense of continuity despite all the ruptures.
What are some of your favourite places to enjoy a meal?
A cheap and original option is the Falafel Shop (Rissani) at Spreewaldplatz. Go for the freshly squeezed carrot and orange juice for 2 Euros and the falafel plate for 3,50 Euros, and listen to the one tape of music which has been playing there for the last ten years (seriously).
Which area(s) do you find most pleasurable for walking?
Walk along the River Spree from S-Treptower Park to Plänterwald and back, while visiting the impressive Soviet Memorial on the way.
The Palace Gardens of Schloss Charlottenburg are nice on a winter day (look out for the tame squirrels), and you can have a coffee at the Sammlung Scharf-Gerstenberg or visit Museum Berggruen just opposite the gardens.
More remote, but still in good reach with public transportation, are the lakes in the South-West of Berlin: Krumme Lanke, Schlachtensee or Grunewaldsee (there are many dogs and a Renaissance hunting castle near the latter).
 What are some spots you'd recommend for reading a book?
My outdoor recommendations are Luisen-Insel in Tiergarten and the meadow by the river at Urban-Hafen in Kreuzberg.
My indoor recommendations for proper work are the beautiful new library of Humboldt University (open to everyone) called the Grimm-Zentrum – located just off Friedrichstrasse, and the Kunstbibliothek at Kulturforum near Potsdamer Platz – just opposite the equally attractive Staatsbibliothek.
For those who are looking for silence and a real change of scenery, and don't mind the dim lighting (which is said to encourage freedom of thought), I recommend the South Seas and Oceania section in the Ethnographic Museum in Dahlem. Withdraw at the fire place in the hand-carved 'Palau Islands Club House'.
What would your ideal Sunday in Berlin be like?
Given that my ideal Sunday realistically needs to be compatible with the ideal Sunday of our two children, it would be an excursion to the Berlin Zoo and Aquarium, which I recommend warmly to everybody.
Another ideal – more selfish – Sunday would consist of visiting all the temporary art exhibitions which I have been planning to see, but haven't managed to yet. At the moment this would be the Anish Kapoor and Meret Oppenheim retrospectives at Martin Gropius Bau, the recently re-opened Museum Berggruen and some of the current shows at the Berlinische Galerie.
Thank you very much for guiding us along this itinerary through the Berlin of the past, providing us with such a vivid perspective on the city, and offering us these interesting tips for our further acquaintance with the myriad of facets with which Berlin is endowed!