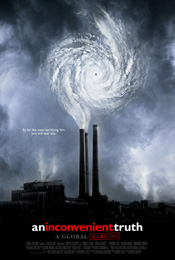 On Friday the 16th of February, ECLA hosted a screening of Al Gore's film "An Inconvenient Truth", which was followed by a stimulating debate on climate change and its implications. The organizer of the event, Rafael Ziegler, invited two guest speakers: Jens Reich (Professor of Bioinformatics at the Medical Faculty of the Humboldt University, Deputy Chair of the German National Ethics Council) and Gregor Betz (Lecturer at the Institute of Philosophy, Freie Universität) who provided the audience with important insights on the issue, both in terms of the film and of the phenomenon itself.
"An Inconvenient Truth" is a documentary film, narrated by Al Gore, the man who "used to be the next president of the United States of America". The film was released in 2006 and since then has elicited substantial positive and negative attention. It was awarded an Academy Award as the strongest documentary film of the year and was recognized to have a considerable impact on the American and European public in particular.
The controversial content of "An Inconvenient Truth" proved to be the focus of discussions which followed the ECLA screening. Both Jens Reich and Gregor Betz asserted a substantial critique of the way the issue is presented in the film, arousing concerns and stirring a number of questions regarding the political and economical aspects of climate change. Dr. Betz also pointed out some scientific speculations asserting that "Europe is not going to have an ice age", as argued in the film. The combination of the current reality, the scientific probability and the unempirical predictions generates uncertainty and creates the conditions for the ongoing climate change debate.
By Daria Coscodan (2007, Moldova)