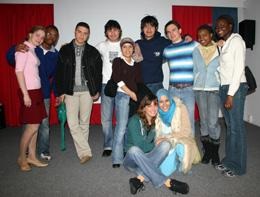 Cooperation with other educational institutions is an important goal for ECLA. Last week ECLA hosted eleven students from the United World College of the Adriatic as a way of assisting them in their research. For a week they became a part of the life of our college and contributed to the diversity of our campus environment.
The UWC of the Adriatic has 200 students from some 80 countries. They spend the last two years of their secondary education to prepare for the International Baccalaureate Diploma, immediately before applying to universities. They study together, practice sports and organize cultural activities, undertake community service, and seek to integrate with the Italo-Slovene village of Duino. All students attending the United World College of the Adriatic are scholarship holders and the scholarship covers all costs for the two year educational programme. The philosophy of the college is to promote international understanding and cooperation through education.
A UWC curriculum includes a week dedicated to student projects. The group of students visiting ECLA was investigating the assimilation and identity issues of the Turkish immigrant students in German society. Their interest in this issue was aroused by media coverage, which claimed that integration of Turkish immigrants in the German society is very problematic. The student researchers decided to come to Germany and interview pupils about their experiences and make a short documentary film about their findings. They arranged visits at two schools – Nicholaus August Otto Schule and Robert Koch Gymnasium. Both schools are known to have a high percentage (about 90%) of ethnic minority students. The interviews were conducted in small informal discussion groups.
The findings of the research suggest that the level of integration of Turkish immigrant students into German culture is much higher than claimed by most of the media sources. While the data still needs to be processed and analyzed, the visiting students felt that their mission was accomplished successfully and they also got a chance to get acquainted with the ECLA community. "We were very lucky to find ECLA – such a hospitable and open institution in Germany. This allowed us to conduct our research and finish our project", said Michael Hempel a native of Canada, the project leader. Another student from Palestine, Nevine Abutaima, noted that "ECLA is very similar to our school: students are like one big family sharing ideas and educational goals".
We wish the UWC students much success in their further studies and educational pursuits!
By Nargiza Majidova (2007, Uzbekistan)