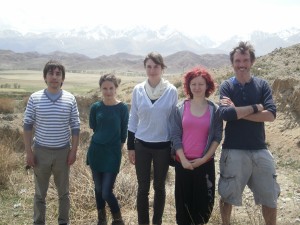 On April 27 Madalina Rosca, Sarah Junghans and I journeyed to Kyrgyzstan to attend the international student conference on Freedom and Responsibility organized by the American University of Central Asia (AUCA).
Although free, responsible and legally aged, we didn't go alone. Bartholomew Ryan and Bruno Macaes also came, to offer us their support and expertise. As we arrived two days before the conference started, we could discover the beauty of Bishkek and its surroundings. So the adventure began…
Following Bruno's suggestion, we decided to rent a cab and to visit the famous Issyk Kul Lake. It took us four hours to get there, four hours in which some of our talents and interests have been revealed. Thus, we discovered Madalina's hidden talent for Russian language- she was the only one who could communicate in Russian with the taxi driver Stanislav who didn't speak English, although we all ended up having no problems understanding each other by the end of the day. There was one mercurial Russian word "remont" which remained the word of the day that seemed to be applied to everything.
Bartholomew equally amazed us with his curiosity in the politics of Kyrgyzstan and his ambition to learn the most necessary Russian words ('privet', 'kak dela', 'spasiba'- he even took notes!). Speaking of Russian language and culture, Bruno has discovered that he likes music after all. He showed a real interest in the radio "friendly" oriental rhythms and an authentic passion for the songs in Tolstoy's language. Our trip didn't stop at Issyk Kul. We made sure that we didn't miss one single place of worth around Bishkek.
On April 29 the conference commenced. An enormous, scary room with stage, microphones and lots of seats welcomed us. Fortunately (or unfortunately for our teachers) we didn't have our presentations there. The organizers of the conference prepared us two cozy rooms, ready to encounter our flourishing dialogues.
During the two days of the conference, the small ECLA group had the opportunity to exchange ideas with students and teachers from Bard College (New York), Bratislava International School of Liberal Arts- BISLA, and AUCA. With different perspectives and arguments, the students reached the same conclusion: social and political participation do count and one individual can make a difference.
Our adventure didn't end with the last speech of the conference. On April 30 our wonderful and gracious hosts Makhinur, Mary and Jamby from AUCA organized a traditional Kyrghiz feast in Ala Archa National Park. In a small yurt we enjoyed a piece of the fabulous Kyrghiz culture: from paloo, horse meat, and kymyz to folkloric songs about shared and unshared loves.
Animated by a genuine desire to discover the surroundings, we got in the middle of a traditional race. Even though we didn't understand the tradition of the game, the rules seemed pretty clear: first, the one who runs faster wins, and second, the young women should compete with the other young women, elderly men between them and so on and so forth. The moment Bruno saw the contest, he knew that it would be a great occasion to teach his students the true meaning of competitions.
Without hesitations, he ran to compete with the elderly men. Although his result didn't classify him among the best mature runners, he taught us that competitions are not only made for winning. Bartholomew equally joined the race. This time the lesson was different. ECLA students should not be afraid of competitors and try to do their best. For this purpose, he decided to compete with the young men. Life is not always as in movies, so Bartholomew's result was not the winning one.
If you, my reader, are disappointed that ECLA had no champions in Kyrgyzstan, let me tell you the story to the end. Sarah and I got involved in the competition as well. In spite of my efforts to get the Kyrghiz start signal and to keep my dress in a decent position, my performance didn't equal the one of Sarah. Despite having missed the start, Sarah ran faster than everyone else. She was simply unstoppable.
After the race and a well-deserved Kyrghiz dessert, we went back to the hotel. We needed to get ready for the trip back to ECLA. On 2nd of May, we were back in Berlin, a bit more responsible and freer.
 by Gabriela Ionascu (PY'11, Romania)