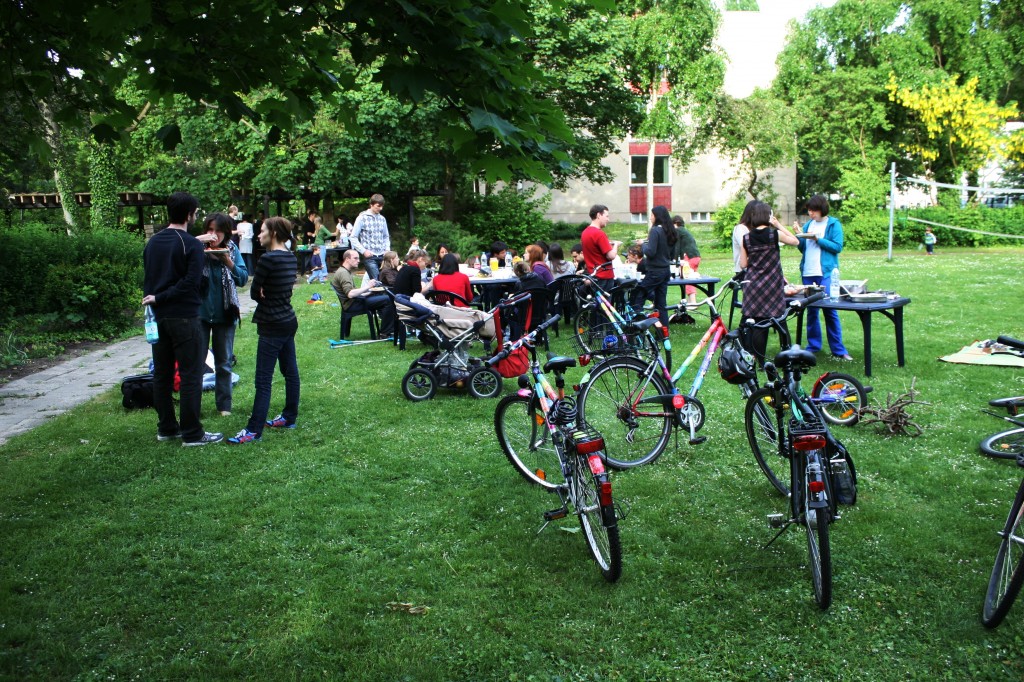 We use our beautiful campus gardens in a variety of ways:  student-professor football, volleyball, or badminton matches, mastering the Frisbee, sunbathing, reading or sleeping in the grass, and even treasure hunting.  Elizabeth Hanka (AY, USA) proposed dining there too, and the idea expanded to that of a barbecue in the garden, which warmly welcomed everyone from the present student–body, faculty and administration.  One of the skillful people behind the grill was Adrian Nicolae, alumnus of the AY 2005-06 program, currently an MA student in Bonn, who coincidentally was an overnight guest. Without doubt he easily connected with the current class and attracted our interest, mostly since he was the one grilling our potatoes. He admitted to being struck by nostalgia, and to being happy to be back in these gardens.
Elizabeth's idea coincided with her bicycle community project, and afforded an opportunity to finish a process that had been in the works since the first weeks of the school year.  Her proposal that students should be supported in buying bicycles to use during the year resulted in people pairing up to buy bicycles at the Mauerpark flea market, for which they were then reimbursed.  Everyone had bought their bicycles by the end of the winter term, and it was a relief to have such an easy way to get off campus and explore the city when the spring came. However, the project was not complete, as another part of it, aside from simply having the bikes to share and use, was to make them community bikes by decorating them.  After much debate about whether to paint them all, attach some kind of sign to them, or put stickers on them, we finally decided on the sticker method.  Each student was presented with a veritable rainbow of stickers, and getting together for the barbecue proved to be a great opportunity to "rebrand" the bicycles we have been using since spring.  Brightly coloured ECLA stickers signal now that there's something special about our bikes, something that is worth checking out.  Because they are being pedaled throughout the city by students eager to discover it, we expect the stickers to become visit cards in motion.
We were pleased to be able to host faculty members and their families at our barbecue, and be able to converse with them on the grassy background instead of in the usual classroom buildings. I personally enjoyed the company of "little ECLA", the young children of our faculty and staff; they got to know each other, and carried important debates around the ownership of toys. The contributions of various students' personal recipes, experimentations and collaborations, combined with dishes generously brought by faculty members, made for a diverse and delicious feast.  The party was also encouraged by the expertise of some of our more technically minded students who spontaneously hooked up a sound system to which we took turns attaching our laptops to for a variety of music. After a full and satisfying day, things wound down into the night as small groups stayed on the lawn reflecting on the experience of being here together before drifting off to bed.
By Brindusa Birhala (PY09, Romania)